NYU Stern Ally Week 2016
—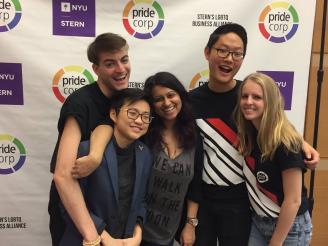 Written by Stern undergraduate students Michelle Enkerlin, David Kim, Benjamin Zhang and Robbie Paul
April 11-15, 2016 marked the Fourth Annual NYU Ally Week at Stern. Undergraduate students from
NYU Stern Pride Corp
 share some of the top highlights from the spring event that showcased solidarity for LGBTQ students.
NYU Ally Week
affords the entire university the opportunity to further their understanding of the lives and experiences of others, and to engage with and examine social injustices that marginalized individuals or groups of people confront in society. Headed by NYU's Center for Multicultural Education and Programs, Ally Week events promote a widespread and comprehensive understanding of systems of oppression, subjection, and disadvantage. The NYU Stern Pride Corp is a professional development society for students and allies within Stern and NYU. The alliance hosted partnered events throughout Ally Week. Here is a recap of what students experienced:
Pride Corp's Second Annual Partners in Pride: Pre-Ally Week Mixer
The Partners in Pride: Pre-Ally Week Mixer fostered a friendly, non-judgemental environment that encouraged engaging conversation around diversity and inclusion. "The casual and relaxed atmosphere allowed me to establish connections with professionals and recruiters. It's a networking event that feels like just meeting new friends!" Pedro Tenreiro Scull (BS '18) says about the mixer. The evening started with a welcome and introductory address from Pride Corp's President, David Kim (BS '17). Over 50 Pride Corp members and allies mingled with Pride Corp alumni and LGBTQ and allied professionals from partner firms in a casual social setting featuring great food, Pride Corp's signature "mocktails," and relevant conversation on topics of diversity and inclusion in the modern corporate world.
"The casual and relaxed atmosphere allowed me to establish connections with professionals and recruiters. It's a networking event that feels like just meeting new friends!" -Pedro Tenreiro Scull (BS '18)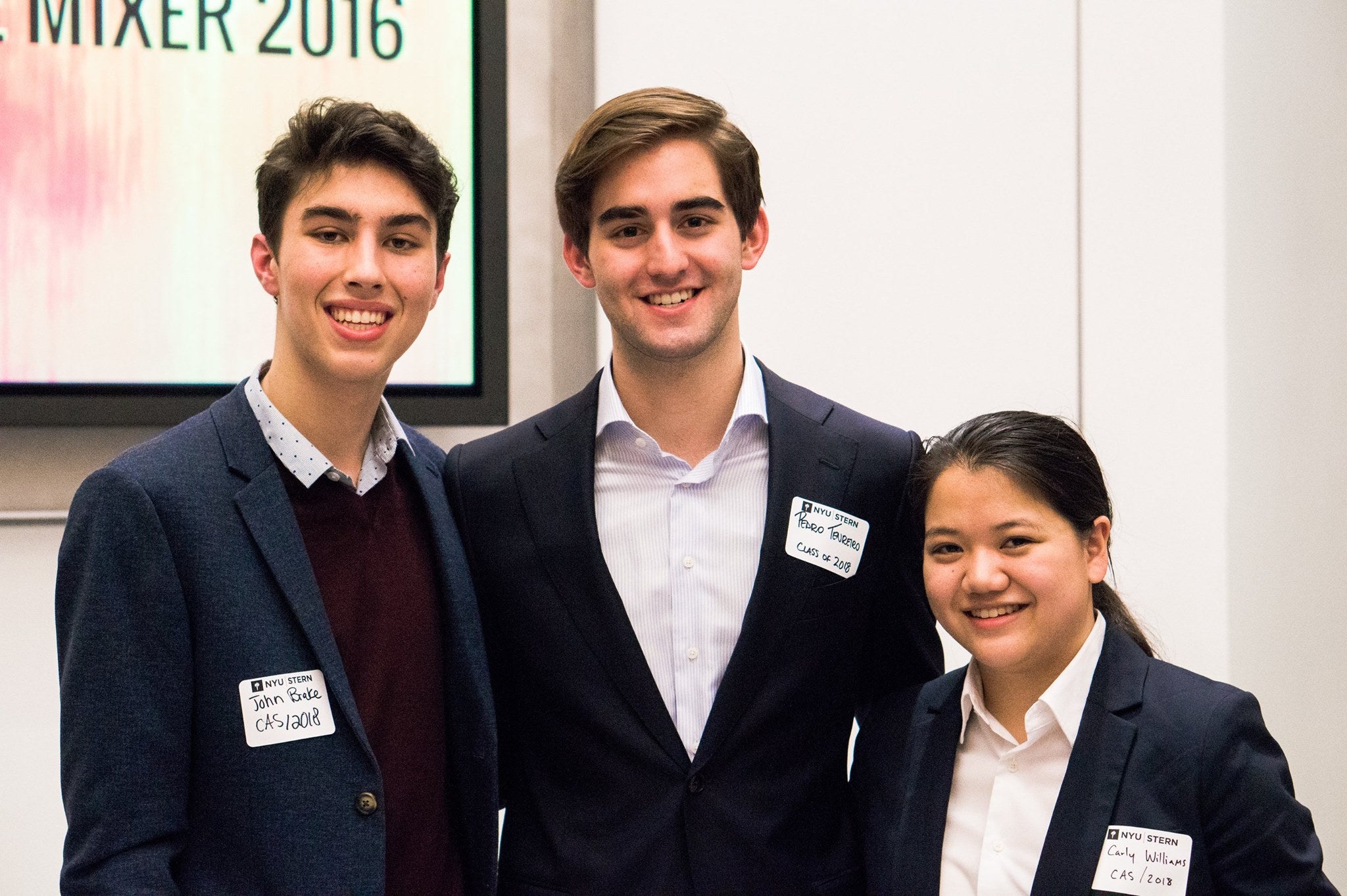 John Brake (CAS '18), Pedro Tenreiro (Stern '18), and Carly Williams (CAS '18) at the Partners in Pride: Pre-Ally Week Mixer
Ally Week Game Show
"What is, 'Allyship'?: Playing to Answer the Hard Questions" was a team competition that brought together students and representatives from partner firms Goldman Sachs, Morgan Stanley, and Citigroup. In this casual, thought-provoking setting, students analyzed problematic portrayals of underrepresented groups through an interactive game. Using mainstream media as an example, students helped identify ways to navigate difficult questions regarding identity and harmful representation.
The event was co-hosted with the
Undergraduate Stern Women in Business
(USWIB). Incoming USWIB President, Reena Jailwala (BS '17), facilitated the game show as emcee to provide socially conscious answers in a respectful and educational manner.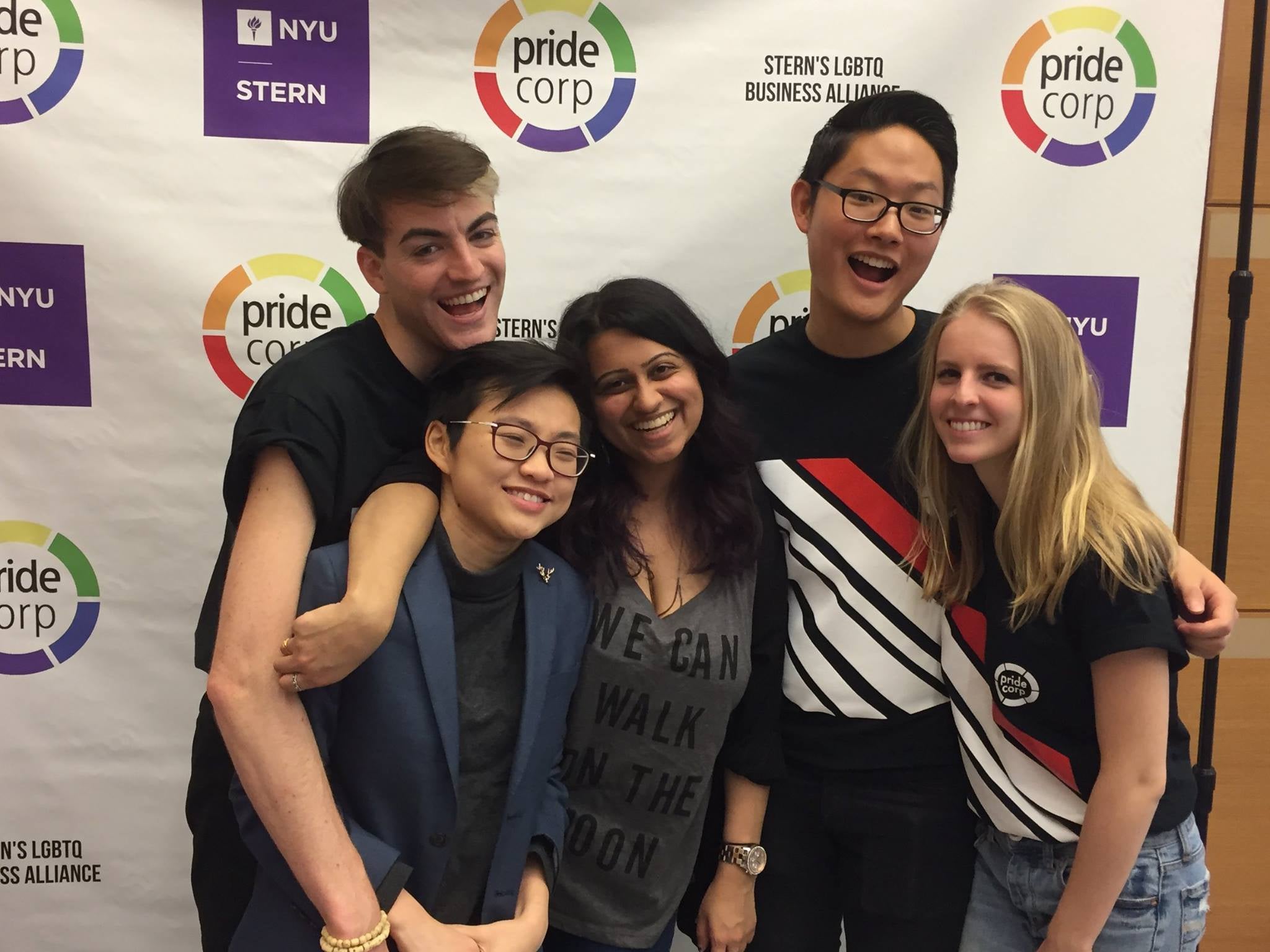 The NYU Stern Undergraduate Pride Corp Allyship TeamFrom bottom left and clockwise: Teri Tan (BS '16 and Pride Corp President 2014-2015), Robbie Paul (BS '16 and VP of Allyship), Priya Kamdar (BS '16 and SPEX President & USWIB Director of Conference), David Kim (BS '17 and Pride Corp President 2015-2016), Michelle Enkerlin (BS '18 and VP of Internal Allyship)
Diversity Case Walkthrough
The Diversity Case Walkthrough brought together 12 professionals from four different NYU Ally Week corporate partner firms: EY, Accenture, Deloitte, and Oliver Wyman. The evening started with Samuel Yoon (BS '17), incoming president of the
Management Consulting Group
, presenting the winning solution for a diversity case competition. This gave students a brief overview of diversity-related business problems, which are vastly different from traditional business problems.
The firms held group discussions, showcased research, led mock cases, and shared their experiences and involvement in improving diversity and inclusion with clients.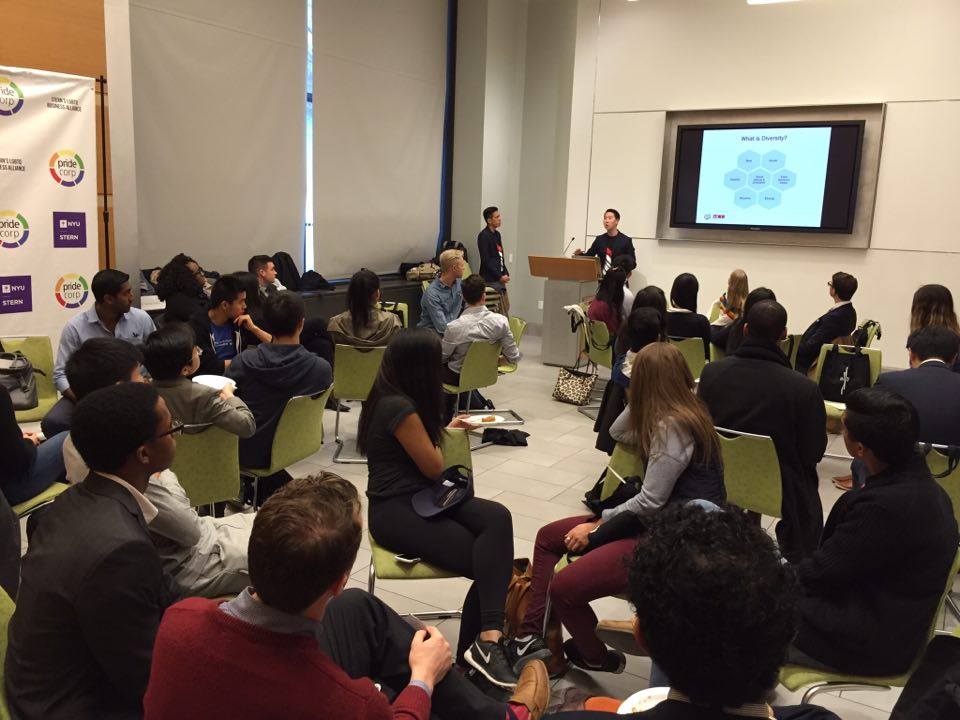 An event highlight was a conversation led by Avina Gupta, Senior Consultant at Deloitte, and other Deloitte consultants, who presented data on how to better implement diversity and inclusion programs. Gupta discussed methodology from Deloitte's Diversity and Inclusion Practice, a pioneering program for the management consulting industry, and how Deloitte provides outcomes and advice for clients on ways to quantifiably improve diversity and inclusion metrics, such as reducing turnover and enhancing retention. Students at the Diversity Case Walkthrough rotated between three groups so that they could learn what each firm does, and how each firm uniquely approaches diversity and inclusion.
"It was fascinating to watch business and consulting principles at work for social justice and definitely heartening to see the firms' ongoing commitments to diversity and inclusion." -Kaylie Song (BS '19)
Connecting through Social Media
Stern Undergraduate's Ally Week events culminated successfully with the Ally Week Profile Picture Campaign, open to all students and faculty. The campaign helped raise allyship awareness through social media. NYU Stern Undergraduate College Dean, Geeta Menon, supported the week by posting this picture on her
instagram account
 and other social media outlets. Dean Menon encouraged others to demonstrate how important engagement with Ally Week is for the NYU and Stern community.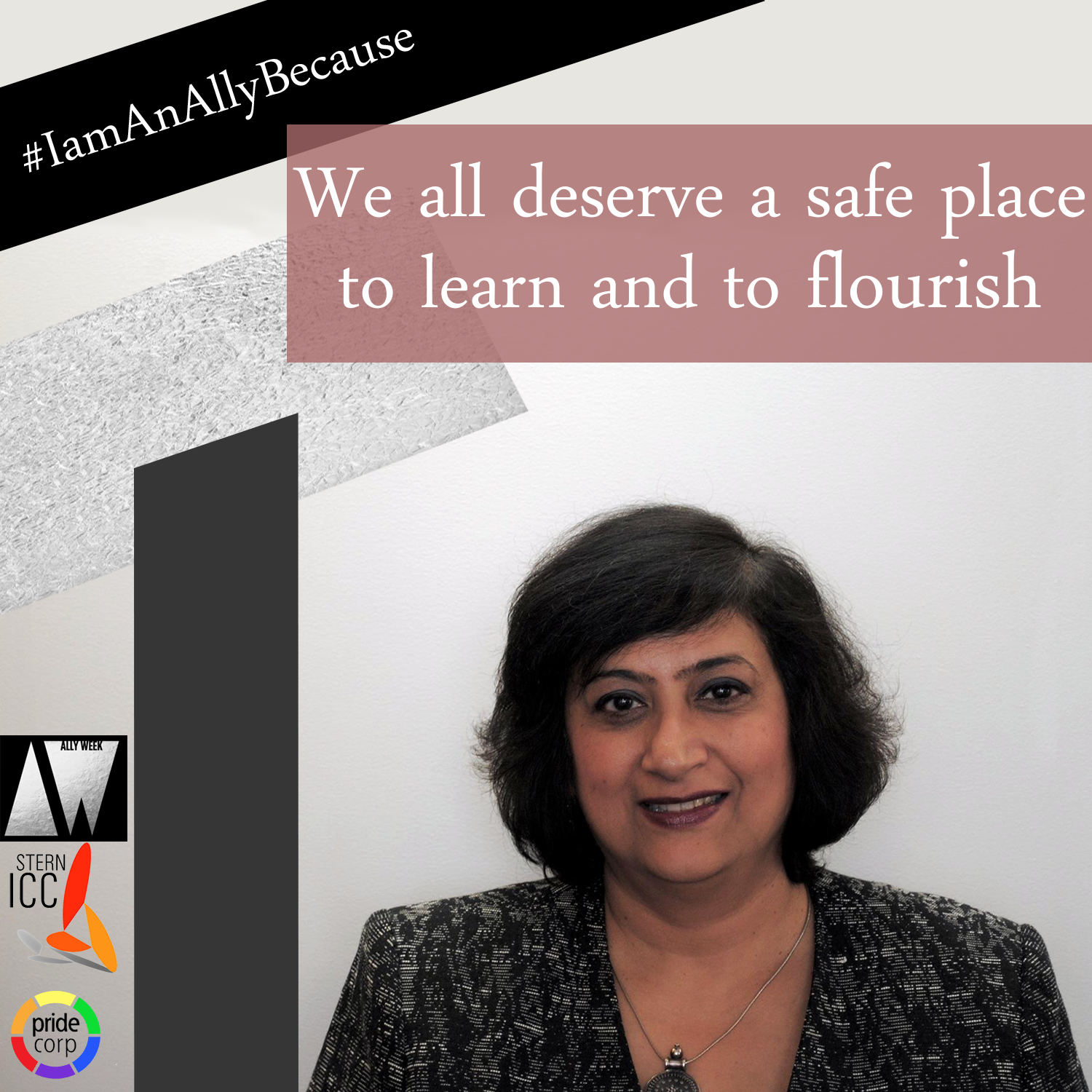 The Stern Pride Corp also took over the NYU Stern Snapchat account for three days to raise awareness, and share important snapshots of Ally Week and Stern Pride Corp. The takeover garnered over 800 daily views.
» More information about
NYU Stern Undergraduate Pride Corp
» More information about
NYU Ally Week