NYU Stern Undergraduate Students Experience a Signature New York City Event and Re-Orientation
—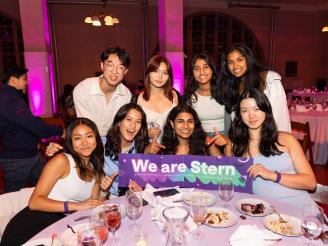 To kick off the new academic year, throughout September, undergraduate students on the Washington Square campus experienced a re-introduction of NYU Stern in a way only New York City could deliver. The Stern Signature Experience Series (SES) is an annual one-of-a-kind series dedicated to helping students reconnect with and build their Stern community and network while leveraging the quintessence of New York City: location.

This year, first-years spectated at the US Open, sophomores spent an evening at the Museum of the City of New York, juniors voyaged to Ellis Island, and seniors set sail on a sunset New York Harbor cruise.

Also included in the Signature Experience is Re-Orientation. Newly launched this year, Re-Orientation is an annual 30-minute online program designed to provide students with class-year-specific guidance for success in the year ahead. It also serves as an opportunity for personal growth and reflection on their Stern experience. These personal reflections will resurface each year, allowing students to build on their Stern journey and retrace their unique Stern story to see just how far they've come.

Creating meaningful connections between students who would otherwise not interact and deepening the feeling of belonging for all undergraduate students is always at the forefront of the minds of the student experience team in the Undergraduate College (UC), and the SES events reflect this mindset.

Another goal of these initiatives is to engage the larger NYU and Stern community, including staff, faculty, and alums, who played a significant role in crafting the Re-Orientation content and running the Signature Experience events. And for good reason—according to survey results, 86% of students say they feel more connected to Stern because of their SES event, with 87% of them making at least one new friend, and 70% of students say Re-Orientation helped them identify areas to focus on in the year ahead.

Here is what some of our students had to say!

"Fantastic, we should do more activities like this! Helps a lot for the loneliness in NYC."
 
"Thanks to everyone who worked so hard to make [SES] happen! It was amazing."
 
"Events like these make me feel very privileged to be a part of Stern!"
 
"I really like the [Re-Orientation] reflection/exercises, really helped me to think through what I read from the orientation!"
 
"I think that [Re-Orientation] is extremely helpful to really understand everything the school has to offer. It was done in a very simple, visually appealing way that I appreciated a lot."