The Innocence Project Lectures
The Innocence Project, founded in 1992 by Peter Neufeld and Barry Scheck at Cardozo School of Law, exonerates the wrongly convicted through DNA testing and reforms the criminal justice system to prevent future injustice. The Innocence Project's mission is to free the staggering number of innocent people who remain incarcerated, and to bring reform to the system responsible for their unjust imprisonment.

Eleventh Annual Haitkin Lecture— April 19, 2016
Seema Saifee, staff attorney for the Innocence Project, delivered the 11th annual Haitkin Lecture, hosted by NYU Stern's Business & Society Program, to an audience of undergraduate Stern students. Saifee was joined by Andre Hatchett, who was recently exonerated after serving 25 years in prison for a crime he did not commit, and his brother, Jerry Hatchett.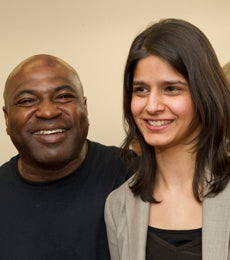 Saifee discussed the Innocence Project's mission to free the innocent using DNA evidence. She identified several key factors contributing to wrongful convictions: the lack of a process for policy reform in the criminal justice system, inaccurate eyewitness identifications, false confessions, ineffective counsel and jailhouse witnesses seeking leniency. "It is frightening how easy it is to convict an innocent person in this country," especially if that person doesn't have the financial resources to hire an effective attorney, she explained.
Working in partnership with the Conviction Integrity Unit in the Kings County District Attorney's office, the Innocence Project took on Andre Hatchett's case, which was one of 10,000 requests for assistance that the organization receives each year. Hatchett's first defense attorney was deemed ineffective by the trial judge, and his second defense attorney, like his first, failed to present Hatchett's medical records showing that, due to a leg and throat injury at the time, he was physically incapable of committing the crime.
Hatchett maintained his innocence throughout his time in prison. He was offered plea deals in exchange for serving as little as 4-8 years, but he refused to plead guilty to a crime he did not commit. His incarceration devastated his family; over the course of his incarceration, Hatchett lost his mother, brother, father and son.
Jerry Hatchett, Andre's brother, who supported him throughout his incarceration, underscored the impact that the ordeal had on their family. "When you don't have the means and the know-how to help somebody, it hurts," he remarked. Though Jerry lacked the funds to hire a better attorney, he often played the lottery, hoping to win enough money to free his brother. "We don't know lawyers. No one in our family had ever been in jail." Jerry added that his young son is considering becoming a lawyer. "You have to get the right education so that what happened to your uncle won't happen to you," he advised.

Innocence Project Attorney Seema Saifee and Exoneree Darryl Howard Speak to the Stern Community— October 13, 2016
NYU Stern's Business & Society Program welcomed Seema Saifee, staff attorney for the Innocence Project, and Darryl Howard, who was recently exonerated after serving 24 years for a wrongful murder conviction, to speak to an audience of undergraduate Stern students.
Saifee shared the Innocence Project's mission to free wrongfully convicted men and women from prison and underscored the combined influence of racial discrimination, negligence and socioeconomic factors that contribute to these injustices. Having innocent people in prison is an affront to civil justice, but also that the real perpetrator is still at large, she explained. Since its inception in 1992, the Innocence Project has proven 344 men and women innocent using DNA evidence. More than 1,700 have been exonerated from non-DNA evidence.
Saifee listed the variety of factors that have led to false convictions, including mistaken eyewitness testimonies, false cellmate testimonies, false confessions, sloppy investigations and tunnel vision. She also pointed out that there is sometimes an institutional inability to admit mistakes, particularly when exonerating a falsely convicted person could be politically perilous for a re-election into office.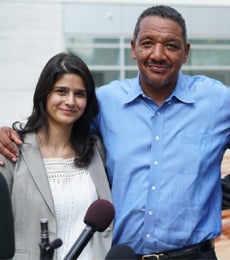 Howard was wrongfully convicted and sentenced to 80 years in prison for the murder of a woman and her daughter as well as arson in North Carolina in 1991. Evidence of sexual assault of both victims by two different men was present. The state's theory was that the women were never raped. DNA testing in 2010 matched a man who had 35 prior convictions. The man was questioned by police, but the recording of his interview was never turned over to the District Attorney, despite a court order. A confidential tip suggesting the crime was drug-related and committed by multiple people was also never turned over to Howard's attorney.
Howard was legally and officially exonerated on September 2, 2016. Hearing Seema talk about what happened to him, he said, brings tears to his eyes. A former drug dealer, hanging out in the projects made him a target, explained Howard, whose wife of 30 years only missed two visits throughout his time in prison. Howard called on the business community to help, because what happened to him happens to innocent men and women every day in this country.
Written by the Public Affairs team.