Designing ISP Hong Kong
—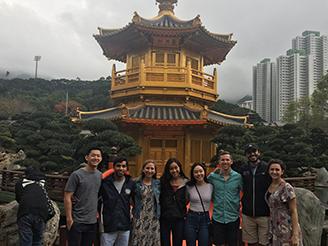 Since 2001, the NYU Stern Undergraduate College sends 600+ juniors to one of three cities across Asia, Europe, and South America for a week as a part of the semester-long course and hallmark undergraduate experience – the
Ed & Nancy Barr International Studies Program (ISP)
.
Though most students are aware of the week-long business trip, the process behind selecting a new site is a production in and of itself. Lisa Butcher, Director of International Exchanges and Special Programs, and Professor Joe Foudy, Clinical Associate Professor of Economics and Coordinator of ISP Asia, share more about the behind-the-scenes of this massive global voyage.
"It depends on the location, but we try to change travel locations every three to four years," said Butcher. "As soon as a trip is over, we plan for next year and start talking about new locations," she added.  
After the ISP business trip in March 2016, Butcher and Foudy, began researching new locations for the Asia location. Preliminary planning includes analyzing safety rankings with NYU's global operation center and reviewing flight logistics for 200 students. "We also look to see if we've been to that city before and how long has it been," Butcher said.
Choosing a new city also involves analyzing the current business climate and making sure it is a good fit for the course.
This year, they chose to go back to Hong Kong because of its interesting business economy from which students would benefit studying. "It's a gateway to China and a global finance and commercial hub," Foudy said in regards to the location which made its first debut on the ISP rotation from 2007-2009.
Once Hong Kong was chosen for ISP 2017, Butcher and Foudy conducted a site visit where they determined the hotel, the companies students would visit, and store locations for the local market immersion.
"We basically do the whole ISP itinerary on the site visit," Butcher added. "We run through every aspect. What's the airport arrival and departure process? Do you have to hold on to some travel document the entire time that you can't lose? We travel with a local guide and see what time do things open and what time do things close. Can a group of 10 students fit in this store? Can a group of 20 students fit in there?"
The logistics of getting 200+ students in and out of a country are complex and require a lot of attention to detail.
"When we're on the ground, we're looking at how many buses can park in front of the hotel at one time," Foudy said. "The expectation is that we can get 200 students out of the hotel in 20 minutes."
Getting that many students out of a hotel and onto buses mean evaluating the elevators, the size of the lobby, and the number of dining halls or conference rooms needed to check in a large number of students.
"We definitely aren't looking at the same things a normal tourist would be looking at," Butcher said.
Every year, all of the hard work pays off as students consistently say that the ISP course and business trip is one of their fondest NYU memories.
Brianna Yee (BS/MS '18) traveled to Hong Kong on this year's trip. Take a look at her journey!