Alumni Spotlight: Abrima Erwiah (BS '02) of Studio One Eighty Nine
—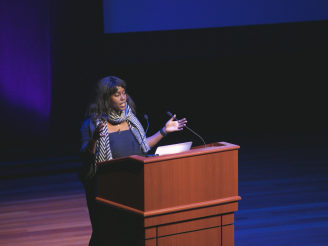 Abrima Erwiah (BS '02), co-founder and president of
Studio One Eighty Nine
, returned to NYU Stern on February 13 to speak at the
Business & Its Publics
plenary, a social impact core course taken by all freshmen.
Since launching Studio One Eighty Nine, a fashion social enterprise based out of Ghana, with co-founder Rosario Dawson, Erwiah was named among some
Top Designers to Watch in Ghana
by Teen Vogue. Erwiah is also the co-founder of
Fashion Rising Foundation
, a founding member of the
Ethical Ghana Fashion Foundation
, and a mentor for
AFRIpads
in Uganda. She collaborates closely with NYU Stern undergraduate students who participate in the
Stern International Volunteers (SIV) Ghana
course.
Check out the Q&A with Abrima as she shares more about her journey in the social enterprise fashion industry.
What got you started in the luxury retail industry?
After coming to NYU, I chose to study abroad in Italy my sophomore year, and it was one of the best experiences of my entire life. I loved the food, the culture, the people, and the NYU campus. When I came back I didn't want to forget the language or the culture so I started working for Italian companies and eventually got my dream job at Bottega Veneta.
What inspired you to create Studio One Eighty Nine?
While I was working at Bottega Veneta, I would take volunteer work trips during my vacations to countries like Ghana and work with local NGOs. A few years ago, Rosario Dawson [co-founder of Studio One Eighty Nine] invited me on a trip to the Democratic Republic of the Congo for the opening of the City of Joy, a leadership center for women who are victims of rape and sexual violence. The women built the City of Joy themselves, and the goal was to turn pain to power. The women would make crafts and take the proceeds to invest in farming products like cassava. They would then feed their families from the farm and use the proceeds from the sale of the farmed goods to send their kids to school. What we thought was fascinating was that they were able to create a small circle of sustainability. When we left we knew that's what we needed to do - we needed to be the platform and use our network to support the growth of communities like these.
Why did you choose for Studio One Eighty Nine to be a social enterprise?
I believe that social enterprises have a greater impact than charity because they are more sustainable and empowering. It's so much more rewarding for workers to know that someone recognizes the quality of their work. It's even more empowering when people are able to purchase their own things with the money that they made themselves. All the work we do is local; our offices, designers, graphic designers, web developers, factory etc. are in Ghana. 
Do you now think that other luxury companies lack corporate social responsibility?
I loved the companies I used to work for, and even though they could do more, I don't think they lack responsibility. I think there are many moving pieces that are changing all the time, and these big businesses have different rules and regulations they have to meet. It's much harder to control, and so I think the blessing of being a small company is that I do get to have a closer relationship with my workers and have more direct impact over the process.
What do you think about the current growth of the fast fashion industry?
I definitely think fast fashion is unsustainable, and I think even fast fashion companies know their model is unsustainable, so they are now trying to change. For example, about a year and a half ago, we worked with H&M to promote conscious commerce because they are aware of the need for building longer term solutions to clothing manufacturing. In addition, they have been investing in technology that allows them to recycle used clothing to reduce waste.
What advice would you give students who are pursuing the luxury marketing or social entrepreneurship tracks?
One, have a clear idea and write a strategy. Two, try to simplify your idea and collaborate with people who are working on similar things or have different skill-sets. Three, find ways to leverage technology and mentors who have also had social missions. Lastly, for students as a whole, don't discount who you meet. You don't know who will be your boss one day, your colleague, or someone who gives you a recommendation. People may think that some classes aren't important, but you never know when it's going to come up again. And honestly, college is one of the best experiences in your life; make the most out of it.