Economic Club of New York Honors Alan Greenspan
—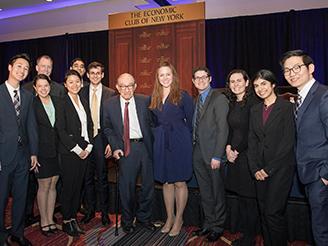 On Thursday, February 16, 2017 the Economic Club of New York (ECNY) honored Alan Greenspan (BS '48, MA '50, PhD '77).
In attendance were some of NYU Stern's top economics and finance undergraduate and MBA students in addition to Assistant Dean Ashish Bhatia (BS '02).
Sophie Frank (BS '17) said regarding the event, "Greenspan was honored as a guest by the club and spoke about his career working with the troughs and highs of the American economy. I was impressed by his astute wit and bullish diction, after a long and trying career. It was an honor to hear him."
Bhatia added, "not only is Dr. Greenspan one of NYU Stern's most distinguished alums; but he is one of the most prominent and well-known central bankers of the world. His leadership was critical to the advancement of the US economy during the 90s."
Bhatia also said the students got to meet him and attended the event alongside top executives and leaders including notable NYU alumni such as Maria Bartiromo (WSC '89) and John Paulson (BS '78).