Stern freshmen in the Cohort Leadership Program use design thinking to find healthy solutions for college students.
What are NYU Stern freshmen studying during their first few months of college? Beyond the core liberal arts courses in writing, mathematics, and social sciences, they are immersing in a semester-long project that helps them tap their creativity to develop innovative solutions to real world problems. Using design thinking, students are drawing on the rich diversity of their cohorts and collective ingenuity to turn human-centered observations into transformational solutions.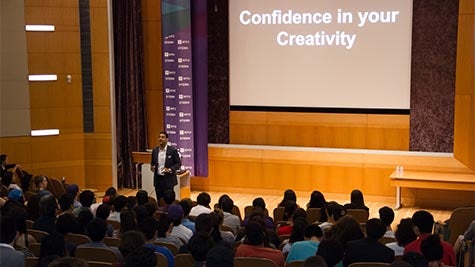 "The world is changing fast and business and society leaders need to be innovative to keep their organizations relevant. Given this dynamic environment, our Cohort Leadership Program is teaching leadership through innovation by having students confront an important problem—eating healthy as a student. Using the design thinking process, our students are re-examining something they do multiple times each day, and are already coming up with wildly imaginative solutions," explains Assistant Dean of Students, Engagement, and Innovation and Stern Undergraduate College alumnus Ashish Bhatia.
Guided by experts in innovation, design, and strategy from partner firms VSA Partners and Fahrenheit 212, students were asked to come up with new and interesting ways to encourage college students, known for their affinity to low-cost convenience food, to eat healthier. After a crash course in design thinking, students dispersed across New York City to gain inspiration and insights from street vendors, local eateries and fellow NYU students.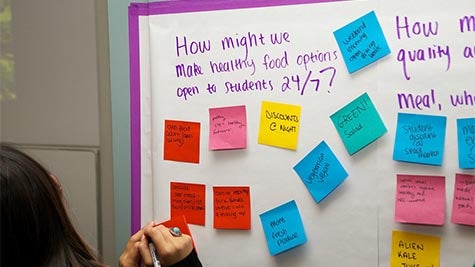 Over the next two weeks, students shared their observations in small groups and collectively practiced divergent thinking to build a rich sense of the problem. The groups then took the insights they generated and jumped into ideation with brainstorming sessions structured around provocations like "how might we make food options available 24/7?" After a vote to determine the most promising innovation in each group, students will collaborate on their final projects, which will be revealed to peers and expert judges in the last class.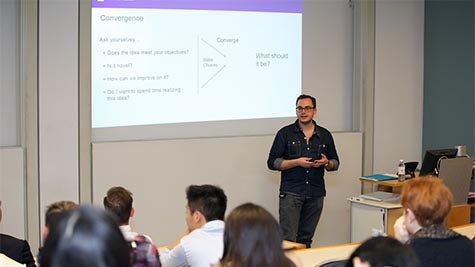 "Design thinking is a fun and effective way to create breakthrough solutions to all kinds of entrenched problems. We use it to help our clients reinvigorate their cultures, more meaningfully engage with their customers, and even redesign their business strategies. This way of thinking can be applied effectively in so many situations whether they be professional or personal, so it's great to see college freshmen exercising these muscles because they'll be able to bring this tool with them wherever they go," says VSA Partners Strategy Practice Lead and New York University alumnus Eric Martinez, who led two instructional sessions during the 11-week course.
Learn more about the Cohort Leadership Program
Contact:
212.998.0921
sternuc@stern.nyu.edu