Celebrate the new academic year with the #WeAreStern Adventure Contest!
Enter to win a Polaroid Camera, Stern Semi-Formal tickets, and more by going on the #WeAreStern Adventure.
Check out the 10+ different ways you can enter below. Every time you complete an adventure, share it on Instagram or Twitter using #IAmStern or #WeAreStern (you must have a public profile) or send it to us on
Snapchat
(nyustern).
The contest ends on
Sunday, 9/18 at 11:59PM EST
. Winners will be contacted the following week.
1) Participants must be current Stern undergraduate students
2) Entries must be public and use #IAmStern or #WeAreStern, or be sent to the NYU Stern Snapchat account (username:
nyustern
)
3) Entries must be original content or must credit the source
4) Winners will be selected at random, however, the more adventures a student completes, the more chances the student will h
5) Stern students studying abroad can also participate and submit entries
6) Photos taken before the contest begins are valid entries
7) All entries will be featured on social media and may be used in future presentations or publications
Winner Selection and Prizes
Winners will be chosen at random. The more times you enter, the greater your chances!
The first 10 students who enter
will receive a portable Stern phone charger. Other prizes available include:
» 2 Tickets to NYU Stern Semi-Formal (Avoid the ticket release stress in the spring)
» Polaroid camera (For capturing all of your college memories)
» Stern Swag Bags, including a water bottle, umbrella, canvas bag, t-shirts, and more! (Add some new staples to your wardrobe)
» iTunes Gift Card (Relax and unwind to some new music)
» So much more! (Seriously)
10 Ways to Enter
(Check out some
entry examples
)
1) NYU is located in the heart of one of the best cities in the world and also gives you so many global opportunities, especially as Sternies (hello International Business Exchange (IBEX) and International Studies Program (ISP)!). No matter where you may be studying this semester, take a picture showing off your #IAmStern pride with an I Am Stern banner.
2) NYU is truly in and of the city. You may have found a favorite part of the city, but you will always have a special place in your heart for just one in particular: your cohort neighborhood! Post a pic of you with your cohort or showing your cohort pride at an event! (Bonus points if it's taken in the same neighborhood as your cohort.)
3) Did you know that All-University Commencement used to be held right in Washington Square Park? Although we have moved the ceremony further uptown, the Park will always be a staple of NYU. Share your best photo of NYU's campus green.
4) Every Sternie knows that club meetings are the best place to score some free food, but sometimes you have to venture outside Tisch Hall and embrace all the deliciousness of NYU dining halls (we were ranked #8 in the country)! Snap a picture of you enjoying your most drool-worthy and Instagram-able food favorites on campus or around NYC.
5) Following a long line of visionaries before him, Andrew Hamilton will be inaugurated as the 16th president of NYU on September 25th. All of NYU's past presidents are commemorated through their presidential portraits. Share a pic of you giving your best presidential pose with one of the portraits. Not sure where the portraits live? Here's a hint: they reside in the same building as Andy Hamilton's office.
6) Did you know that the NYU Football t-shirt is one of the best-selling items at the NYU bookstore even though we don't actually have a team? This just goes to show how much NYU students love our school's swag. Show how much NYU and Stern swag you have collected! (T-shirts, banners, pens, stickers, and pins all count!)
7) Some schools have quads, but Sternies have Gould Plaza. Whether you use it to catch up with friends after class, enjoy a cup of coffee, or maybe snap your new profile photo, Gould Plaza is an essential part of Stern. Share a picture of your favorite activity to do in Stern's backyard (or actually, front yard)!
8) Check out the newly redesigned weekly newsletter the Stern Weekly, (formerly known as SterNews) and find an event to attend! Share a photo with a caption about who you met, what you learned, or more about the event.
9) Stern has always been at the forefront of creating a diverse and inclusive community. Back in 1913, before women had the right to vote, we welcomed Jeanette Hamill, J.D., M.A. as the School's first female faculty member. Now, a century later, Stern continues welcoming innovative and diverse business leaders. Share a photo with a caption that shows how you contribute to an inclusive community.
10) Sternies know that doing innovative business requires imagination! Help break the business mold by sharing your most creative content through a short video (15 seconds or less) or Boomerang via Instagram that shows off your Stern pride.
BONUS WAY TO ENTER:
Attend Block Party on 9/15 and snap a pic with your friends using #IAmStern or #WeAreStern and print it at the sticker station!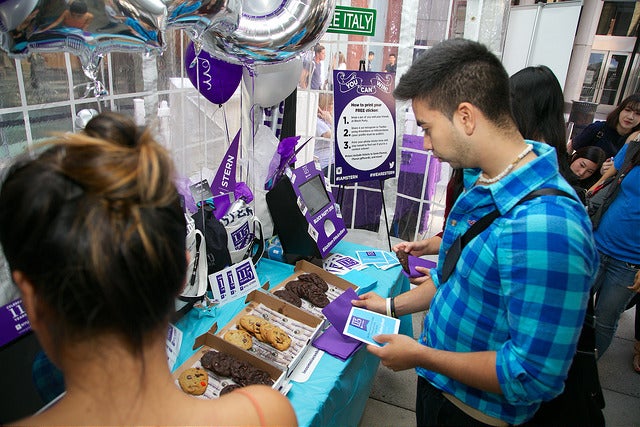 ​