"March break" might bring to mind beach vacations or days spent sleeping in and relaxing at home, but for the NYU Stern Undergraduate College junior class it can only mean one thing: the much-anticipated
International Studies Program
(ISP).
ISP is a hallmark program of the NYU Stern Undergraduate College, made possible by the generous support of Edward (BS '57) and Nancy Barr. The program guarantees that ~100% of NYU Stern students graduate with at least one international experience. No other business school does global on this scale.
This year, it was the Class of 2019's turn.
The first Sunday of the break, the members of the junior class were eagerly awaiting boarding calls at NYC-area airports. In groups of approximately 200 students per destination, these students were jetting off on their first business trips abroad. The three destinations this year were Hong Kong, Lisbon, and the program's newest site, Lima, Peru.
Jugal Joshi (BS '19) was off to Lima. The itinerary was a full one for every destination, complete with a group welcome dinner and cultural show, a local market immersion program, a company visit, city tours, and more.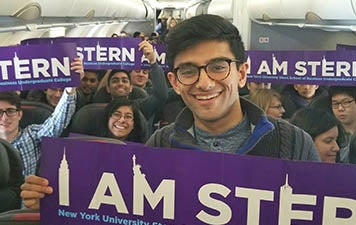 For Joshi, "The highlight was the eye-opening tour of a shanty town area of Lima, during which I met very kind and interesting people with whom I enjoyed practicing my Spanish."
A key component of the trip is the on-site company visit, which informs students' presentations at the annual ISP competition that takes place in the Skirball Center for the Performing Arts. Joshi visited Buenaventura, a company in Lima that mines precious metals.
"We heard straight from executives in the mining business that these resources [minerals such as copper] remain bountiful and will last for many generations to come," he noted.
Up in the northern hemisphere, Jacqueline Finn (BS '19) was eagerly exploring Lisbon, Portugal, with her peers. "Lisbon is such a beautiful city with all the colorful buildings and charming side streets, and I loved getting to see that."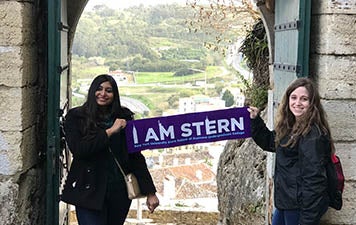 Finn visited TAP Air Portugal, an airline, on her company visit. "Their Chief Revenue Officer, Elton D'Souza, spoke to us, [and] we also got to go inside one of the hangars and see the planes up close. I really enjoyed [it]," Finn said.
Meanwhile, in Hong Kong, Shane Hulse (BS '19) was experiencing an Asian city for the first time. "Since we were traveling to Hong Kong, it was the perfect time to have my first dim sum-experience. I waited in line at Tim Ho Wan (the world's cheapest Michelin-starred restaurant) and it was definitely worth it!"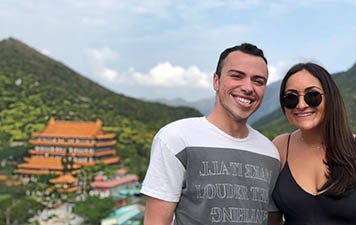 Hulse's assigned company was Hong Kong-headquartered Hutchinson Ports, which operates a network of shipping ports around the world. For Hulse, "the biggest takeaway was the sheer complexity of the company's operation....[It was] really impressive."
Despite full schedules over the five-day trip, students did have time to relax and explore their respective cities. Year after year, NYU Stern graduates cite ISP as one of their most memorable NYU Stern experiences, and for this year's junior class it was no different.
"ISP helped me connect with so many new people. There were many people on this trip that I had never met before that I can stop and talk to when I see them around Stern," Finn said.
Joshi looks back at the trip with a similar sentiment, adding, "I can't think of another opportunity in which 200 of my colleagues and I are able to visit a new continent to get hands-on business experience on a global scale."
---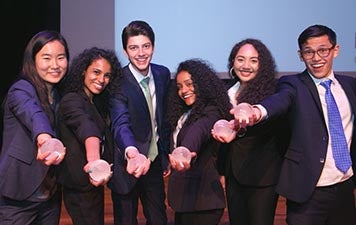 Congratulations to the winners of the annual ISP Competition: team Hong Kong!
See pictures from the competition finals
.