Welcome NYU Stern Undergraduate Class of 2022
—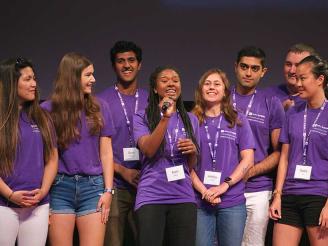 NYU Stern Orientation for the Undergraduate Class of 2022 is approaching quickly, and the Undergraduate College is ready and excited to welcome the newest class of students to the #IAmStern family. The incoming class is one of the Undergraduate College's most competitive yet: more than 12,250 applicants from around the world applied for a highly coveted spot in the first-year class. 
Orientation is a week-long program that introduces new students to college through the innovative Cohort Program, which launched in 2004 to promote community through educational and social events. Student orientation leaders and the Undergraduate College team lead the week's events and activities and ensure that the first-year students have the tools and resources they need to succeed at NYU Stern. 
A running theme throughout orientation week and beyond is #IAmStern. I Am Stern is an open-ended statement that is meant to be inclusive of all of individual backgrounds, experiences, interests, goals, and beliefs. First-year students learn throughout the week's activities that, whoever you are, whatever your goals, YOU are Stern.
To get a taste of the action, watch our student takeover with an undergraduate Orientation Leader this week on the 
@sternuc Instagram
!
Orientation resources:
»
Stern Life
»
NYU Stern's Pre-Arrival Checklist
»
NYU Mobile App
»
NYU Welcome Week Events