Year after year, graduating seniors say that the International Studies Program (ISP) is one of their favorite memories from their undergraduate experience at NYU Stern Undergraduate College (Stern UC). This year, it was the Class of 2020's turn to go through the right of passage, setting off for three cities on three different continents to visit companies, immerse themselves in the local markets, and explore different cultures.
As Stern Undergraduates, students seek opportunities to expand their global perspectives and serve as global ambassadors. ISP, a hallmark program of Stern UC made possible by Edward (BS '57) and Nancy Barr, is one key way through which they do that. The program ensures that ~100% of students graduate with at least one international experience. No other business school does global on this scale.
This year, the first Sunday of break saw all 600+ members of the junior class with their suitcases and passports, eagerly waiting at New York area airports to set off for Lima, Hong Kong, and the newest site, Copenhagen.
In Copenhagen, students had a delicious group dinner at SULT restaurant (and were joined by Dean Menon and Vice Dean Whitelaw--check out Dean Menon's
highlighted Instagram story
!), went on a canal boat tour of the city, visited their respective companies for their ISP competition project, participated in a local market immersion activity, and had time to explore the city on their own. It was a whirlwind five days where students truly soaked up Copenhagen and Denmark culture.
Yang Fu (BS '20) and Nicole Reed (BS '20) both got to visit Copenhagen on their ISP adventure. See for yourself what they have to say about the experience: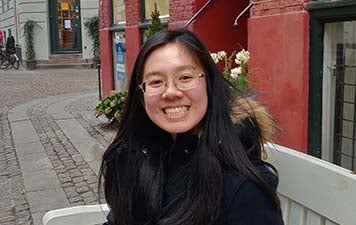 Yang Fu
BS 2020
Concentrations: Marketing; Finance
Minor: Public Policy & Management
What was the highlight of your ISP trip to Copenhagen?
There were so many highlights! One thing I really enjoyed about my ISP trip was learning more about the different cultural nuances between Denmark and the US, whether that be through walking around the city with my friends, visiting coffee and clothing shops, or participating in the market immersion activities. It was truly wonderful to experience such an organic way of learning more about another country.
What was your biggest takeaway from the company visit (and what company did you visit)?
We visited Arla Foods, which is a dairy cooperative and –fun fact!– actually the largest producer of dairy products among the Scandinavian countries. During the company visit, we learned more about Arla's history, its organizational structure, and its business strategy. Hearing what its employees had to say really stood out to me–it was clear that they were passionate about Arla, its products, its values, and the different stakeholders involved. As a business student getting ready to step into the workforce, I was reminded to look at the bigger picture from a sustainable, stakeholder-centric perspective.
What is one new thing you experienced on the trip?
One new thing I experienced on this trip was visiting Kronborg Castle, where the Danish royalty had resided for a period of time.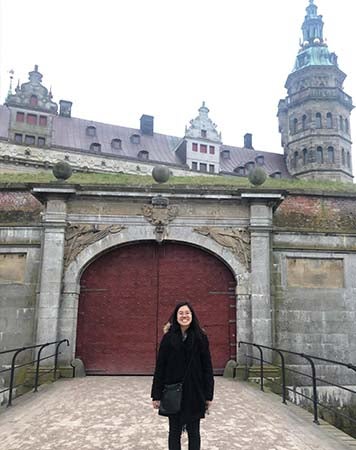 The castle Elsinore in Shakespeare's Hamlet was closely based off of Kronborg Castle, which was something that I found super cool! It was really interesting to walk around the castle and learn about how Danish kings and queens lived, while also bringing the setting of literature I read in high school to life!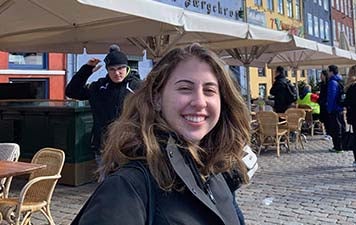 Nicole Reed
BS 2020
Concentration: Statistics
What was the highlight of your ISP trip to Copenhagen?
The highlight of the trip was the Local Market Immersion. During this activity, I gained insight into the cultural differences between Denmark and the U.S. across a variety of shops, including clothing and homeware shops and a bakery. I also enjoyed interacting with a student from Copenhagen Business School, who was our tour guide for activity, and seeing her perspective of Denmark as a local.
What was your biggest takeaway from the company visit?
I visited Scandic Hotels, and I gained much insight into Scandic's reasoning about why they do not have variance in amenities in rooms at their hotel, unlike many U.S. hotel chains. Scandic staff said that they like to keep rooms standardized so that all customers have the same experience and all feel treated equally. I found Scandic's emphasis on standardization as a social strategy very interesting.
What makes ISP so unique?
ISP is a one-of-a-kind opportunity where students do real consulting work for an international company. ISP provides an up-close and personal experience with the leadership of the company where students meet a firm's executives and visit its offices abroad, which gives students invaluable insight into the company for their recommendations to the firm.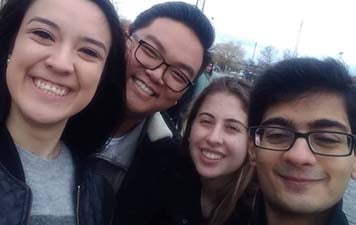 --
To see more highlights from the ISP Copenhagen trip, visit
@SternUC on Instagram
. And to see student photos from all of the sites, check out
#SternISP on Instagram
.