Welcome NYU Stern Undergraduate Class of 2021
—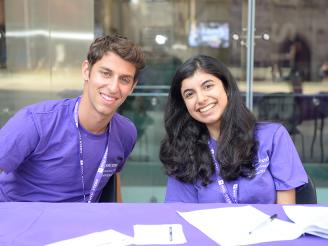 NYU Stern Orientation for the undergraduate Class of 2021 is just around the corner and the Undergraduate College is gearing up for the arrival of a brand new batch of students.
In another record-breaking year, nearly 12,000 applicants from around the world vied for a spot in the freshman class. "We are thrilled to welcome this talented group of future business leaders and policy makers to the NYU Stern community as they embark on an incredible journey of learning over the next four years," remarked Dean of the Undergraduate College Geeta Menon.
Orientation is a week-long program that introduces new students to college through the innovative Cohort Program, which launched in 2004 to promote community through educational and social events led by student orientation leaders and the Undergraduate College team. Orientation ensures that freshmen have the tools and resources that will set them up for success at NYU Stern.
Watch #SternDayInTheLife student takeovers with undergraduate Orientation Leaders this week on @sternuc
Instagram
and nyustern
Snapchat
!
Orientation resources:
»
NYU Stern's Pre-Arrival Checklist
»
NYU Guide Book
»
NYU Welcome Week Events