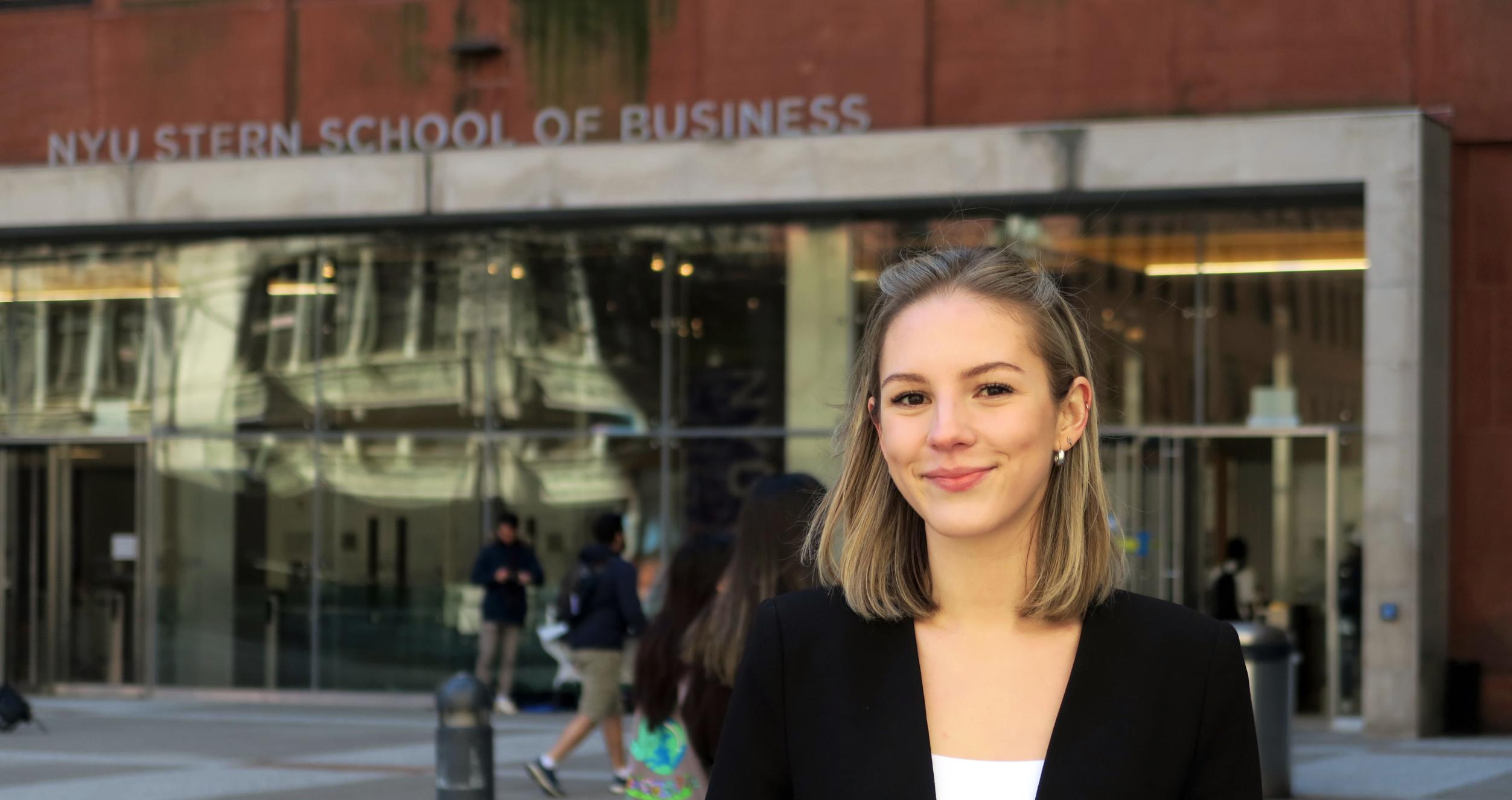 Student Voices
Daniela Rios, MBA 2024
---
Hometown


Mexico City, Mexico

Undergraduate
School: 

Rollins College

Previous Company


TBWA - Advertising

Summer Internship


Microsoft 

Specializations at Stern
Marketing
Leadership
Strategy
Student Clubs


AVP Tech,

Community AVP 




Student Government,

Admissions AVP


The Association of Hispanic and Black Business Students, 

AVP Community Service
What moment made you realize Stern was the home for you?
Three years prior to applying, I visited Stern for a tour, and despite how cliché it may seem, it resonated with me on a personal level - it felt like I belonged; it felt like I was home. As someone who has experienced frequent relocation all over the globe, being in an environment that celebrates diversity, with individuals from varied backgrounds and cultures, provided me with a sense of comfort. Additionally, being situated in New York City - a place that embodies similar values - made Stern even more appealing. Since then, I couldn't be happier with my decision to attend Stern and be part of such a vibrant and dynamic community.
How did you prepare for the program before you began it?
In addition to honing my quantitative skills through test preparation, I conducted extensive research on Stern's faculty and course offerings. This not only fueled my excitement to join the program but also provided me with a structured approach to organizing my time during my MBA. NYU's vast array of courses can be both exhilarating and daunting, but this meticulous step has proven invaluable in providing me with clear direction and guidance.
What advice do you have for prospective students?
Approach this opportunity with an open mind and a readiness for challenges. This experience offers an unparalleled, secure environment to explore new areas and potentially stumble along the way. Dare to enroll in courses that intimidate you, as they will ultimately push you to your limits. Despite experiencing a degree of imposter syndrome upon my own entrance (understandably so - my classmates are some of the most intelligent and accomplished individuals I have ever met), I've learned that it is crucial to recognize that you are worthy of your place here. Embrace your individuality and understand that your unique perspective is an asset to the program.
What surprised you the most about Stern?
The aspect that took me by surprise the most was the unwavering eagerness of the Stern community to lend a hand, highlighting the program's inherent collaborative nature. Though I was repeatedly informed of this during the admissions process, experiencing it firsthand has cemented my belief in its authenticity. Be it MBA 2's (second-year MBA students) aiding me in refining my resume or classmates guiding me through interview preparations, even when we were competing for the same positions, the level of cooperation at Stern is unparalleled. This culture encourages me to not only become a better individual but also a more effective collaborator.
Who makes up your chosen family at NYU Stern?
I owe an immense debt of gratitude to my Consortium family (you know who you are!). Our first meeting, which occurred two and a half months prior to the start of the MBA program, resulted in an instant and irrevocable bond. Even during the Consortium's Orientation Program, other participants noted how we naturally gravitated towards each other, with one employer commenting, "Oh, the NYU students are always together." Throughout my first year of the program, my Consortium family has proven to be an unwavering source of support and encouragement, cheering me on during the highs and providing solace during the lows. I am humbled and honored to call these exceptional individuals my friends, and it never fails to bring a smile to my face whenever I encounter them in the hallways or in the classroom.