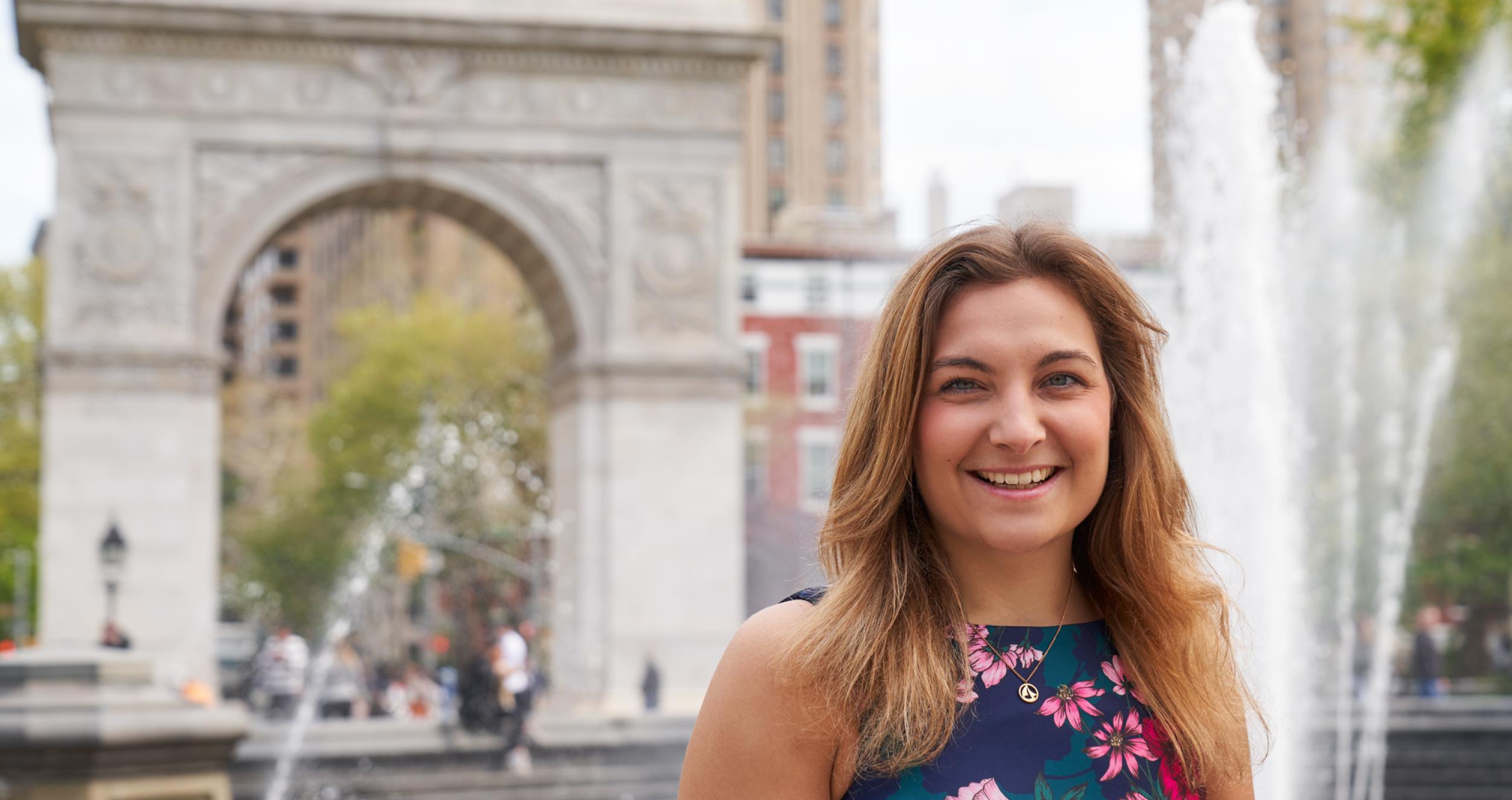 Student Voices
Joline Huntemann, MBA 2023
---
Hometown
Cologne, Germany
Undergraduate
School: Baden-Wuerttemberg Cooperative State University
Major: Healthcare Management
Previous Company
Janssen-Cilag/ Johnson & Johnson
Summer Internship
The American Flood Coalition
Specializations at Stern
Leadership & Change Management
Business Analytics
Strategy
Student Clubs
Stern Student Government, Co-President
European Business Society, Co-President
Stern Healthcare Association, Vice President of External Relations
Graduate Marketing Association
Stern Tech Association
Stern Follies
Stern Cellar
What is a spot in NYC that is special to you?
The Metropolitan Opera is a special spot for me. One of my best friends from Stern introduced me to the Opera and for me, it's a magical and pleasant time every time we go.
What was your favorite class at Stern?
I must mention two classes. The first one is Leadership in Organizations taught by Professor Nathan Pettit. The class is very interactive - we do a lot of case discussions and group exercises. Every class has a very specific topic, from Leading Change and Inclusive Leadership to Collaboration & Conflict. Professor Pettit is a great speaker, very knowledgeable and conscious about everything he says as well as overall just an inspiring human. The class lets you grow through reflection, hones your leadership skills, and teaches you how to apply the knowledge you gained to lead any organization. 
The second class is Data Models & Analytics taught by Professor Ilan Lobel. I am not necessarily a data person by nature and took the class to improve my skills in this area. The focus lies on math model formulation, modeling in excel/ crystal ball and the interpretation of results. If you take this class, you will leave with an analytical toolkit for managerial decision-making. Professor Lobel teaches very hands-on skills, which helps you understand the material in depth and enables you to apply what you learned immediately. You get to work on examples from a variety of industries from consulting, tech, finance, operations to marketing.
How would you describe the culture and community within your class?
I just admire my classmates. Right from the beginning, I could see how much we value each other and how we strive to create change and make an impact. We are a very diverse community, are ambitious and have a highly collaborative culture. This is what inspires me every day and what makes me enjoy my time at Stern the most. Let's go Class of 2023!
What has been a highlight of your Stern experience?
It's the community and the variety of opportunities. Maybe because I am an international student and had never been in the U.S. before I moved here for my MBA, but I am experiencing so many amazing things every day that it is hard to choose only one! One highlight certainly was Passport Day 2022 where classmates from over 35+ nationalities brought food from their home countries, shared about their cultural traditions and some even contributed live performances - our class broke all the records from previous years in terms of sign-ups!
What are you most looking forward to in your MBA2 year?
I am looking forward to seeing how my class gives back to the community by connecting with and supporting the incoming MBA1s with their career aspirations. We made ourselves familiar with the program and launched a lot of initiatives to set the MBA1s up for success, to grow our community and to intensify our bonds. I am excited for the next year to come as everybody keeps growing and accomplishing their individual goals.
Why did you choose NYU Stern?
One of the main reasons, aside from the location in New York City, why I chose Stern was the community, and its clear focus on IQ + EQ. For me, my whole class is an embodiment of exactly this. People are coming from a variety of backgrounds - we are very different in so many aspects (let it be the country of origin, the industry we worked in prior to Stern, our age, culture, or identity), but the IQ + EQ connects us. From my perspective, this combination helps us grow every day. Learning from each other has so far been the most valuable part of my experience.
What advice do you have for prospective students?
Connect early with your future classmates. My class had a virtual happy hour every Saturday at 12 pm ET (to accommodate most time zones) to connect before the program. We played games together and talked about any questions we had about the program. Most of the people I met online weekly back then are now my closest friends! Additionally, try to talk to as many current MBA students as possible before the start of the program to decide what you want to achieve in these two precious years. As soon as you enter the program, you will be very busy and Stern has so much to offer that it can be hard to decide where to spend your time!
How has Stern's location in NYC impacted your experience?
It has impacted my experience in the way that I am exposed to so many new and inspiring things every day that I never would have encountered somewhere else. You have access to 1) the largest players in nearly any industry, 2) a broad choice of cuisines 3) the city's culture, diverse population and fun sports scene.


Back to Student Profiles >>