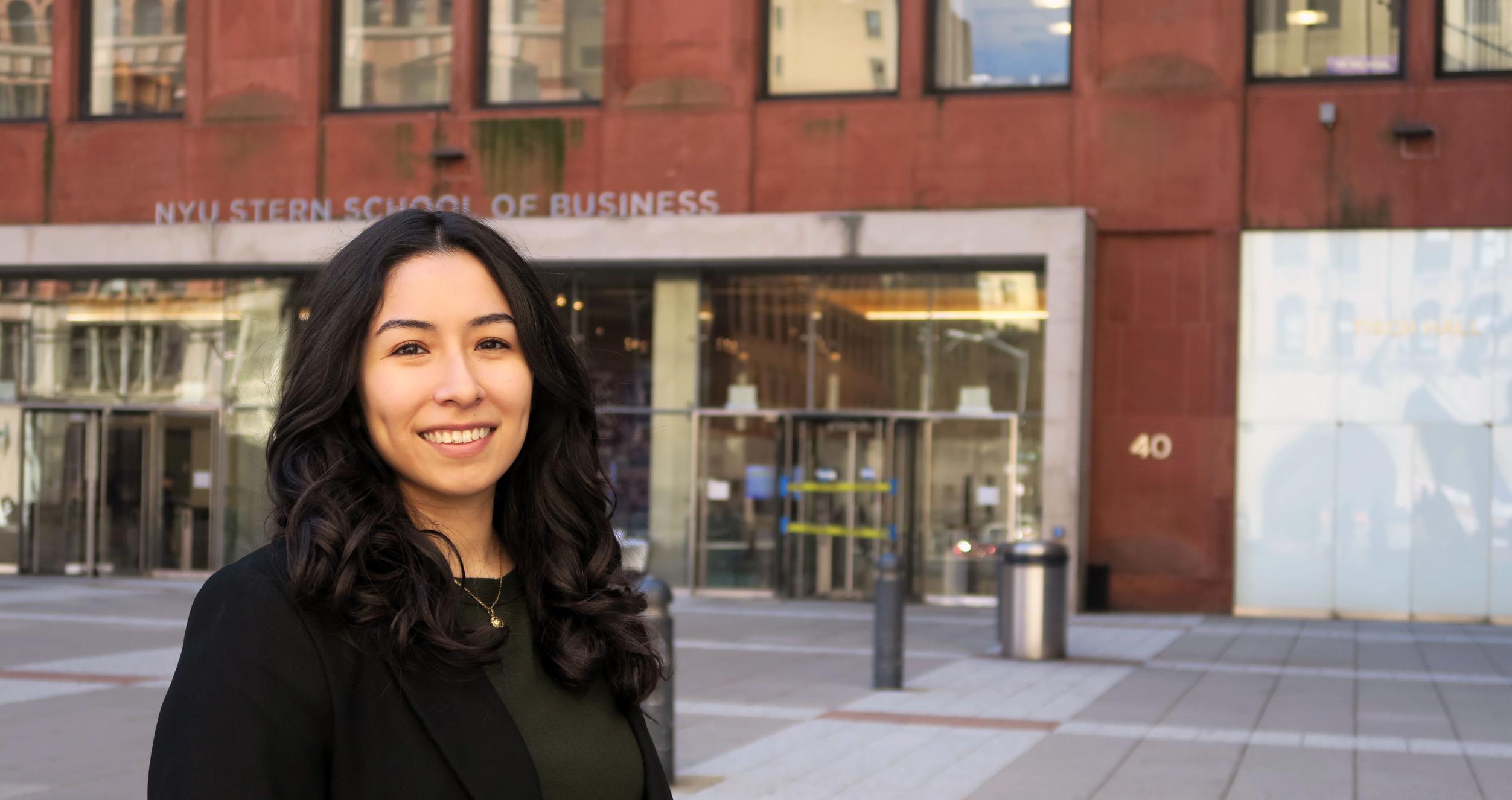 Student Voices
Emily Vergara, MBA 2024
---
Hometown
New Haven, Connecticut
Undergraduate
School: University of Connecticut
Previous Company
Higher Education at Yale University
Summer Internship
Finance and Business Planning Intern at Target
Specializations at Stern
Business Analytics
Leadership
Change Management
Student Clubs
Association of Hispanic and Black Business Students, AVP of Admissions
Stern Technology Association, AVP of Knowledge Management 
Management Consulting Association
Stern Women in Business
What moment made you realize Stern was the home for you?
At the beginning of the semester, Stern divides the cohort into six different groups (called Blocks), each made up of 50-60 students. In September, I realized Stern was the home for me during the Block Olympics. It is an annual event where all the blocks compete with one another in games such as tug-a-war, limbo, and football throwing. I really felt the block spirit, and I had a great time representing Block 4 in one of the events.
How did you prepare for the program before you began it?
Once I learned that I was accepted into Stern, I became a part of MLT (Management Leadership for Tomorrow) where I worked with a professional coach to map up my recruiting game plan. I also attended Consortium's Orientation Program in Colorado, where I met my closest friends. Lastly, I took advantage of pre-MBA consulting programs and was exposed to the industry and interview process.
What class/professor has made the deepest impression on you?
Leadership in Organization with Professor North! He has an engaging teaching style and he makes a genuine effort in getting to know all of his students.
What advice do you have for prospective students?
Write down your "why" (why business school?) and keep that with you as a constant reminder.
What advice would you give your first semester self?
The transition may feel overwhelming at times, but you are capable!
What surprised you the most about Stern?
The emphasis on EQ wasn't just marketing. In everything from classwork to recruiting, Sternies prioritize cooperation over competition.
What club or organization are you most proud of being a part of?
The Association of Hispanic and Black Business Students (AHBBS) — It is not only a club but a community that is made up of individuals who go out of their way to uplift others.
Who makes up your chosen family at NYU Stern?
Consortium Class of 2024! — I met this community the summer leading into the program, and we all instantly became friends and have had each others' backs all year. I look forward to our group dinners and cannot wait to see where everyone ends up after the program.
How has being located in the heart of NYC set you up for professional success?
NYC offers endless opportunities when it comes to business professions. As someone who recruited for consulting and technology, I was able to get exposure to world-leading companies and was able to create an extensive and diverse network.
How has Stern prepared you for the recruiting process?
Stern has quite a few systems in place that will help anyone succeed in the recruiting process. For consulting, there are bootcamps, weekly study groups, and casing practices with MBA1s and MBA2s. For tech recruiting, Stern provides weekly knowledge management sessions. The Office of Career Development also provides us with opportunities to have mock interviews.
How would you describe the Stern community?
If I had to describe Stern in three words, they would be welcoming, collaborative, and empowering. Stern and its communities welcome you with open arms right from the very start through LAUNCH events. I also always find my fellow Sternies helping each other work through problems, whether they be professional, academic, or personal. Lastly, Stern has empowered me by giving me the tools and confidence to be a successful business-person.