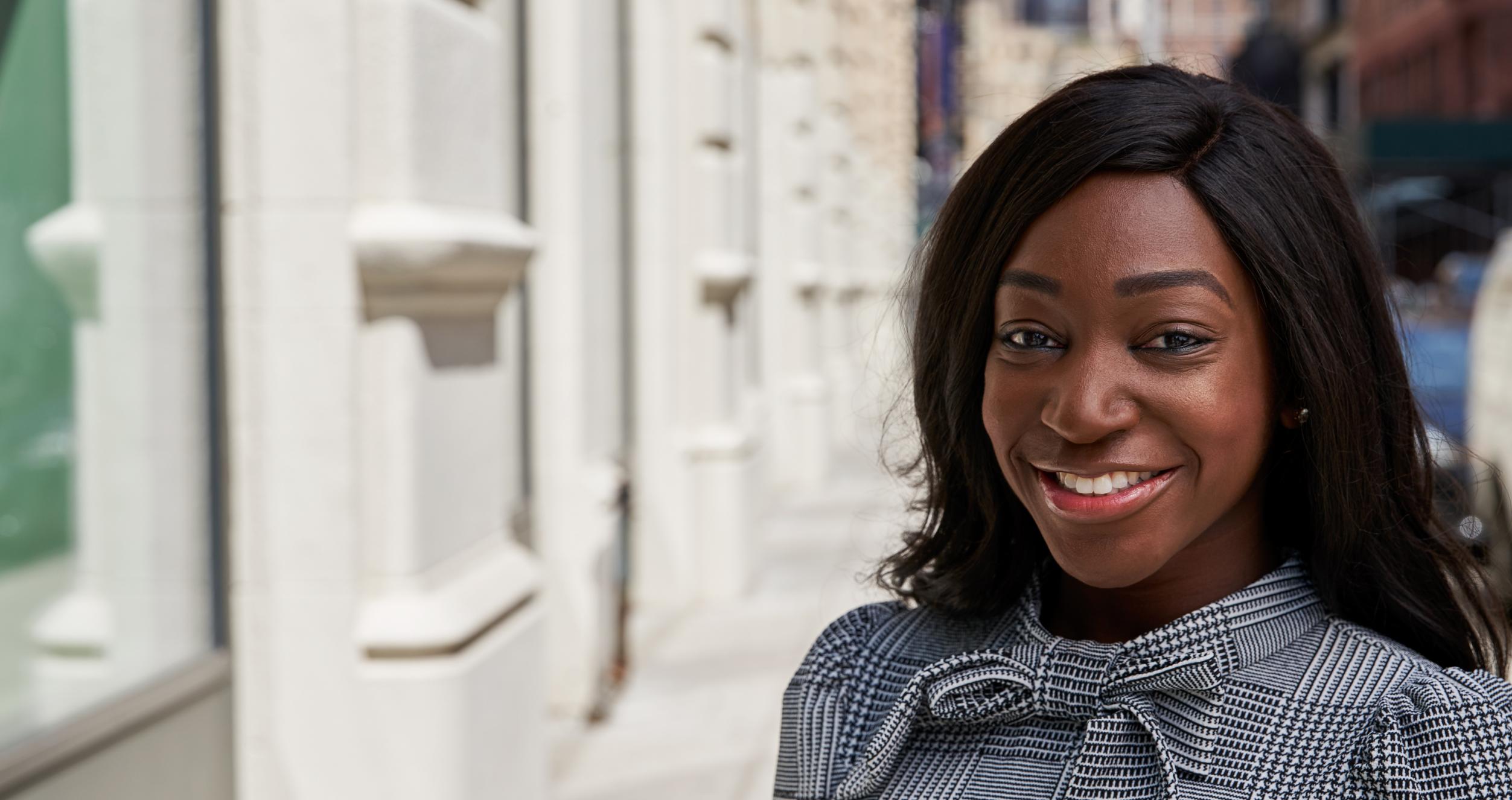 Student Voices
Tomi Odunsi, MBA 2015
---
Hometown
Buffalo, NY
Undergraduate
School: Cornell University
Major: Applied Economics and Management
Pre-MBA Role
Senior Analyst, Goldman Sachs
Post-MBA Role
Strategy and Operations Lead, Google  
Specializations at Stern
Luxury Marketing, Strategy
Student Clubs
Association of Hispanic & Black Business Students, Social Events 
Graduate Marketing Association, Treks/Events
Luxury & Retail Club
Management Consulting Association
What is your most treasured NYC spot or experience?
The Association of Hispanic and Black Business Students (AHBBS) date auction was an event that I led and it was my favorite at Stern. My roommates and I were auctioned off and we raised almost $4,000 for charity. It was a playful event but showed how when Sternies come together we can have a hugely positive impact on our community.
What was your favorite class at Stern?
I really enjoyed Power and Politics. It was about leveraging your different forms of power to navigate the workplace. I found it to be very relevant and applicable to real life situations at work.
How did you find a sense of community and support within Stern?
AHBBS and the Consortium have been a major source of community and support during my time at Stern. We maintain constant communication and help each other professionally. For example, when I was negotiating a new job offer, I went to one of my classmates for guidance and her transparency allowed me to negotiate in a smart and effective way.
How did our Office of Career Development and NYC setting prepare you for success?
Being in NYC afforded me the opportunity to intern part-time and try many different things while I was a student. The OCD on-campus recruiting process and job board were the channel that I used to get my summer internship and semester internship. These experiences have made me significantly more well-rounded and have been highlighted by recruiters that reach out about job opportunities within my space.
Why did you choose NYU Stern?
My decision to go to Stern was solidified at Admitted Students Preview Weekend after interacting with current students and alums. In particular, I found a specific alum who was willing to take me on as a mentee given my interest in pursuing a similar career path to hers. It was refreshing and encouraging to see how supportive she was even before I started school.
Tell us about an experiential learning program you participated in. How did it impact your Stern experience?
I really enjoyed the CFDA Consulting class. Building a business plan for a fashion designer taught me a lot about being disciplined and focused even in creative fields. It is something that I encounter in my role at Spotify all the time and building that foundational understanding while at Stern was extremely valuable.
Back to Student Profiles >>