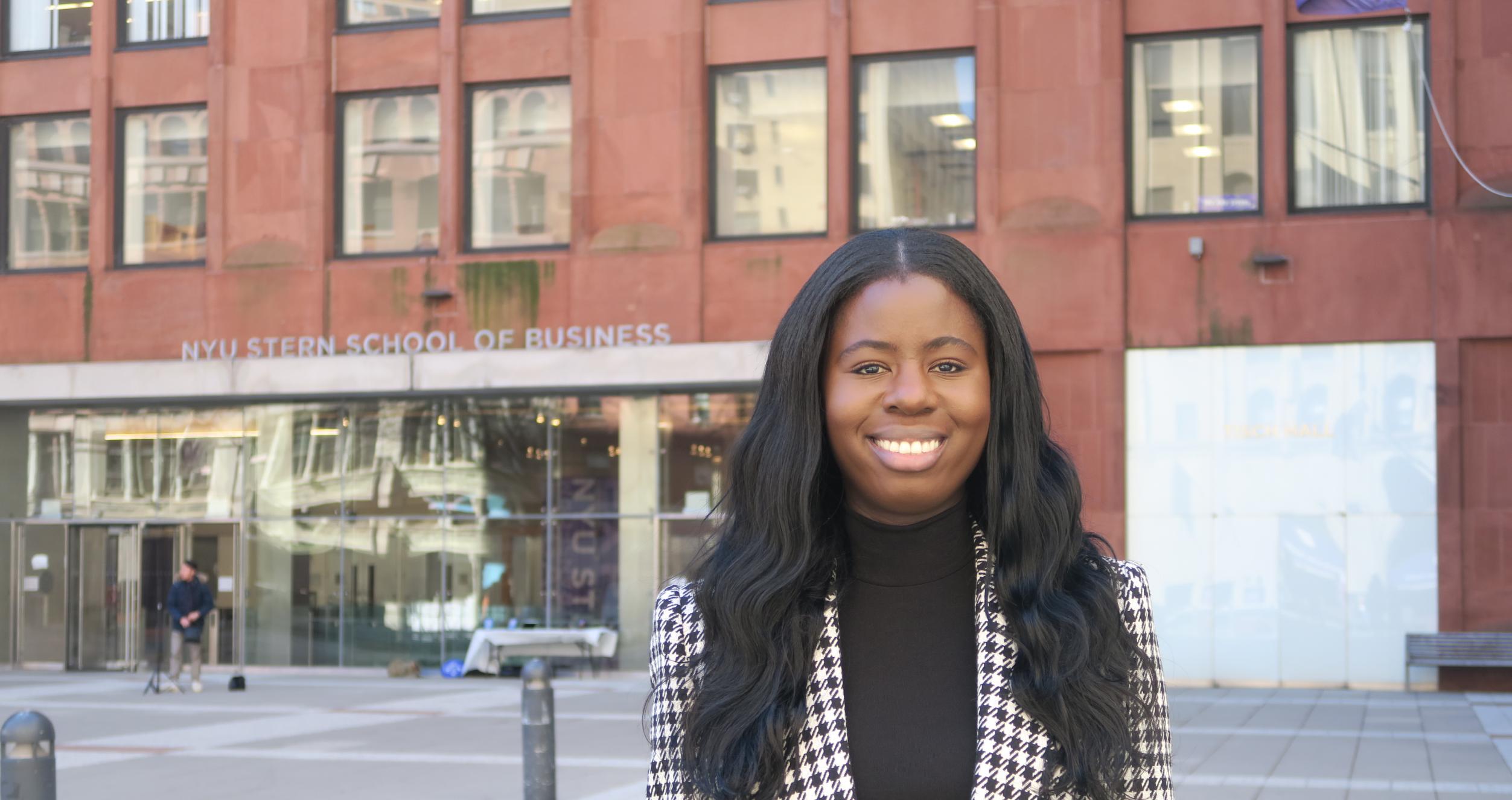 Student Voices
Jenette-Erica Menga, MBA 2024
---
Hometown


Buea, Cameroon

Undergraduate
School: 

University at Buffalo

Previous Company


Technology - DigitalOcean LLC

Summer Internship


Investment Banking at DC Advisory

Specializations at Stern
Management
Finance
Strategy
Student Clubs
Association of Hispanic & Black Business Students, VP of Professional Development 
Graduate Finance Association, VP of Admissions 


Stern Women in Business
How did you prepare for the program before you began it?
As a member of the Consortium, I was able to build a strong network and community with the other Consortium students at Stern months before the program started. In addition to the support we received from Stern, we leaned on each other for help during the Consortium Orientation Program, early recruiting, and the onboarding process for the Stern program.
What advice do you have for prospective students?
Come in excited and ready to learn not only from your professors but from your classmates! Some students come in with an idea of the career path they want but allow yourself to explore and learn about different opportunities.
Most importantly, DO NOT COMPARE YOURSELF TO OTHERS! Everyone's journey is different, and you will find the perfect opportunities for you!
Who makes up your chosen family at NYU Stern?
My Consortium class and The Association of Hispanic and Black Business Students (AHBBS)!
How has being located in the heart of NYC set you up for professional success?
Being in the heart of NYC was a huge advantage as I recruited for investment banking in the fall. It gave me and my classmates access to all the banks, and the opportunity to conveniently visit them during networking events and coffee chats.
How would you describe the Stern community?
The Stern community is diverse, supportive, intelligent, and exciting. You get to meet and build strong friendships with students and faculty from different backgrounds. In addition, there is always something exciting going on at any given week, such as going to Stern Speaks during lunch to learn about your peer's experiences, grabbing drinks at Amity Hall on a Thursday after class, and multiple club events/ conferences.