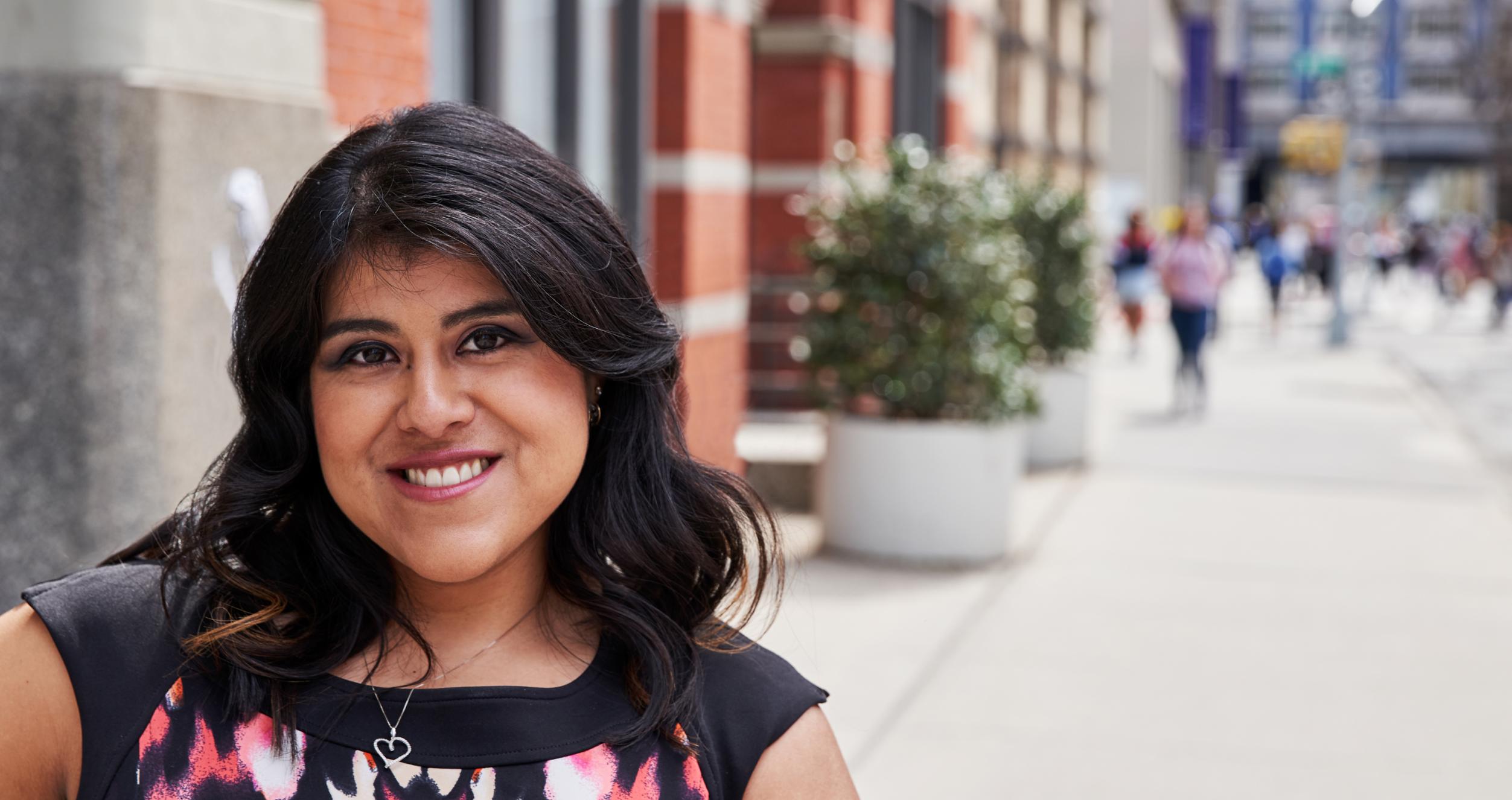 Student Voices
Diana Ruano, MBA 2015
---
Hometown
Uniondale, NY 
Undergraduate
School: Cornell University
Major: Applied Economics & Management; Animal Science
Pre-MBA Role
Senior Analyst, Vistaprint
Current Role
Head of Acquisition, Verizon
Specializations at Stern
Entrepreneurship and Innovation, Luxury Marketing
Student Clubs
Association of Hispanic & Black Business Students, VP Corporate Relations
Graduate Marketing Association, VP Admissions
Luxury & Retail Club, VP Finance
Entertainment Media and Sports Association
OutClass
Stern Women in Business
What is your most treasured NYC spot or experience?
There are so many! I would say that what I continue to love and value about my experience at Stern is the on-going sense of camaraderie throughout the years. One of the key differentiators for me was seeing how much the Admissions team cared about getting to know me, and how they remembered me at subsequent events. One of my favorite moments was during my Stern admissions interview. I had the opportunity to meet Daria Burke, an alum who was extremely involved. She gave me great advice on my career path based on our shared interests. I would then meet her again a few months later before starting my MBA and the warmth and closeness that was built during that first meeting was unlike anything I had experienced before. Since graduating from Stern and meeting countless alums and students, I realize that this sense of camaraderie is something that just makes up the very fiber of being a Sternie, and I wouldn't have it any other way. 
What was your favorite class at Stern?
My favorite professor at Stern was Dolly Chugh; I took her Leadership in Organizations and negotiation classes. She is an amazing leader and I loved all of the real-life stories that she integrated into her classes through her industry guest speakers. I will never forget having the opportunity to meet Greensboro Four Leader, General Joe McNeil, and sharing an emotional charged conversation about the values of family and the challenges of growing up as a person of color in America. I also constantly use the lessons I learned in her classes in my day-to-day and I felt that I grew as a leader after taking her classes. I always say that there isn't any other class that I have used more since graduating from Stern than her negotiations class. 
How did you find a sense of community and support within Stern?
I will say that the sense of community has only continued to grow. I saw my relationships flourish by participating in events that celebrated our different cultures and interests. I still remember participating in the SABA's dance performance and growing close to many classmates over dance practice. The Consortium also played a tremendous role in bringing some of our classmates together. Many of us still continue to hang out to this day and we plan annual trips together. Stern will forever be a part of my life and I am grateful for all the relationships I have built and continue to build.  
How did our Office of Career Development and NYC setting prepare you for success?
I don't think I would have been able to make the career transition I was looking to make (finance to marketing) without the plethora of internship and consulting corp opportunities that I was able to access in NYC. I took full advantage of the listings OCD provided and reached out to find a spring internship opportunity. The spring internship experience combined with the consulting corp experience is what help me land my ideal summer internship and fully make the move to marketing full time. 
What advice would you give to prospective students?
Attend as many events as possible for each of the business schools that you are thinking of applying to as part of your application process. It is super important for you to find the best fit as it will make such an impact on your experience as a student. Stern has so many things to offer and it is impossible to get a sense of the value from one information session alone. I encourage you to attend an industry conference - some professional clubs even host prospective students; apply to the Stern Diversity weekend if you are the target candidate; reach out to admissions and ask if there are other events that are being hosted that are open to prospective students; and of course you can always sit in on a class. Focus on making connections during those visits and get the real insights you are seeking to make your decision. 
Who is someone that has strongly influenced your time at Stern?
Dolly Chugh has been amazing and I continue to keep in touch with her since graduation. I learned a lot from her classes and she continues to provide invaluable advice when it comes to being a better leader. I always found her inspiring and she has always made time to talk to me about any career related or personal questions I might have. 
Back to Student Profiles >>