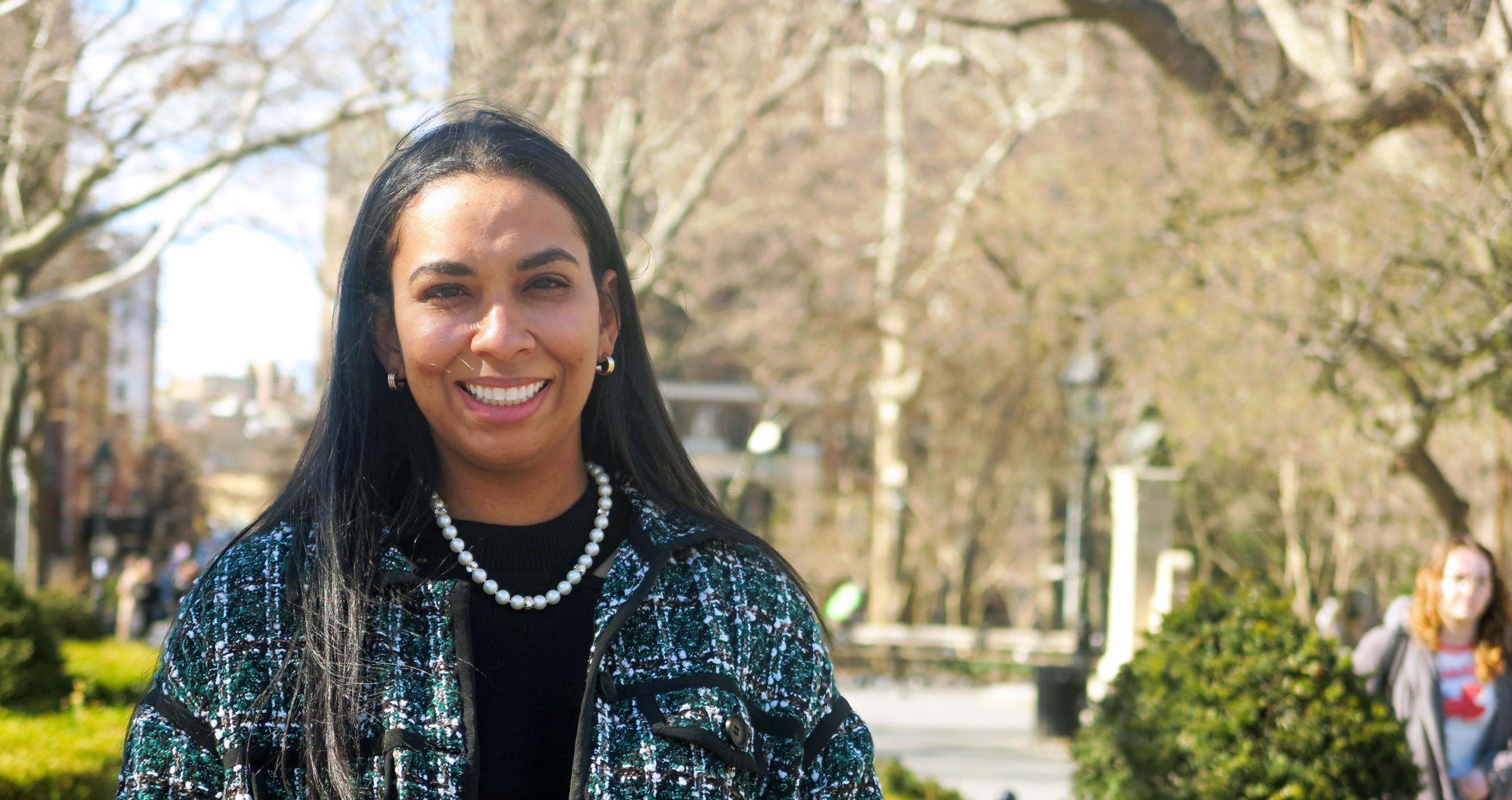 Student Voices
Janil Tejada, MBA 2024
---
Hometown
Bronx, NY
Undergraduate
School: Connecticut College
Previous Company
Non-Profit/Education
Summer Internship
Boston Consulting Group
Specializations at Stern
Leadership & Change Management
Marketing
Strategy
Student Clubs
Association of Hispanic and Black Business Students, VP of Professional Development
Student Government, SVP of Professional Development 
Luxury and Retail Club 
Social Impact and Sustainability Association
Stern Women in Business
What moment made you realize Stern was the home for you?
During the application process, I was drawn in by the warmth and support offered by the current students. This has definitely been a theme throughout my first year; Sternies really do help other Sternies!
How did you prepare for the program before you began it?
Coming from a non-quant background, I chose to take an accounting course the winter before starting at Stern. Although I am happy I could do that, I now know I would have been fine without it because my Accounting professor was so thorough. I opted into the math review course offered before starting classes, and that served as a great refresher and enabled me to hit the ground running in statistics (one of our core classes).
What class/professor has made the deepest impression on you?
Definitely Intro to Marketing with Professor Ragubir! I still can't believe how much we were able to cover in a single semester while still being incredibly thorough. This class was great for a lot of material covered in consulting case interviews, so it was great to put what we learned to practical use. I was not expecting marketing to be one of my concentrations. Still, I loved this course so much that I couldn't get enough and immediately gravitated toward marketing classes during the enrollment period.
What advice do you have for prospective students?
Be ready and willing to step outside of your comfort zone! Maybe sign up for a club you wouldn't have considered, or go to a corporate presentation in a field totally foreign to you. You'd be surprised by what you learn about yourself!
What advice would you give your first semester self?
Just go to office hours! I was initially hesitant, but the professors are honestly so approachable and ready to help. Plus, it's nice to get to know them one-on-one and outside of the classrooms. They are all so passionate about their research and also want to learn more about our backgrounds and goals.
What surprised you the most about Stern?
How collaborative and willing to help everyone truly is! I leaned into my incredible statistics study group so much during my first semester and learned a lot inside and outside of the classroom because of them!
What club or organization are you most proud of being a part of?
The Association of Hispanic and Black Business Students. It is wonderful to come together with other BIPOC students and allies for educational and social events. Everyone in the organization is mission-driven and passionate about being catalysts of positive change in our society.
Who makes up your chosen family at NYU Stern?
I am a member of the NYU Consortium and am extremely close to my cohort. There are about 30 of us in the program and represent a wide array of backgrounds and fields. I've really enjoyed getting to know them and cheering them on as they pursue (and achieve) their goals.
How has being located in the heart of NYC set you up for professional success?
Honestly incredible! It's great knowing that we are only a couple of subway stops away from so many target firms. It's easy to make it to coffee chats and back in between our classes! Our goals are truly at arms reach!