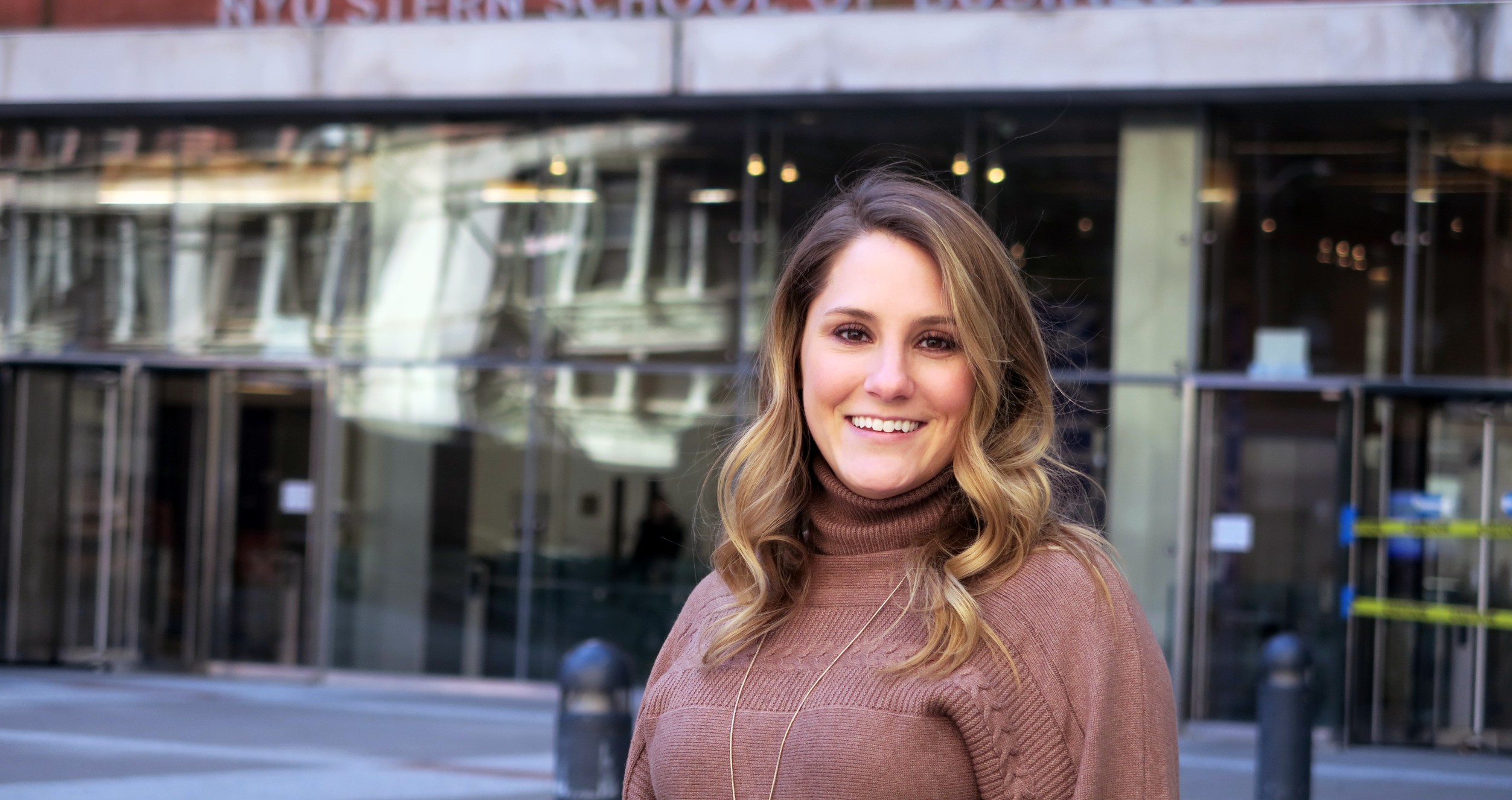 Student Voices
Kelsey Kuessner, MBA 2024
---
Hometown


Butler, KY

Undergraduate
School: 

Morehead State University

Previous Company


Commodity Trading, Steel Industry at The David J. Joseph Company

Summer Internship


EY-Parthenon - Summer Consultant 

Specializations at Stern
Economics
Strategy
Student Clubs


Consortium Member




Forté Fellow 




Student Government,

Diversity Committee




The Association of Hispanic & Black Business Students,

Allyship Vertical




Management Consulting Association,

Social Vertical 




Stern Adventures,

VP of Snow Events




Stern Women in Business
What moment made you realize Stern was the home for you?
I received my offer from Stern a few weeks after receiving my offers from my other schools. Because Stern has a rolling admissions process, I was unsure if/when I'd receive an offer, so I began weighing my options from other schools and struggled to find a clear choice. The day I received my offer from Stern, I sent a picture of the offer to a group of my friends, and they immediately freaked out… NEW YORK CITY!! My friends did not have that reaction to the other cities that were in the running. Somehow, the allure of the Big Apple and the powerhouse that is NYU made my decision clear right away. Stern was going to be my next home.
How did you prepare for the program before you began it?
To be completely candid, I did not do a lot of preparation for my MBA journey. The summer before I started school I had big intentions of learning how to case (bought some books and signed up for some webinars), but I never actually did the deep dive. And that's okay. Stern offers everything we need for recruitment during our first semester, so I was certainly not behind. The most important thing I did to prepare for school was travel. I visited family and friends in California, took a trip to Peru, and hiked the Inca Trail to Machu Picchu. I absolutely recommend taking time before school starts to travel and relax.
 
What advice do you have for prospective students?
My advice for a prospective student (once you choose to come to Stern) is to push through the madness of the first semester and know there is light at the end of the tunnel. Take advantage of every opportunity you can to travel somewhere fun, learn something new, and be an ally to someone you don't know. These two years are meant to do much more than just propel your career.
What advice would you give your first semester self?
I would tell my first-semester self to step farther out of my comfort zone with clubs and organizations. NYU offers numerous opportunities for people with unique backgrounds and interests to find community at Stern, and if I could turn back time, I would explore those niche communities sooner. For example, Stern Adventures is a club I would have never expected to be at the top of my join list during my first semester, because I was laser-focused on career and affinity groups. But the Adventures club is now responsible for creating some of my favorite memories at Stern.
What surprised you the most about Stern?
What surprised me most about Stern was how quickly we created a community. I always joke that I don't think I've ever gone out to lunch with the same group of Sternies twice—there are so many opportunities for people to mingle and make new friends. Because of this, there is a natural collaborative culture at Stern, which makes classes comfortable, fun, and interactive.
What club or organization are you most proud of being a part of?
I am most proud of being an allied member of AHBBS (Association of Hispanic and Black Business Students). Learning about communities and cultures different from my own was one of my main drivers in going to business school. AHBBS is welcoming to members from all around and hosts incredible events that impact our Stern and New York City communities.