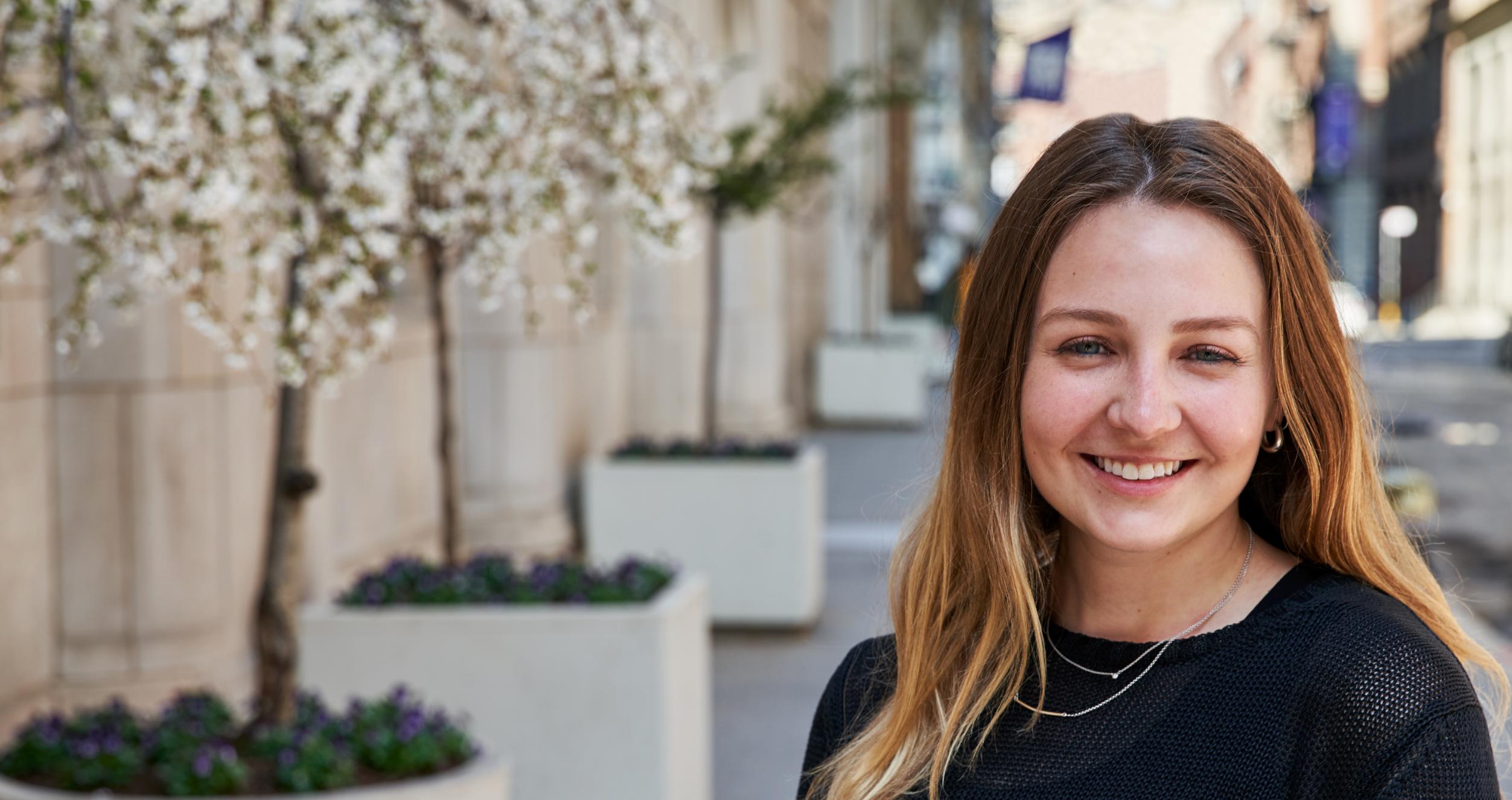 Student Voices
Alli Doll, MBA 2020
---
Hometown
Cleveland, Ohio
Undergraduate
School: Johns Hopkins University
Major: International Relations
Previous Company
Senior Consultant, Deloitte
Summer Internship
Strategy, JPMorgan Chase
Specializations at Stern
Entertainment, Media & Technology, Entrepreneurship & Innovation, Strategy
Student Clubs
Stern Technology Association, Co-President
Stern Student Government, Community VP
Arts, Culture & Cuisine Club
Stern Management & Strategy Club
Stern Women in Business
What is your most treasured NYC spot?
My favorite NYC spot is Central Park. It's beautiful - especially with the cherry blossoms in the spring and changing leaves in the fall. I jog the loop at least once a week and people (and dog) watch. 
What has been your favorite class at Stern?
My favorite class has been Leadership in Organizations with Professor Pettit. We participated in engaging and unexpected activities that shape how you think about leadership, organizations, and decision-making. Coming out of the class, I am more in tune with my motivations and style, and how to effectively collaborate with others. 
What type of experiential learning have you done?
It was important to me to find a school with a robust experiential learning program. During my MBA1 second semester, I took two experiential courses - Operations in the City and Tech & the City.  In Operations in the City, we learn typical foundational operations content, but then also go on site visits to companies like Amazon and Mahr Terminal. In Tech & the City, I worked with an early stage, high-tech start-up on an impactful project. These courses have allowed me to put what I am learning into practice in real-time. 
How have you found a sense of community and support within Stern?
I chose Stern because of its warm, authentic, and strong community. As an MBA1, I joined the boards of the Student Government and Stern Technology Association, and became a member of clubs like Stern Women in Business, where I was able to meet friends with shared interests. I am actually the rising Vice President of our Student Government's Community Committee where we put on fun events to build bonds among our student body. 
What has been the highlight of your time at Stern?
I traveled to Patagonia on a spring break trek with a group of 50 Sternies. It was an amazing trip - we trekked on a glacier, ate a lot of steak, and even saw penguins. It was great to meet more of my full-time, part-time, and focused MBA classmates and form new friendships. 
How has Stern prepared you for success in your specific industry?
I recruited for payments and technology during the fall semester. As a result of Stern's strong alumni network and club programming, I was able to visit numerous companies. These visits are unique opportunities to observe the culture, ask questions, and make connections. Stern's network is vibrant even outside the city - I traveled with OCD and the Stern Technology Association to Seattle and San Francisco to visit nearly twenty technology companies over winter break. 
Back to Student Profiles >>