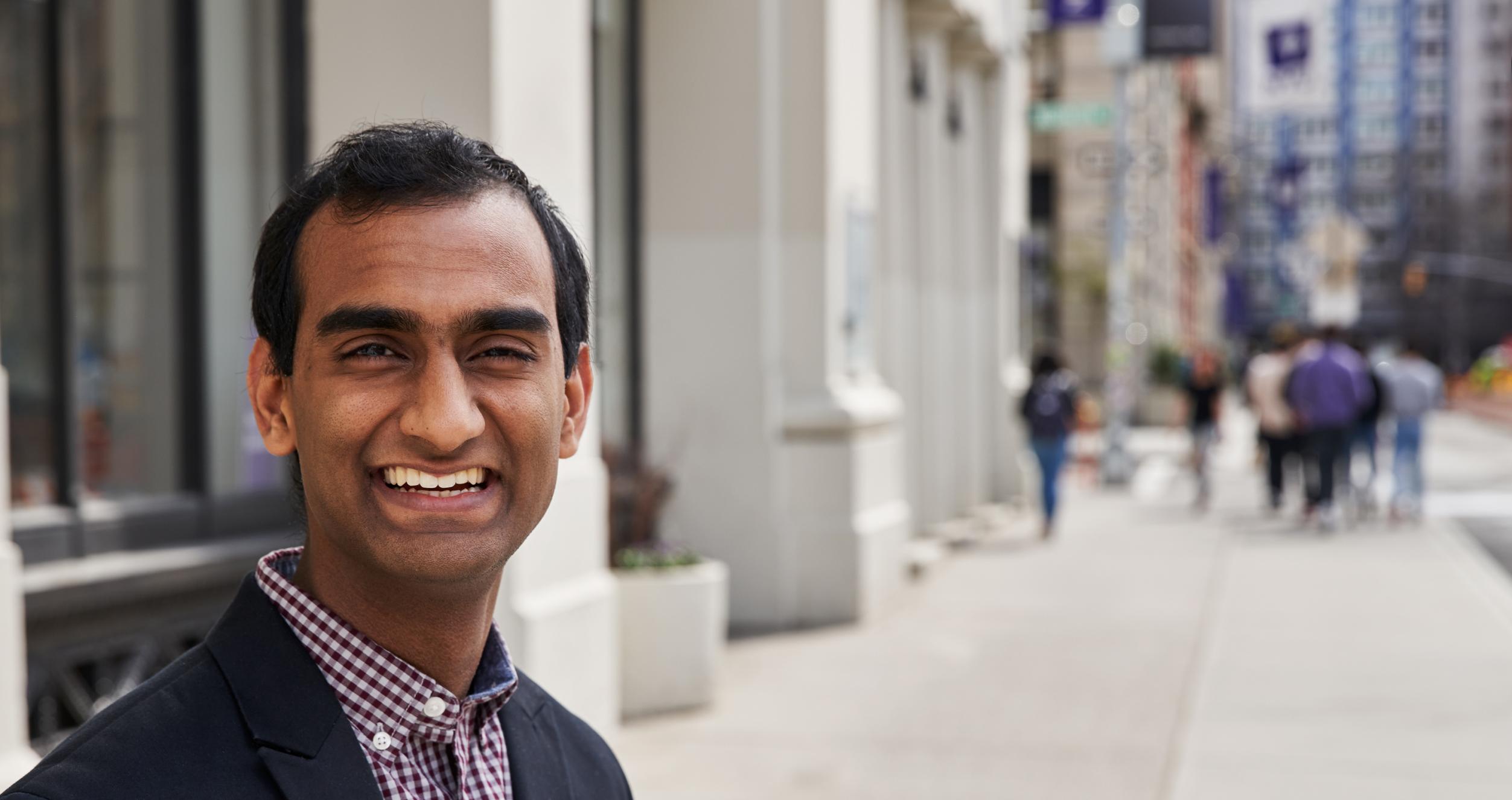 Student Voices
Rishi Jaggernauth, MBA 2017
---
Hometown
Ocean Township, NJ 
Undergraduate
School: Rutgers University
Major: Biotechnology 
Pre-MBA Role
Biotechnology Equity Research Summer Intern, Oppenheimer & Co. 
Current Role
Senior Manager, Regeneron Pharmaceuticals 
Specializations at Stern
Leadership & Change Management, Strategy
Student Clubs
Management Consulting Association
Stern Healthcare Association
What is your most treasured NYC spot?
The Museum of the City of New York is an utter delight for someone like me who loves to connect the dots. I'm a lover of history and sociology, so I often find myself getting lost in the many exhibits that showcase the stories and narratives that underpin NYC's emergence as a cultural and economic powerhouse. Whether it's learning about ingenious engineering marvels like the Old Croton Aqueduct, or stumbling upon a fascinating data visualization about the sociodemographic makeup of the outer boroughs, the Museum of the City of New York is one of those special places that captures the city's essence and makes me feel a part of something larger than myself. 
What was your favorite class at Stern?
Work, Wisdom, & Happiness with Jonathan Haidt was one of the most thought-provoking and fascinating classes I took at Stern. The class was a wonderful setting to really reflect on what constitutes a meaningful career, a fulfilling life, and what truly matters at the end of the day. What's more, the opportunity to engage with one of the leading public intellectuals and thinkers of our generation about our political discourse and civil society was such a privilege. I enjoyed the discussions so much that I even got my manager a copy of The Righteous Mind for his birthday!
How did you find a sense of community and support within Stern?
To me, Stern Speaks exemplifies community at Stern in showcasing the wonderful backgrounds and stories that our classmates bring to the MBA experience. I was also active in the Stern Healthcare Association during my time in Stern and our team won the top prize for the Second Day Challenge at the Boston University Grand Business Challenge in Digital Health during my second year! I continue to stay in touch with the Stern community as an alumnus through lifelong friendships, on-campus recruiting, and attending the Stern Healthcare Association's annual conference. And of course, who can forget Beer Blast!
How did our NYC setting prepare you for success?
Having come to business school to pursue a career at the intersection of healthcare and business, the presence of leading healthcare firms recruiting on-campus at Stern was tremendously valuable. This recruiting presence as well as the phenomenal Stern alumni network helped me land a summer internship at Regeneron Pharmaceuticals and an offer to join the company's post-MBA rotational program. I also took courses in healthcare policy and drug development at the Wagner School of Public Service and the School of Medicine during my time at Stern. These invaluable opportunities allowed me to stay abreast of the latest and greatest in healthcare and to network with leading industry practitioners.
What advice would you give to prospective students?
A campus visit and conversation with a Sternie can really open your eyes to the possibilities of an MBA in the heart of NYC. I knew right away during my interview day that NYU Stern was where I wanted to attend business school because the sense of community and opportunity here was so apparent to me, even just from chatting with MBA1s and MBA2s congregating in the KMC lobby in between classes. I would also highly recommend attending one of the many fantastic student-led conferences at Stern to get to know future classmates and alumni and to see for yourself the potential paths you can take during business school and beyond. 
What was the highlight of your time at Stern?
The community! There's something truly magical about the sense of community at Stern that I hold near and dear to my heart as a proud alumnus. Whether it's chatting with professors about building a meaningful work life, listening to the stories of my classmates during Stern Speaks, having heart-to-hearts over lunch with classmates at Washington Square Park and at Beer Blast, the community at Stern truly made my time in business school a formative and edifying experience.
Back to Student Profiles >>