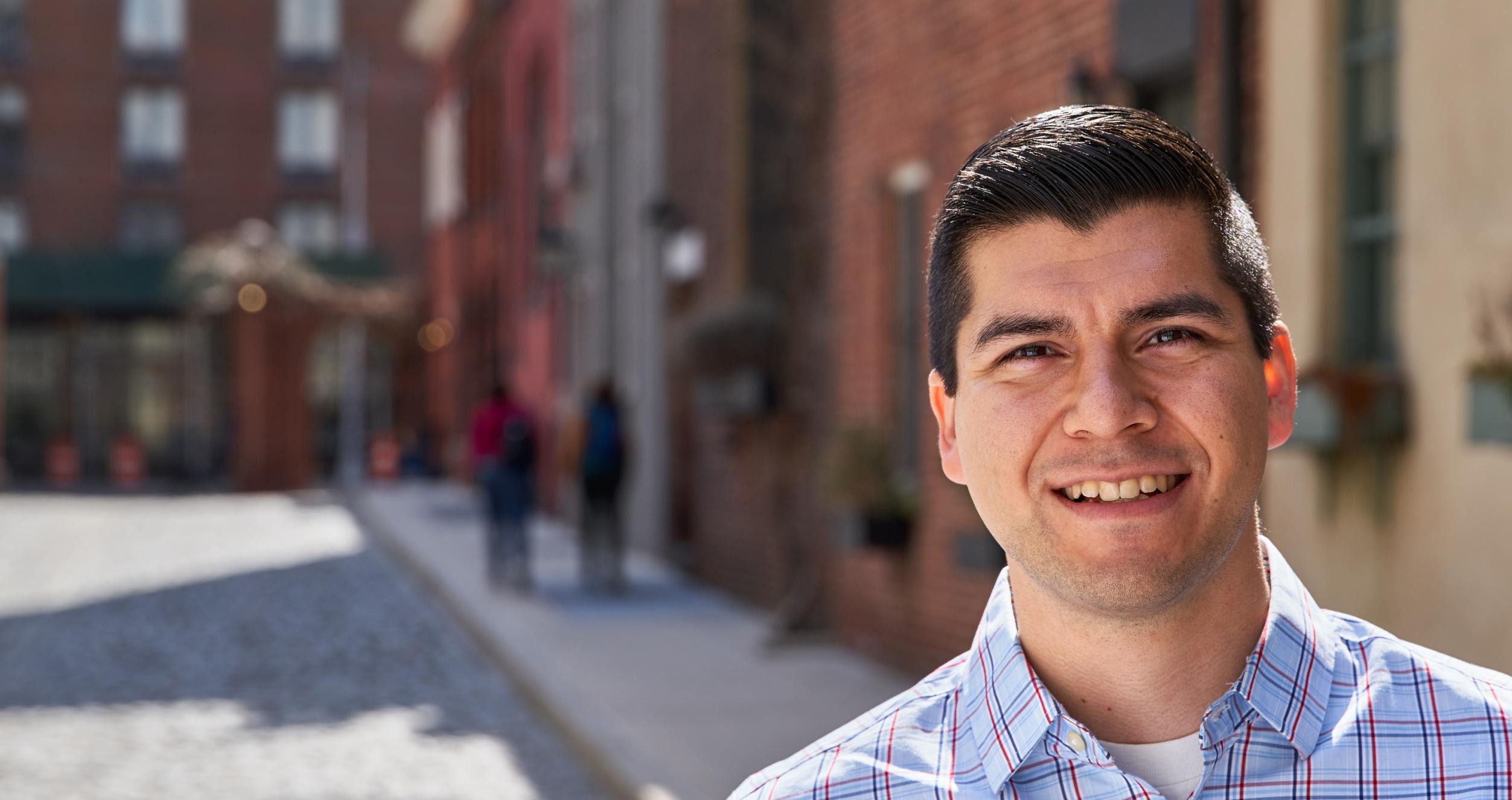 Student Voices
Edgar Corona, MBA 2020
---
Hometown
El Monte, California
Undergraduate
School: Georgetown University
Major: Marketing
Previous Company
Hispanic Marketing & Fan Strategy, Manager at National Football League (NFL)
Summer Internship
Brand Management, The Clorox Company
Specializations at Stern
Finance, Marketing
Student Clubs
Association of Hispanic & Black Business Students, Co-President
Graduate Finance Association
Graduate Marketing Association
Stern Hoops
What is your most treasured NYC spot?
Adrienne's Pizza Bar on Stone Street in the Financial District is one of my favorite places to eat. New York City is home to several pizza shops but the Old fashioned pizza at Adrienne's Pizza Bar is one of the best in the city. This pizza shop is also the first one that my friends from Georgetown and I attended when I first moved to NYC. Since then, we have made it a tradition to go the restaurant any time that they visit the city.   
What has been your favorite class at Stern?
One of my favorite classes at NYU Stern has been Marketing, Planning & Strategy, a course taught by Professor Krentzman. Successful executive business leaders are able to articulate a clear vision for an organization and carry out that idea across the members of the organization. This course trained me how to create a five-year strategic marketing plan and to successfully pitch this vision to a Board of Directors.  
What type of experiential learning have you done?
During a case competition hosted by AHBBS, over 50 first-year MBA students from several disciplines worked with minority-owned, small business Thandos to deliver recommendations on how the company can expand the product line to engage a broader consumer base. I found the experience as a valuable opportunity both to prepare for upcoming professional internship interviews and to contribute critical consulting information that may not have otherwise been as accessible to the Thandos business. This competition stood out to me because it successfully aligned classroom learning with delivering substantive value for both business and society.  
How have you found a sense of community and support within Stern?
The vision of NYU Stern is to develop people and ideas that transform problems into opportunities to create value for business and society. Each individual has a tremendous potential to solve global problems through the power of business. This academic year, AHBBS (Association of Hispanic and Black Business Students) took on the challenge of placing these ideals into practice by working with the administration, student body, and the broader New York City community. Some of these examples include leading a Career Day session at a middle school in Brooklyn, hosting a Case Competition whose results would help a small business that serves an underrepresented community, and working with the Admissions Office to engage the next generation of Stern students. The success of these events is a testament to the strong, passionate and dedicated community that forms AHBBS and I am looking forward to continuing to work with these individuals.  
What has been the highlight of your time at Stern?
One of my highlights at NYU Stern has so far been participating in Passport Day 2019, an event that celebrates the school's diverse community by featuring a variety of cuisines. At this event, students shared their cultural traditions and stories with the broader community with such pride and enthusiasm. I had the opportunity to learn more about my classmates and the diversity that exists at Stern.  
How has Stern and the Office of Career Development prepared you for success?
One of the top reasons that I elected to attend NYU Stern was the school's ability to integrate several experiential learning opportunities into the curriculum. To excel as a Brand Manager, I want to learn from a variety of industry professionals to become a holistic leader in the marketing industry. After securing my summer internship, the Office of Career Development continued to work with me to identify other experiences within Stern where I could continue to build on those skills. In May 2019, I participated in the DBi Germany program through Stern's partnership with the Leipzig Graduate School of Management. Through this experience, I had the opportunity to learn from top senior executives and go on-site to visit factories to best understand how management implements strategy. 
Back to Student Profiles >>