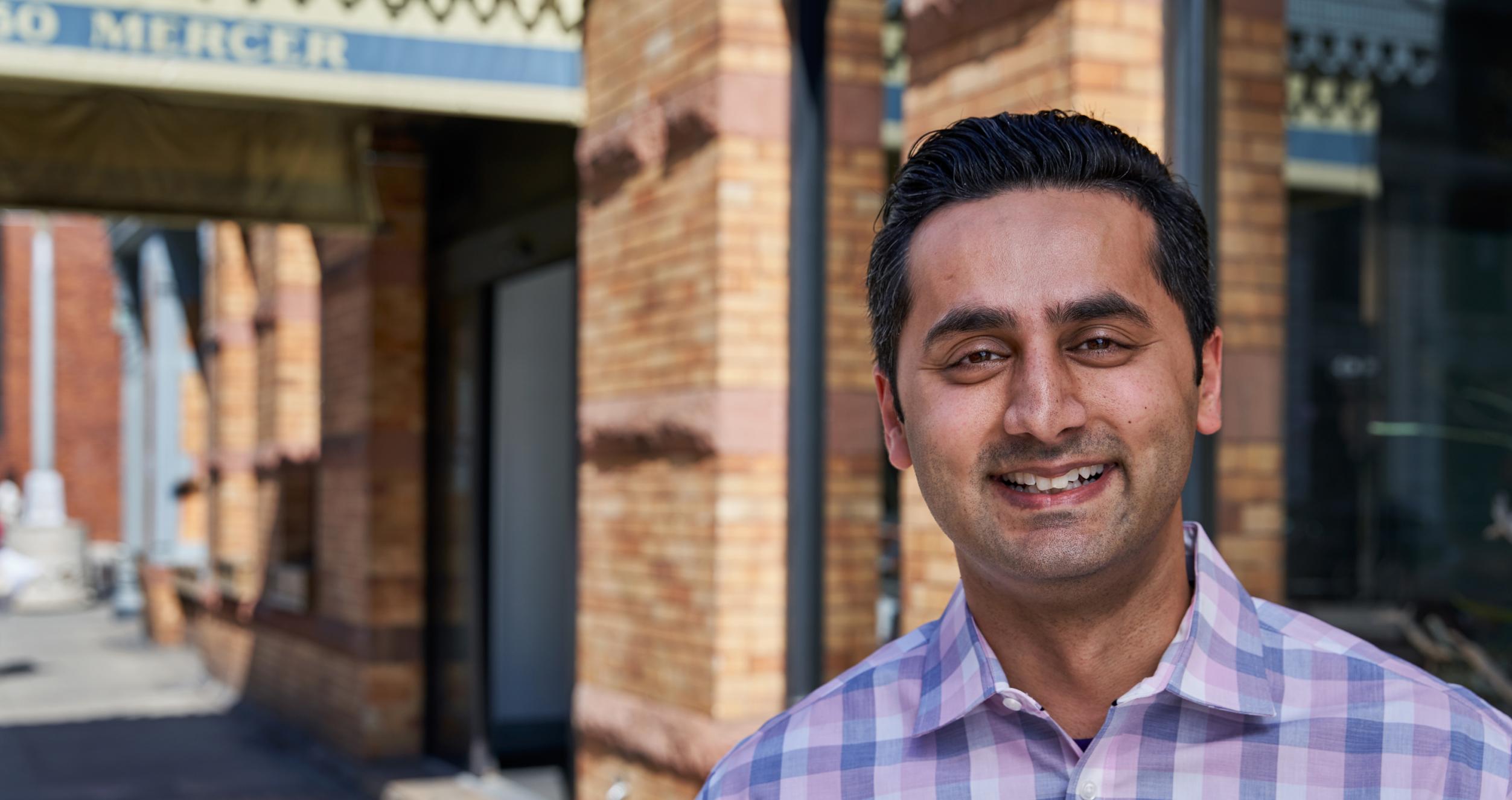 Student Voices
Manraj Parmar, MBA 2020
---
Hometown
Scranton, PA 
Undergraduate
School: University of Connecticut
Major: Biomedical Engineering
Previous Experience
Constultant/Founder, MSP Consulting
Summer Internship
Management Consulting, IQVIA 
Specializations at Stern
Business Analytics, Finance, Strategy
Student Clubs
Stern Healthcare Association, VP of External Relations
Military Veterans Club, VP of Careers - Consulting
Entrepreneurship and Startup Association
Management Consulting Association
Stern Business Analytics Club
Stern Hoops
What is your most treasured NYC spot?
My most treasured experiences in NYC are the rooftops during the summer. Each one offers a different perspective of the city and feels like an escape from the busy life down below. Some of my favorites include Mr. Purple on the Lower East Side and Gallow Greens in Chelsea.
What has been your favorite class at Stern?
My favorite course so far has been Financial Analysis of Healthcare Companies taught by Dr. Roderick Wong. The course teaches frameworks for evaluating healthcare firms and includes case discussions. I was fascinated by this course because I was able to combine my previous medical knowledge and experiences to the principles I learned in my Stern core courses (Foundations of Finance, Strategy, Accounting). Furthermore, the professor invites industry leaders (healthcare investors and c-suite of biotech firms) to discuss relevant topics. Interacting with such professionals has helped me set goals and plan my future career path.
How have you found a sense of community and support within Stern?
My first introduction to the Stern community was through the Military Veterans Club just prior to starting my first year. As an incoming MBA1, I was invited to many happy hours and outings with current veterans at Stern who made sure I was ready for the upcoming semester. Since then, I have found that joining the management consulting club, going on a trek to Japan, and participating in monthly events with my block has grown my support system at Stern immensely. 
How has the Office of Career Development helped to prepare you for success?
Through official Stern events and OCD, I have been able to visit numerous offices of prestigious consulting firms in NYC during the semester. I was able to get meaningful face time with current consultants who then connected me to other consultants within their office who shared my practice interest: healthcare industry. NYC offers a level of accessibility that is unparalleled.
What resources have Stern and New York City offered to help you develop as a professional?
The two biggest resources I have used thus far have been Stern alumni working in the city and the second year MBA students I met through both professional and affinity clubs. I have found the Stern alumni to be very receptive to jumping on a phone call or meeting for a drink after work. It's a great way to get insider tips on summer internship interview preparation for their respective firms. The second year MBA students have been a wealth of knowledge for picking courses, finding outside opportunities (InSITE Fellowship), and keeping things in perspective.
What has surprised you most about your time at Stern?
Being an outsider to the business world, I was worried that my future classmates would be a homogeneous set of bankers and marketers as often depicted in popular culture. This could not be further from the truth. The diversity in thought, experiences, and background has been a welcome surprise. My Stern friends hail from around the world with experiences ranging from blackhawk pilots to journalists.
Back to Student Profiles >>