Yamila Hernandez (MBA '19)
Pharmaceutical Marketing Rotational Manager
NYU Stern Program: MBA
Company: Pfizer
Industry: Pharmaceutical marketing

Yamila Hernandez (MBA '19), leveraged her experience at Stern to make a career transition from CPG strategic communications to pharmaceutical marketing, and now pays it forward as the Pfizer relationship manager of pharmaceutical marketing for Stern. After successfully taking her own leap of faith, Hernandez shares her advice for others considering shifting their career trajectory.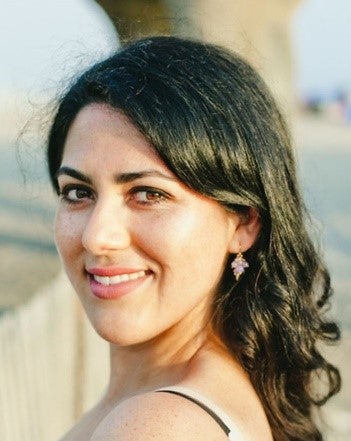 ---
What led you to choose Stern for your MBA?
I chose Stern for my MBA because of its luxury marketing specialization. I was also drawn to Stern for its coursework in finance, which I thought would be critical in becoming a well-rounded marketer.
---
Were you planning to change industries coming into the program, or did that decision evolve during your MBA? What appealed to you about pharmaceutical marketing?
Coming into my MBA, I was set on the function of marketing but not on the pharmaceutical industry. But following a formative internship, I realized that I wanted to be part of a dynamic industry in which I could  be challenged intellectually. And I sought to join  a company with a deep sense of purpose and a strong culture. Learning about the luxury industry could remain a hobby for me. This realization drew me to the pharmaceutical industry. As a pharmaceutical marketer, my work  is complex, precise, and requires a high degree of integrity. Every promotional piece I create is done in tandem with a team of internal and external partners and has to be run through our legal, medical, and regulatory teams with the lens of the stakeholder group – patient, physician, payer – to which it is intended. It's really a privilege to know that my work contributes to Pfizer's purpose, which is delivering breakthroughs that change patient's lives.
---
How did Stern help facilitate your shift from CPG communications to pharmaceutical marketing?
Stern helped through its coursework, including specific classes such as pharmaceutical marketing, and through Stern's relationships with certain organizations. The school really helped facilitate my shift to a new industry, including by connecting me to alumni at Pfizer, and now I pay it forward as the pharmaceutical marketing relationship manager for Stern. It's truly rewarding to be able to recruit passionate and talented students.
---
What did you learn about changing industries during this process? What advice do you have for either current MBA students or fellow alums who are looking to make a career shift like this?
I learned that changing industries truly requires a leap of faith. It's hard to know if the grass is truly greener on the other side. I would recommend to others considering this kind of shift either to do an internship or a job shadow to learn if the type of work and the culture are aligned to their expectations. If after that experience the interest is still there, I would recommend moving forward even if it requires a sacrifice at first in terms of seniority. It's worth it to be able to do what you love every day. I'm so content with the work that I do -- I am intellectually challenged, surrounded by a wonderful group of colleagues, and focused on helping patients. 
---
Were you involved with any student groups during your time at Stern, such as SWIB? If so, how did this affect your MBA experience?
I was co-president of the luxury and retail club and a member of other clubs including the graduate marketing association. Being involved in those organizations taught me invaluable leadership skills including stakeholder management and collaboration that I use every day at my job.
---
Favorite memory or experience from your time at Stern?
My favorite memory is being chosen to participate in the Stern Signature Project, which has now been rebranded as Stern Solutions. That was certainly a highlight. We traveled to Scotland and crafted updated positioning and pricing for a brand in the high-end textile industry. It was truly an incredible experience working in another geography and traveling with other members of the Stern community. Other than that, it was really the professors at Stern. All of the professors I had were amazing, and I truly believe it's because of everything I learned at Stern that I can be successful at my job today.
---
Favorite tv show or podcast currently?
The Big Bang Theory. There is so much to like about the characters and witty banter! I have been following the show for many years; the first episode aired when I started college and the last as I was graduating from b-school. 
---
Favorite place to get brunch in the city?
Sant Ambroeus on the Upper East Side. The vegetable frittata panino and the Sant Ambroeus espresso specialty drink are a must try!
---
Last place you went on vacation?
Los Angeles to visit family and friends. The highlight was being a part of my sister's baby shower.