Mark Shinder (BS '95) Shares His Story of Reinvention and How NYU Stern Transformed His Life
—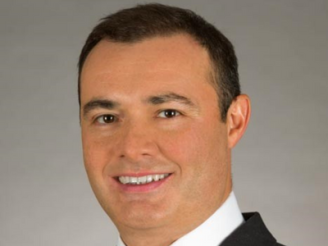 Mark Shinder (BS '95)
Chief Investment Officer, Northstar
Industry: Investment Management in the Funeral and Memorialization Industry

Mark shares his experience as a teenage Jewish refugee from Ukraine who earned a spot at NYU Stern, how the University changed his life, and why he decided to pivot from Wall Street to Houston as a CFO of a start-up funeral and memorialization services company.
 
---
Tell us about yourself and what drew you to finance? 

In high school, I read Frank Cowperwood's trilogy, The Financier, The Titan, and The Stoic, and realized that investing was my true calling. When I enrolled at NYU Stern in the early 1990s, I thought it would be a good fit for me. But what I could not possibly know is that the relationships and knowledge I gained at Stern would enable me, a teenage Jewish refugee from Ukraine, to exceed my wildest dreams. 

Today, I run a $1+ billion investment firm. I have worked with some of the smartest, most driven people on the planet. And I am fortunate to have a strong family, a loving wife who I met through my NYU classmate, two amazing boys, and many NYU alumni who I count as mentors and colleagues (past and present).
---
Did you grow up in Ukraine? At what age did you move to NY? What was it like?
 
I was 17 at the time of the unsuccessful August 1991 coup against Gorbachev, and Ukraine declared its independence. The collapse of the Soviet Union ushered in a new era of uncertainty and armed conflicts occurred across the country. The risk of ethnic and religious violence, or worse, a nuclear catastrophe, had skyrocketed. My family managed to escape the ensuing chaos. We left everything behind and headed for America.  

In the early 1990s, NYU opened its doors to teenage refugees from the former Soviet Union. The acceptance letter from NYU Stern arrived three months after our arrival in NYC. It was a game-changer, a pivotal milestone on my incredible journey in America. 

At that time, my mother and I lived in a tiny, sparsely furnished apartment in Brooklyn.  We could barely speak English. But we, like so many other first-generation American families, were determined to make it in NYC.
---
As a scholarship recipient while at Stern, can you talk about the impact that scholarship had on you? 
 
My joy of getting accepted to Stern was quickly overshadowed by concerns of how to pay for it. Almost effortlessly and with a smile on his face, the NYU financial aid counselor (whose name I remember to this day) found a way to provide me financial support. I was offered a collection of scholarships, grants, and loans. I could not believe it.  

With the last hurdle cleared, I joined a vibrant, diverse NYU community. My strong academic performance earned me a place in the coveted Stern Scholars Program, and I qualified for a variety of merit scholarships. Most importantly, upon graduation, I landed a dream job with a prominent, NY-based advisory firm. The work and travel were demanding, but highly rewarding.  I was able to pay off all my student loans with my first full-year bonus. It was a stunning amount that exceeded all my expectations and allowed me to become completely debt free.  
---
NYU Stern is proud of the international diversity of the School's student population. What was it like for you to go to School with students from all different backgrounds and parts of the world? 
 
The moment I walked through the doors of Tisch Hall for the first time, I was surrounded by faculty and students from all over the world. It was fascinating. The diversity was not limited to differences in appearance and accents. I was especially impressed by the contrast of ideas and opinions, and above all, the openness and willingness to speak one's mind. It was truly liberating.
---
Tell us about your career path upon graduating from Stern in 1995. What did you set out to do? 

After graduation, I joined Stern Stewart & Co., a New York-based advisory firm. In the 1990s, the firm was doing important, pioneering work in corporate finance, strategy, and incentive compensation based on its proprietary Economic Value Added (EVA®) framework.  

I learned a great deal from visionary, smart people who worked at the firm and client companies. But nobody has done more for my personal and professional growth and development than Greg Milano (MBA '90). I admired his engaging and convincing style. In the mid-1990s, Greg led our European expansion by opening new offices in London, Paris, and Milan. With a great deal of enthusiasm, I joined Greg and a small team of expats on this journey. I was young and ready to conquer the world. I worked in London for almost 3 years, ran our Paris-based practice for a year after that and came back to NYC.  
---
What drew you to the funeral and memorialization business? And why in Houston?

While working in London, I met another special person that would play an important role in my life, Mark Hamilton. In the late 1990s, Mark, a native Houstonian, was a senior executive of a leading provider of funeral and memorialization services in the world. Mark became a client and a big champion of EVA. 

Interestingly, the client was actively engaged in selling services and merchandise to families in advance, collecting and segregating customer payments in special-purpose trusts and managing trust investment accounts. The aggregate amount of investable funds was in the Billions!  I saw clearly that the client was engaged in two complementary, but very different businesses: a service business and an investment business. This insight was instrumental years down the road in helping me make the decision to leave Wall Street and join a small Houston-based startup called NorthStar Memorial Group LLC, run by my partners, Mark Hamilton and Brian Sullivan.

When I decided to make a career change in 2006 and move my family to Houston, my friends and former colleagues could not believe it. After brief stints at Marakon Associates and Lazard, I finally was settling in my new role as an equity strategist at Deutsche Bank. We lived on the Upper West Side.  I loved my job. My wife was a quintessential city girl. Deathcare? Texas? To say that our family and friends were surprised by our decision would be a huge understatement.  

It was the right call. I had the opportunity to build a great company and put to work the learnings from my management consulting, investment banking, and investment management days. As the CFO of a rapidly growing company, I had to wear multiple hats for a long time. As our business grew in size and complexity, we hired capable new leaders to join our team. At this time, I am 100% focused on running our investment business, which has grown from a little over $100 million AUM in 2009 to over $1 billion today.
---
Favorite restaurants or things to do when you are back in NYC? 

We come to NYC several times a year to reconnect with family, friends, and former classmates and enjoy taking our kids to Greenwich Village. My youngest son, Michael, is an avid chess player. He can spend hours playing chess at Chess Forum on Thompson Street or in Washington Square Park, the heart of NYU campus. My wife and oldest son, Sam, have adventurous palates. We love to discover new, quaint places to eat. Tomoe Sushi is one of our favorite restaurants.  

We are drawn to the high-energy, colorful NYC scene. After many years living in Houston, NYC still feels like home to us.