A Lifelong Legacy: How Campus Life at NYU Stern Inspired Bruce Berger (BS '66)
—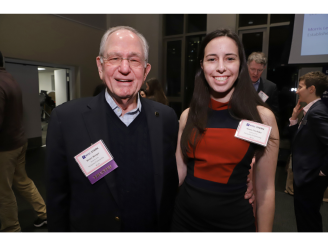 A strong devotion to his campus community led alumnus and NYU Trustee Associate Bruce Berger (BS '66), along with his wife Susan, to consider planned giving among their continued history of philanthropy toward NYU Stern. As he reflects on his time as a Stern undergraduate, Berger remarks fondly: "NYU made my life."
Berger began his journey at NYU as a commuter student, but stands out uniquely in his active dedication to campus life. Though he did not participate in residential activities until his junior year, when he moved to Rubin Hall, Berger held positions as Commerce Student Council president, class president during his first and second years, and vice president of the Student Council during his third year. Berger shared that Dean Emeritus Abe Gitlow was very influential in his NYU life as student and president of the Student Council and continued to support him when he served as the Alumni Association president.
Berger's sense of belonging, however, came largely from his experience as a member of Phi Epsilon Pi, the national fraternity whose downtown New York chapter was established in 1949. Along with fellow fraternity members, Berger sought to establish a method through which the fraternity could give back to currently enrolled undergraduates. As Berger recalls: "We started organizing a reunion of our fraternity with the assistance of Dean Fred Choi. Those early events evolved into a fundraiser for a new classroom. Our group grew primarily by networking—pre-social media. We talked about how best to create a permanent legacy—those discussions led to the creation of the Phi Epsilon Pi Fraternity Legacy Scholarship."
This scholarship, one of the many ways through which Berger has given back to his undergraduate community, specifically supports first-generation students from Metro-New York, a population of students close to the hearts of Phi Ep members: "When we meet recipients of our scholarship," Berger explains, "we share our stories, look for ways to support their career objectives, and remind them that we hope that they will support the next generation of scholars as they advance in their careers."
Berger himself has held many impressive roles throughout his career trajectory and wants newly graduated alumni to experience the same success. After he received his BS in accounting, he earned his Certified Public Accountant certificate and later migrated to the corporate world, where he developed an interest in computer applications. "NYU provided the analytical training and business writing skills, and I leveraged those skills to create a systems consulting practice that prospered for over 30 years until I retired."
In an effort to promote his legacy to future generations and share his affinity for the School, Berger and Susan sought a more impactful way to give back apart from his continued direct contributions throughout the years. Planned giving offered them the opportunity to do just that. Through their planned gift, Berger and Susan were able to direct a specific amount and assets in their estate to the School, leaving a lasting impact for generations of future Stern students. "NYU has always been a part of our lives. Susan has been very involved and supportive of my alumni activities and especially those of Phi Epsilon Pi. When we were approached to consider a gift to Stern as part of our estate planning, we didn't hesitate to agree to the plan."
---
Learn more about Planned Giving
Planned giving is an easy way to support NYU Stern with a gift that comes to the School after your lifetime and enables you to support the School's mission and make a difference in the lives of future generations. To learn more about
planned giving
and how you can donate, contact Alex Muetzel at
amuetzel@stern.nyu.edu
or 212-998-0596. 
---
Left: 
Bruce Berger (BS '66) with one of his scholars, Anna Usvitsky (BS '21)