The Right Moves
—
Bausch Koh (BS '24) hopes to use his business acumen to help organizations that make a real impact on the world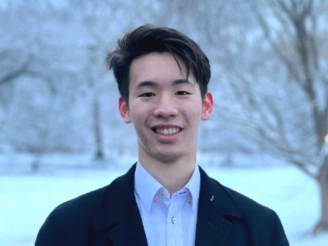 Bausch Koh (BS '24), who hails from Kuala Lumpur, Malaysia, said that his days at Stern "are filled with laughter and joy." It doesn't get more rewarding than that for the donors who make Stern scholarship support possible.

"This scholarship has truly changed my life by allowing my family to afford to send me halfway across the world to attend NYU," Koh explained. "My parents want only the best for me, and this scholarship has helped them make my dreams a reality. For that, I am truly grateful."

Koh, a private chess coach and avid badminton player, has been busy since starting at Stern. He is serving as an Admissions Ambassador at the School, belongs to the Business Analytics Club, and is a consulting director of Bridges for Enterprise, a nonprofit that provides pro bono advisory services to social enterprises in the developing world.

Being a Sternie, Koh said, "means that I'm surrounded by bright minds and constantly being challenged to be the best version of myself." Inspired by Professor Elizabeth Howard, his Management & Organizations teacher, he has selected finance and operations as his major. "Professor Howard really challenged me to think about the underlying reasons behind why certain things are the way they are and why certain people act the way they do in the world of business."

Minoring in computer science and mathematics, Koh's long-term plan is to work in management consulting and "hopefully use my business acumen to help organizations that make a real impact on the world." Last summer he interned in equity research at Stockbit in Kuala Lumpur, and he will be returning there to work as a summer associate for the Boston Consulting Group.