Honoree David Ko (BS '93), co-CEO and Board Member of Calm, Announces the New "Founders and Entrepreneurs' Pledge" at the NYU Stern Haskins Giving Society Award Dinner
—
Ko shares his vision for the Pledge as a way to commit to giving back and helping the next generation of students, especially through scholarship support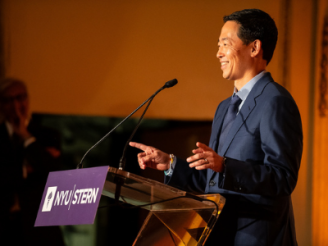 After nearly three years, hundreds of the School's most loyal and generous donors came together for the annual Haskins Giving Society Award Dinner. The School was delighted to celebrate and thank donors in person and to honor an exemplar for outstanding achievement, this year's Haskins Award honoree, David Ko (BS '93), co-CEO and Board Member of Calm. Ko also serves on the NYU Stern Executive Board and was recently appointed to the NYU Board of Trustees. During his acceptance speech, Ko unveiled a new fundraising initiative that he is championing — the "Founders and Entrepreneurs' Pledge" — a novel and complementary way of giving back to Stern that asks participants to Pledge to give when the time is right as their own professional success grows.
"I was lucky to graduate without the burden of debt and was free to pursue my passions. But so many students these days do not have that option because of debt," said Ko. "My goal is to encourage more Stern alumni, especially those in the entrepreneurial space, to take the Pledge and commit to contributing later, and in the meantime, join a like-minded network of people who support one another and the School."
"David is a visionary and we value greatly his out-of-the-box thinking and passion for working with students. He is the driving force behind the 'Founders and Entrepreneurs' Pledge' and someone who will continue to have a big impact at the University," said Dean Raghu Sundaram. "We're excited for the Pledge and the potential it brings for helping provide critical support for scholarships as a way to reduce the financial burden on our students." 
Back in 2016, David and his wife Jennifer made a $1 million gift to support the Stern Venture Fellows program that is run through the Berkley Center for Entrepreneurship. Through a 10-week summer Program, a cohort of Stern entrepreneurs are selected to develop their ideas and gain access to advisory and mentorship services and an invaluable network of business leaders. The Stern Venture Fellows program has graduated 51 program alumni who have raised a combined $48.6 million to date, with all teams collectively valued at well over $100 million based on recent fundraising rounds. Now, thinking of further engaging students and alumni like the Stern Venture Fellows, David has helped to launch a new way of giving and a new community of support here at the School. 
Many of the past Stern Venture Fellows have taken the Pledge — several of whom attended the dinner — along with Stern Marketing Professor and serial entrepreneur Scott Galloway and Elizabeth Elting (MBA '92), founder and CEO of the Elizabeth Elting Foundation, who was the 2019 Haskins Award recipient.
The "Founders and Entrepreneurs' Pledge" is a non-binding commitment that encourages alumni to make their intent of giving back at the time of future success known. Pledge participants are
featured on the website
and invited to attend exclusive networking events and to connect regularly with David Ko. 
The Haskins Award Dinner was held on April 14 at The Plaza, a historic New York City hotel. Dean Sundaram along with NYU President Andrew Hamilton and Provost Katherine Fleming welcomed guests, noting that this was the first formal gathering for Stern alumni and donors since before the pandemic. During the ceremony, guests had a chance to watch a tribute video honoring David and to hear firsthand from those who have already taken the "Founders and Entrepreneurs' Pledge."
Watch David Ko's tribute video
The Haskins Giving Society celebrates this year's Haskins Award honoree, David Ko (BS '93), co-CEO and Board Member of Calm.
LEARN MORE
Take the Pledge
Members of the Founders and Entrepreneurs' Pledge discuss why they took the Pledge and how they plan to support Stern students.
LEARN MORE
Photo Highlights
See moments captured at the Haskins Giving Society Award Dinner.
VIEW THE ALBUM