The Power of Alumni in Experiential Learning
—
An interview with Ben Serbiak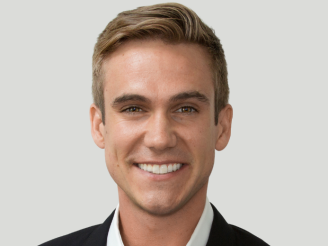 Ben Serbiak (MBA '21), a senior global marketing manager at Johnson & Johnson Consumer Health, who also holds an MS in Biology from NYU, regularly sponsors experiential learning projects for MBA students on behalf of J&J for Stern's Consulting Lab: Branding + Innovation Stern Solutions course taught by Professor Fran Gormley, and the NYC Tech Immersion and Tech Solutions courses with Professor JP Eggers as part of the Andre Koo Tech MBA program. Each semester he provides the project prompt and engages with students throughout the semester-long courses. 
"Ben has been an incredible partner with Stern MBA students on a range of projects that provide them the chance to research and solve a real world challenge and gain practical experience. It's very exciting for students to tackle an actual challenge the company is focused on, while at the same time learning about the consumer healthcare industry," said Lynn O'Connell, director of experiential learning at NYU Stern. 

 
What is your role at J&J?
I'm a Senior Manager on J&J Consumer Inc's Future of Self Care: a cross-functional team that anticipates where consumer need, technology, and business trends will be in several years. I help bring to market new self-care products and find ways to leverage digital technologies such as telemedicine. 

Why did you get involved in Stern experiential courses (Consulting Lab: Branding + Innovation, Tech NYC Immersion, and Tech Solutions) and become a project sponsor?
I wanted to engage with and support the School's next generation of creative and talented students. As a Langone Part-Time MBA grad myself, I know that getting the chance to try on new industries and work through challenges you wouldn't see in your current career path is often an important part of the MBA journey.

What types of projects have the students worked on? What impact have they had on the company?
We've partnered on a broad spectrum of projects over the years from new-brand development to internal operations-improvement and external business-development strategy. Student ideas and analyses have contributed directly to our understanding of target consumers, product features we've added to our backlog, tactics we've incorporated into launches, attributes we've infused into new brands—even taglines we've gone on to test with consumers for new concepts! I'm a strong believer that this type of "open innovation" is the secret sauce to unlocking growth in mature companies and we've been consistently impressed with the level of executable, smart thinking brought to these projects by students: their impact has been just as broad as the projects they've worked on with us.

Recent Stern Solutions project?
After 6 months on the market, our team had been hard at work adding to the roadmap of innovative features rolling out to the SmartCheck Digital Ear scope (phone-connected otoscope that helps parents check their children for ear infections, with the help of a clinician, from the comfort of home). We felt it would be the perfect time to partner with the Stern Tech-MBA Solutions course to discover next-generation opportunities and validate those with real consumers. We appreciated the systematic approach the students used to research and build empathy for parents and healthcare providers, iterate on ideas for new features, and develop a business case for their development. Student work has brought internal focus and enthusiasm to a group of features that will improve standard of care, consumer satisfaction, and better outcomes—and we're excited to build on it!
 
What has been the most rewarding part of working with students?  
Seeing the ideas, the process they take to develop them, and the pride students take in presenting them is the ultimate reward. And there's something emblematic in students coming from all these different career paths and walks of life, but then working together with the common goal to engage in these courses where we focus on innovation.