John Paulson (BS '78), President and Portfolio Manager of Paulson & Co., Joined Stern Professor Charlie Murphy (MBA '74) for a Lively Conversation
—
Stern students had a chance to learn about Paulson's career path and how he became a Wall Street legend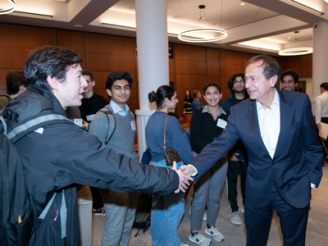 On November 30, Stern welcomed John Paulson, president and portfolio manager of Paulson & Co., a private investment company, for a lively conversation with Professor Charlie Murphy. Stern students had a chance to hear Paulson talk about how he started his business, his approach to what is considered one of the greatest trades ever during the mortgage crisis, how he handles pressure during challenging economic times, and his take on cryptocurrency, among other topics. Dean Raghu Sundaram opened the event and welcomed attendees. 
Paulson started his investment company in 1994 and has received numerous awards and accolades over its 25 year history including the Absolute Return's awards for Management Firm of the Year, Best Arbitrage Fund, and Best Event Driven Fund, in addition to eight other Absolute Return awards. Prior to forming Paulson & Co. he was a general partner of Gruss Partners and a managing director in mergers and acquisitions at Bear Stearns.
A dedicated Stern champion, Paulson has been closely involved with NYU Stern over the years, as a member of the Stern Executive Board and a generous donor to the School. The Paulson Auditorium—the School's largest classroom and event space—is named in his honor. 
See highlights and the Flickr album from the event below.