Why Community Matters in a Crisis
—
Stern Chief Operating Officer Neil Rader reflects on how the School managed during the pandemic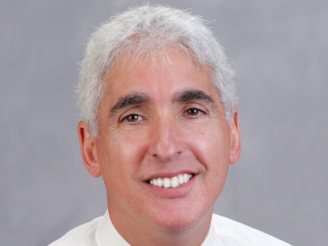 As I write this, we appear to be finally turning the corner on the global pandemic, prompting me to look back at the last two years. I've been through several crises in my career and life, as have many of us…September 11, the 2008 financial crisis, to name a couple. This—the COVID-19 pandemic—was and is unique. In early March 2020, with reports coming from our colleagues in China at NYU Shanghai, and then in Europe, we didn't know a crisis of epidemic proportions was upon us. We knew something was brewing, and that we had to make a decision about scheduled student spring break trips, including one to Italy. Little did we know what was about to unfold, and how quickly it would happen. As with many tragic events, news is often incorrect and there are more unknowns than knowns. The initial news we were getting was that the spread was somewhat isolated. Then, suddenly, things got worse. As it happens, my wife and I were driving to a peer meeting at the University of Virginia, when I saw an email canceling the event. It was no longer business as usual.

Very quickly the University directed the School to shift everyone and everything online temporarily. Stern administration and faculty began the process of understanding how best to enable teaching and research to continue, and to enable administrators to work from home. We soon realized this would be a prolonged situation with perpetual decision making based on rapidly evolving information from various entities—NYU, New York City, the State of New York, and the CDC. We also knew that the frequency, clarity, and tone of communication was critical. Faculty, students, staff, guest speakers, prospective students—all had to be considered and communicated with. This was triaging at its best, rapid-fire collaboration under pressure—our internal efforts led by Stern Dean Raghu Sundaram and the vice deans—but with input and support from our entire community.
 
A Coordinated Cross-Functional Approach 
Recognizing the need for structure and process, School leadership created eight cross-functional transition teams led by administrative, faculty, and student representatives working on high-priority issues from space planning, safety, and cleaning through classroom optimization. Dean Sundaram set the tone early by making sure we were carrying out a dual mission: ensuring the health and safety of the community and carrying out our educational mission.

For months, the vice deans met daily, including on weekends, while all eight teams met often as well and reported as a group once a week for about a year and a half. Each transition team designated two to three leaders, a decision-making cadre, and a larger group representing the School's constituencies that assessed the viability of the plans. This structure enabled quick decision-making informed by input from diverse stakeholders.
 
Stern's Online Advantage
At the beginning, we had to effectively move all classes online. Fortunately, we had a head start here, thanks to the School's experience in creating online programs through the online MS in Quantitative Management Program and a series of online certificate programs. I recall faculty quickly coming into our Learning Science Lab for Zoom and online training and coming out with a new understanding of how to move forward. The support and transformation were both quite impressive under less than ideal circumstances.

Then, later into the pandemic, one of the biggest challenges was getting people safely back in the building again. This was complicated because the publicly available information was not always consistent. But we made the decision that our top priority would be getting as many of the students as possible who wanted to be in-person into the classrooms safely.
              
Pulling Together
As horrific as things were, this once-in-a-lifetime crisis was also a chance to learn. Administrators learned how to work effectively and productively from home. Faculty found ways to add to their curriculum and one faculty member came up with the idea of a crisis management class. She invited 15 faculty across business disciplines to each take a week, and asked me to present on how the pandemic affected Stern. This was definitely both a learning opportunity and a teaching moment.

It was, and still is, a challenging time. But as I look back, I see that even good things can come from a tragic event, in particular: the strength and resilience of our community. All of my colleagues have been committed to ensuring that we prioritized safety, while still sticking to our academic and research mission. All provided support on so many levels.

I am also reminded how important leadership can be in a time of crisis. We all should be thankful to the people at NYU who have dedicated virtually all of their time to navigating a difficult environment, our Dean who is both a tremendous leader and one of the most balanced people one can meet, our vice deans who spent countless hours working on this crisis, and the incredible Stern community. We are not quite out of the woods yet, and some of the memories remain raw, especially as I think of the lives lost, but I am optimistic that we are turning the corner and better times are ahead.