Thank you for joining us for Reunion 2021
This year, NYU Stern invited alumni from all class years to join us virtually to celebrate Reunion from April 26 - April 30. If you missed out on the events, you can still register to view the content until Monday, May 31. Or, if you attended but want to rewatch, click here to access the virtual Reunion platform.

Watch the following programs through the virtual platform:

Talks by Renowned Faculty:
A conversation with Dean Raghu Sundaram and Professor Scott Galloway, professor of Marketing and author of Post Corona: From Crisis to Opportunity
A disussion with Professor Aswath Damodaran and NYU Stern Executive Board Member Ronald Blaylock on current trends in finance and valuation
A session with Professor Sonia Marciano on strategy development frameworks and whether or not they can actually help us interpret the past and anticipate the future
How to build a billion dollar company with Professor Cynthia Franklin, director of entrepreneurship for the W. R. Berkley Innovation Labs
Alumni Affinity Group Events:
A discussion about Diversity, Equity & Inclusion efforts with Associate Dean for Diversity and Inclusion, Gary Fraser (MBA '92) hosted by the Black & Latinx alumni group
A post-pandemic view into the Entertainment, Media and Technology Industry with Professor Al Lieberman
Bringing Back NYC: What to Expect Next from Restaurants to Real Estate*
A Love Affair with NYC Restaurants: A discussion with third-generation Katz's Delicatessen owner Jake Dell (MBA '15) about why Katz's is so legendary and what a food-obsessed city can expect next in the age of Covid, hosted by the Food & Wine Alumni Group.
A New Lease on NYC Real Estate: A discussion about the future of commercial and residential real estate with Joseph Sitt (BS '86) Chairman of Thor Equities, hosted in partnership with Stern's Center for Real Estate Finance Research.
*These events are part of Bringing Back NYC: What to Expect Next from Restaurants to Real Estate, a 4-part series with discussions between industry experts and faculty that will look at the restaurant industry, sporting and entertainment, real estate, and inclusive economic growth as NYC begins its recovery in the face of the pandemic. Stay tuned for more details about this series.

---
Reconnect with Classmates
While Stern is not able to convene in-person receptions this year, we encourage alumni from the classes of 2019 and 2020 and degree years ending in 0, 1, 5, and 6 to reconnect with friends and classmates from Stern in your own Zoom parties. Set the scene with some celebratory Zoom backgrounds, enjoy a Stern-themed beverage, and cue up one of the customized Spotify playlists below. Need help setting up a Zoom? Contact us at alumni@stern.nyu.edu.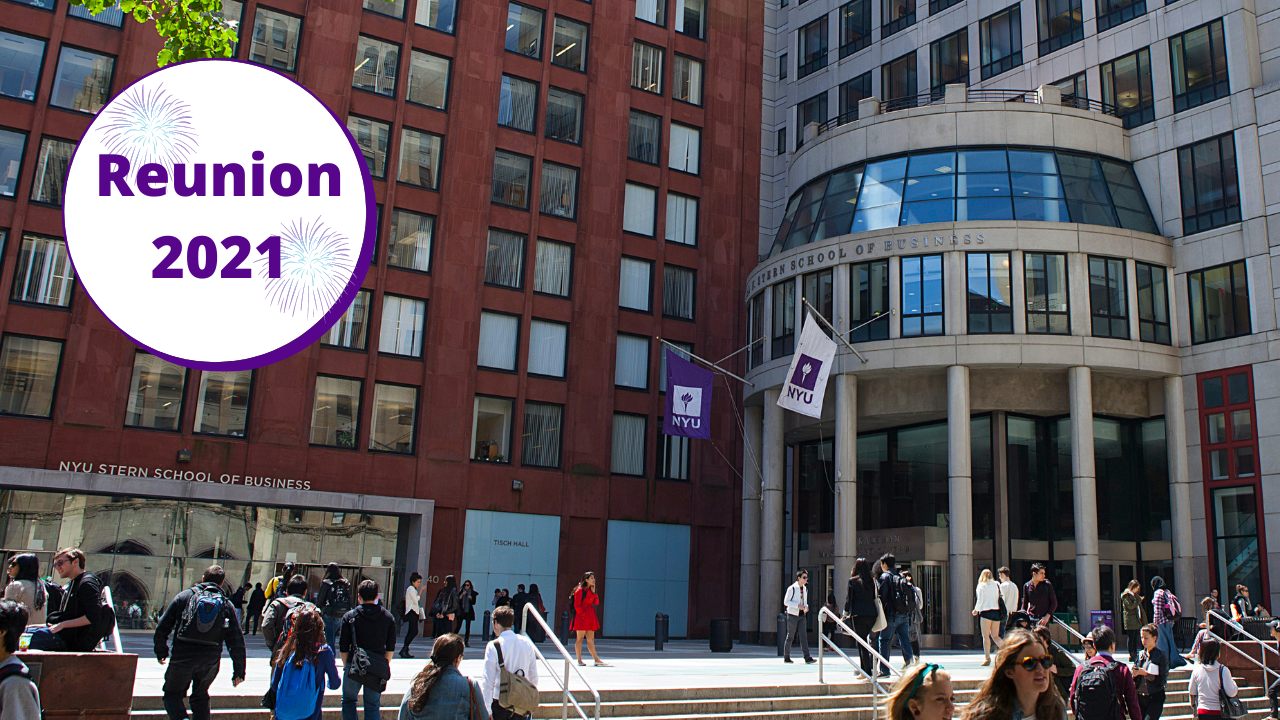 Download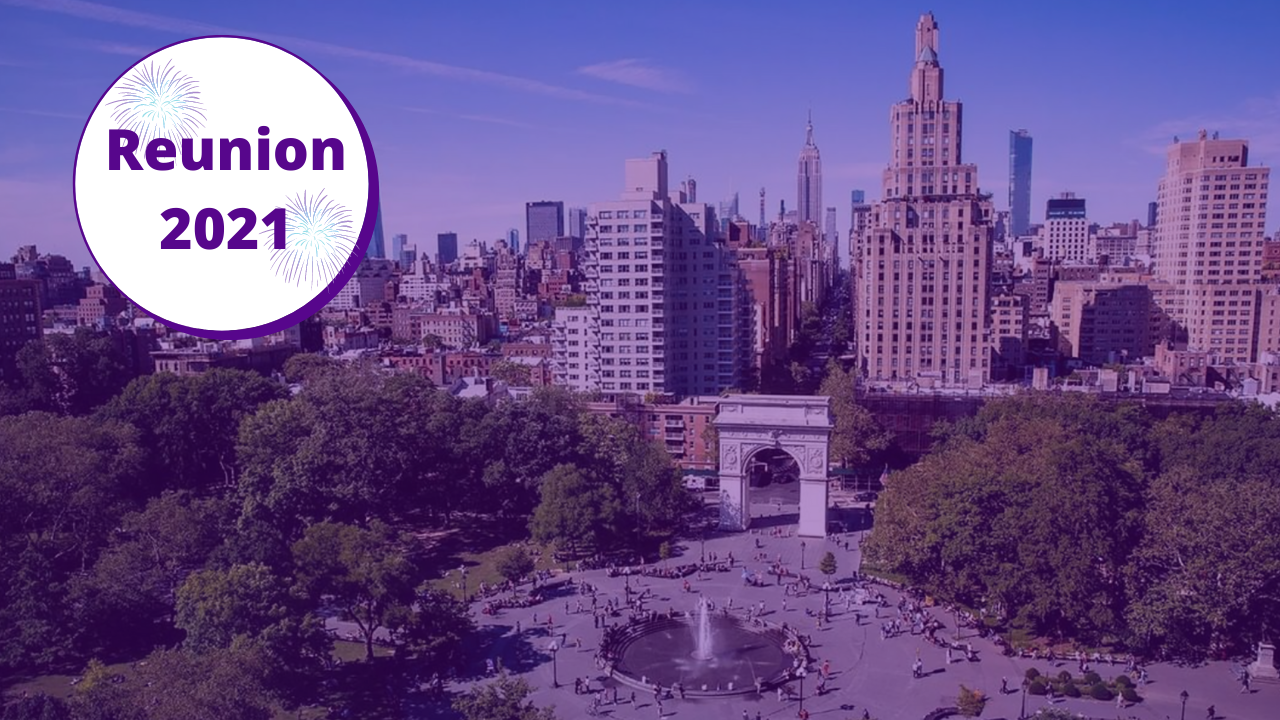 Download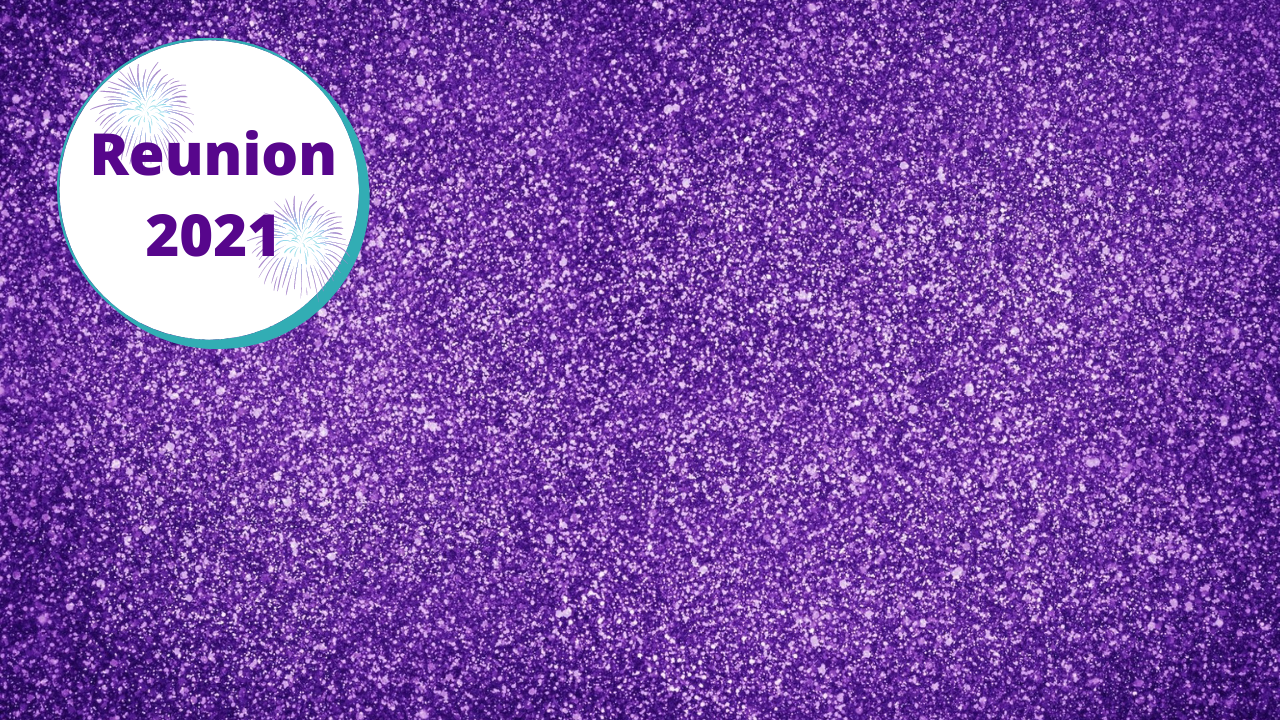 Download

Drink Pairings
Adam Teeter (MBA '14), co-founder of VinePair, generously crafted some Stern-themed cocktail recipes for your Reunion-week enjoyment. Cheers!
The Stern Sour
This riff on the classic has a float of "purple" wine on top.
2 oz of your favorite rye or bourbon
1 oz fresh lemon juice
1 oz simple syrup
1/2 oz fruity red wine (I like Malbec for this)

Combine whiskey, lemon juice and simple syrup in a shaker with ice and shake vigorously until the outside of the shaker is cold. Strain into a rocks glass with one large cube. Then, place a bar spoon or regular spoon over the top of the glass with the back facing up and slowly pour the red wine over the back so that it disperses and floats on the top of the drink. Serve.
The Perfect Manhattan
2 ½ oz rye
.5 oz sweet vermouth
.5 oz dry vermouth
2 dashes angostura

Combine all ingredients in a mixing glass with ice, stir until chilled and then strain into a martini or coupe glass. Garnish with a cocktail cherry.

The Scott Galloway
2 Ounces of Zacapa rum
4 ounces of coke (In summer, substitute w/sparkling water)
Half a lime

Combine rum and coke in a collins glass with ice and squeeze in the juice of half a lime. Add the lime to the glass. Stir and serve.

Reunion Playlists