Embracing the Future: NYU Stern's new Board Chair arrives with enthusiasm and energy for the School's nonstop evolution
—
By Marilyn Harris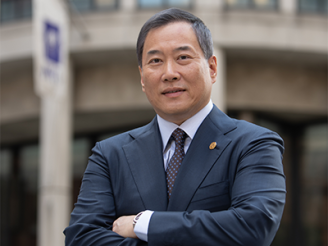 You have been involved with NYU and Stern for a long time. Why do you believe so much in the value of education?
Education is an investment in your greatest asset—yourself. It guides you to make the right decisions in both personal and professional life. It lays the business foundation on which professional experience is built. I have witnessed Stern embody the value of education firsthand. Having the privilege to learn at the epicenter of the business world is an experience that few schools can provide or even claim. Stern is also the school that helped me cultivate an invaluable network—one that continues to open doors to new business opportunities to this day.
---
What made you decide to take on the role as Chair of the Stern Board of Overseers?
I am honored to have this opportunity to work closely with Dean Sundaram, Stern leadership, and the entire Board of Overseers to support the School's growth trajectory. I take the responsibility very seriously, and I believe that Stern has a lot of untapped potential. Besides, I love Stern! Stern is a part of my DNA, as my father (MBA '62), myself (MBA '94), and my son (BS '18) all graduated from the School. My father's lifelong dedication to NYU inspired me to give back, and this role will ensure that I can continue to do so in an even greater capacity.
---
In what ways have you seen Stern transform since you were an MBA student here in the 90s?
This is where Stern really shines. The School has evolved quite a bit over the years. The obvious transformation is of Stern's facilities. The 2010 Concourse Project and subsequent renovations have done a good job to modernize and connect the graduate and undergraduate buildings. Another transformation is of Stern's network. What was once a school with a core network in the tri-state area is now a global network. We have over 110,000 alumni representing over 130 countries and campuses in NYC, DC, Shanghai, and Abu Dhabi. Another important transformation is that of Stern's reputation. Stern has always been known as a powerhouse in finance. Now, that recognition is extending in multiple ways from tech and entrepreneurship to consulting and fashion. Numerous programs and initiatives have recently been launched including the
Fubon Center for Technology, Business and Innovation
, the
Endless Frontier Labs
, an
MS in Business Analytics
, the
Andre Koo Tech MBA
, and
tech specializations
. Stern has continually stepped up its game to prepare students for a tech-driven business environment. This relentless pursuit to stay ahead of the curve ensures that Sternies receive an education, rather than just a degree.
---
What were a few of your favorite memories during your time at Stern?
Our time-honored tradition, Beer Blast, comes to mind! I'm glad that it's still going strong, as many lifelong friendships were forged during these weekly happy hours. Nothing beats having a pint (or two) with your fellow classmates after a long week of studying and attending corporate presentations. But my favorite memory has to be graduation. Graduation is the culmination of hundreds of hours of hard work. Having the most important people in your life cheering you on as you walk across the stage is a feeling that never gets old.
---
As the president and founder of the NYU Pan-Asia Alumni Association, you've done a lot to build community among alumni in Asia. What accomplishments are you most proud of?
I'm proud to witness the growth and transformation of the
NYU Pan-Asia Association
. What began as a social/ networking platform that celebrates the NYU spirit is now a true, vibrant community. The annual conference continues to gain traction. In fact, last year in Beijing we had the largest turnout ever with more than 300 in attendance. This year's conference took place in Singapore on October 12 and had another strong show of support in terms of attendance and sponsorship from the alumni community in Asia. I'm also proud of the Pan-Asia Scholarship Fund that we established last year through the generous donations of NYU alumni. The fund has raised over $300k to date and will aid students pursuing a quality education at NYU.
---
We now live in a world where technology is rapidly changing the way we do business. As the Chairman of the Chailease Group, how are you embracing this new era?
I welcome technology and its transformative capabilities. The world is rapidly changing and so must business in order to stay ahead. I've led a complete reengineering of Chailease in the past and continue to evaluate opportunities to transform the way Chailease does business. Our company has a team that focuses on strategic investments in fintech areas such as AI, blockchain, big data, etc. We recently launched an online credit application submission and evaluation system. Proactively embracing technology ensures that Chailease can capitalize on opportunities and tackle challenges as they emerge.
---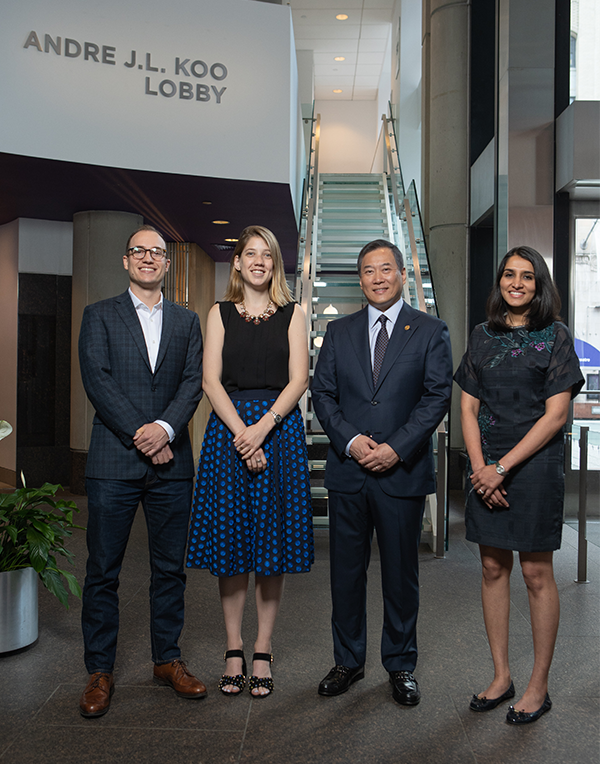 Alumni are critical to Stern's continued success. In what ways would you like to see alumni give back to the School?
There are so many ways to give back, so I'll give my top three in no particular order. First, be active in your local alumni association. Second, be a mentor or resource to current students and young alumni. Third, be generous in your financial giving. It's a win-win for all of us as these things can ensure that the Stern community we belong to grows and thrives.
---
Stern students undergo a transformation from when they first arrive until graduation, as they leave confident and ready for the challenges and opportunities ahead. What advice would you offer as they begin their next chapter?
For fresh graduates looking ahead, my first piece of advice is to never lose sight of your past. Stay in touch with friends as they can be a source of support and possible business partnerships going forward. Don't be afraid of making decisions and trying new things. Your education has set you up for success through your networks and ability to take calculated risks.
---
How do you like to spend your time when you're in NYC? Any favorite restaurants or places you like to go?
Whenever I am in town, my schedule is packed with meetings. When I do have downtime, I like to spend it with my son, who graduated from Stern last year and is now working in New York, and playing with my grandson, a two-year old Samoyed dog named Snoopy. I try to be a little adventurous with my eating, so I'm often looking for something new. But, I do have a few regular spots. When I am craving a steak, my go-to steakhouses are either Peter Luger or Wolfgang. When I want a taste of home, I stop by Chow House.
---
Last place you went for a vacation?
I can't remember the last time I went on a real vacation. I am always flying from one meeting to the next. The growing connectedness of the world continues to create new opportunities, so I'm always on the lookout for my next business partnership. For anyone thinking about a vacation, I highly recommend a hidden gem in Asia—Taiwan. The island is my home base and was initially named "Ilha Formosa" (beautiful island) by the Portuguese, with good reason. Taiwan is known for its friendly people, safe neighborhoods, and efficient modes of transportation. Imagine climbing picturesque mountains in the morning, relaxing in therapeutic hot springs in the afternoon, and eating your way through world-renowned night 12 markets by evening.
---
Did you know?
The Andre Koo Technology and Entrepreneurship MBA program established a new category of focused MBA programs at Stern.
Koo is an NYU Trustee, a member of the President's Global Council, president of the NYU Pan-Asia Alumni Association, and an advisory board member of the Andre Koo Tech MBA and the NYU Shanghai MS in Data Analytics & Business Computing programs.
Koo's father (MBA ' 62) and son (BS '18) also graduated from Stern.