Tech and Sustainability Dominate Venture Prizes
—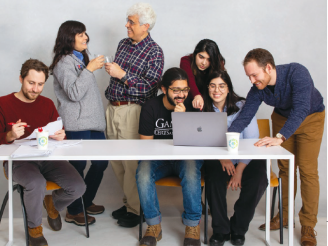 At the conclusion of a nine-month competition, NYU's most promising innovators received startup funding and pro-bono services valued at more than $350,000 in NYU Stern's annual Entrepreneurs Challenge, organized by the School's Berkley Center for Entrepreneurship.

The winner of the New Venture Competition for startups in a variety of sectors, Fairgrade (pictured above), received the $100,000 Rennert Prize, made possible by a gift from Stern Executive Board member Ira Leon Rennert (MBA '56).

Founded by Stern Professors Sonia Marciano and Anthony Marciano, Stern MBA alumnus William Frece (MBA '16), Stern/Courant alumnus Yash Goel (MS '19), Courant alumnus Projjol Banerji (MA '20), Stern MBA student Kreagan Kennedy (MBA '21), David Kheyman, Samantha Marciano, and Alexa Marciano, Fairgrade is a peer-grading platform that distributes fair and accurate grades by harnessing collective intelligence to reduce turnaround time. On average, the platform saves instructors 60 hours per course.

The winners of the Social Venture Competition for social impact and sustainability ventures, bloc and Sabai Design, split the $75,000 Social Venture Prize. bloc ($50,000) is a digital platform that helps career coaching and upskilling programs geared towards underserved groups save time through automated résumé creation and review. Sabai Design ($25,000), founded by Stern MBA student Caitlin de Lisser-Ellen (MBA '21) and NYU law school alum Phantila Phataraprasit (JD '20) is a sustainable furniture company.

The $100,000 Technology Venture Prize, sponsored by the NYU Innovation Venture Fund, was split between Envirobe ($75,000) and Precision Radiomics ($25,000). Envirobe is a cleantech company. Precision Radiomics provides more accurate diagnosis and treatment of osteoporosis or bone loss by computing patient-specific bone strength from CT or MRI scans.