Stern Network Takes Off
—
NYU Stern's powerful networking platform makes connecting easy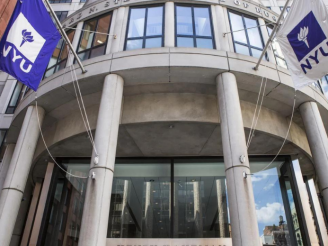 LinkedIn may have revolutionized professional networking, but the NYU Stern community also can take advantage of an online platform —
Stern Network
— just for them that's chock full of resources that can't be found anywhere else. 
Stern Network
launched in May 2020 and within a year, the platform had roughly 13,400 student, alumni, and faculty users — including almost 9,000 alumni — in 48 US states and 89 countries, and it is steadily attracting members and praise.
Stern Network
is an online networking platform that provides ways for Stern students and alumni to connect with each other for career insights and to stay involved with the School. It was developed with assistance from the Alumni Council's digital connections committee, led by Tony Watkins (MBA '11), Google's head of search, global partnerships, and Nick Humphries (MBA '12), strategy and operations lead, Google News Initiative. Watkins is now taking over as chair of the council.
"It was exciting to be part of helping shape a digital platform that makes it easier for students and alumni to connect and gives alumni a chance to form online communities through the Alumni Groups," said Watkins.
Added Humphries, "I am happy to see that so many alumni have joined so far, and I see
Stern Network
continuing to create added capabilities as its membership grows." 
When users log on to
Stern Network
, they can navigate to a general directory of all members, then opt to select from among many resources the community has to offer. Members, reachable via both their work and Stern email addresses, are searchable by industry, graduation year, and even by the expertise they're willing to share. The site's administrators recently surveyed all users to see how they use the platform and how it can be made even better. One impressed respondent from the MBA Class of 1990 commented, "
Stern Network
includes very successful people in A-listed corporations, academia, entertainment, and other fields, as well as powerful entrepreneurs worldwide."
Alumni users have volunteered through an opt-in feature to offer general advice on networking, work/life balance, interviewing, resume writing, and even academics. Robert Hankins (BS '17) shared that he was  looking to make a career pivot from private wealth to fundraising and leveraged
Stern Network
. "I had meaningful conversations with about 15 people on
Stern Network
, and one conversation led to a connection that eventually led to a job. The opt-in feature is really strong and makes a big difference. I've recommended the platform to a lot of his friends." 
Alumni have shared how they have helped students by sharing industry insights and job search strategies. One alum provided feedback on an MBA student's resume and offered advice on getting into investment banking or private equity. Overall, Stern received feedback that alumni are having a positive experience connecting with younger professionals who are starting their career. and I was happy to give my time and connect with a younger professional starting their career.
Whether the connections sought are from students to alumni or among alumni, the odds are good a dialog will be started. A key advantage of the platform is the ability to pinpoint members of the Stern community who have indicated they are available and willing resources. "When we look at the numbers, it's clear that when you reach out to a person on
Stern Network
, it's highly likely they're going to respond, and those response rates are higher than you would see if you were to reach out via another social media channel," Watkins said.
Alumni can also access a section that provides information on the community's 63 regional and affinity groups, news on classmates, discussion boards, and schedules of events, from a cooking lesson hosted by the Food and Wine affinity group or happy hours in the various regions internationally. The recent survey found that the groups are one of the most popular features.
According to Eliza Shanley, senior director of Stern's Career Center for Working Professionals (CCWP),
Stern Network
has already played a singular role in helping alumni make career transitions. "
Stern Network
has been an invaluable tool for our alumni seeking career change as well as community."
All Stern alumni can join Stern Network. Visit stern.nyu.edu/sternnetork to activate your account.