A Conversation with President and CEO of PayPal Dan Schulman (MBA '86)
—
NYU Stern Dean Raghu Sundaram interviewed Dan Schulman (MBA '86) as part of the School's "In Conversation with the Dean" series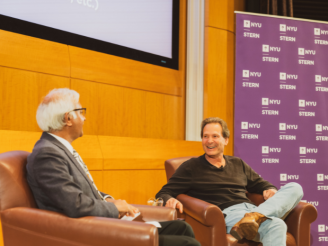 In April, NYU Stern Dean Raghu Sundaram interviewed Dan Schulman (MBA '86), president and CEO of PayPal, as part of the School's "In conversation with the Dean" series. Schulman is focused on democratizing and transforming financial services and e-commerce to improve the financial health of billions of people, families, and businesses around the world.
With extensive experience in payments and mobile technology, he is leading PayPal to reimagine how people move and manage money, and how merchants and consumers interact and transact.
The event was presented by the DHL Initiative on Globalization at the Center for the Future of Management at Stern and the Fintech Initiative at the Fubon Center for Technology, Business and Innovation. Students attended in-person and alumni participated in the livestream.
The following is excerpted from that conversation.
Q:
What leadership lessons have you learned, from both triumphs and disasters?
A:
 I believe that lessons are only learned during difficult times. I practice martial arts, which teaches you to be humble — everyone gets knocked down at some point. The measure of a person is how you get back up. The first job of a great leader is to define reality; the second job is to inspire hope by creating a path up the mountain.
Q: How do you, as a leader, balance the interests of stakeholders?
A:
 The role of CEOs has dramatically changed. There is no way to stay out of the culture wars — CEOs have a responsibility to lead their companies in ethical and moral ways, and to be part of the solution. I believe corporations have a role in advocating for purpose, and that purpose and profits are complementary. One of Paypal's values is inclusion, and our mission is to ensure that we are bringing everyone along into a digital future. Businesses can and should make a real difference and act on their values.
Q: In what ways can technology contribute to democratizing finance?
A:
Technology is a foundational solution to inequity in our financial system. There are 1.7 billion people outside the financial system, probably double that who are underserved. The moonshot for fintech and for all of us in finance is to use technology to lower costs and speed transactions. If you're sending money overseas now, it's costing 8% and 5-10 days. Matching expenses to income often drives many people to payday lenders at the end of the month. The promise of technology is that we can drive financial health. But we haven't made nearly as much progress in that mission as we could.
Q:
What's holding up success in providing financial services to a large part of the most vulnerable population?
A:
 You need to have a mobile phone. Smartphones are dramatically reducing in cost, but that's just part of it. No one company can provide everything a customer needs. But we can do it through our user interfaces by partnering with other platforms, for instance, as we do by partnering with a regulated bank to provide high-yield consumer savings. We have to figure out how to make the experience seamless and that the regulatory guidelines across each service work in totality and from one country to another.
Q: What role do cryptocurrencies play in the future of financial services?
A:
There is huge promise in a combination of central bank digital currencies (CBDCs), stable coins, digital wallets, and point-of-sale systems — namely, more efficiency and less fraud. What the price of Bitcoin will be tomorrow is the least interesting thing to me; cryptocurrencies can add fundamental utility to payments, with blockchain providing the rails. Digitized assets and distributed ledger technology give more access to more people, and disintermediation lowers costs. The whole system will be upgraded, but to do that we need to work together with government, regulatory agencies, and like-minded business.

Audience Question
Q: Many believe the pendulum is swinging toward a multipolar world. How do you as a leader prepare for that?
A:
I believe in globalization. Yes, you're seeing nationalistic tendencies, like controlling data sets for reasons of privacy. But everything runs on software now, so the biggest threat is a cyber attack. The bigger your data set, the better you can detect an attack, so I believe it's important to share data. I'm an optimist but I worry about the tendency to polarize. We need to keep an eye on it.
Watch the Discussion
Dean Raghu Sundaram interviews Dan Schulman (MBA '86), President and CEO of PayPal, as part of the "In Conversation with the Dean" series.
WATCH THE VIDEO