Embracing Change in the Undergraduate College
—
Three new innovations underway at the Undergraduate College with a focus on global, experiential, and community
Excellence, unbound by tradition, is a core value at NYU Stern and a favorite phrase of Undergraduate College Dean Robert Whitelaw. "An advantage we have at NYU is we don't have a 400-year history; We're not wedded to doing the things the way we used to do them," he says. "New York City is all about reinventing yourself."
With that in mind, Stern felt the time was right to rethink its International Studies Program (ISP) which required each of its nearly 600 juniors to embark on an international study trip as part of the capstone course. It is instead taking three of the most important aspects of ISP—the global experience, the capstone course, and community building—and reinventing them into three new innovations for the undergraduate program.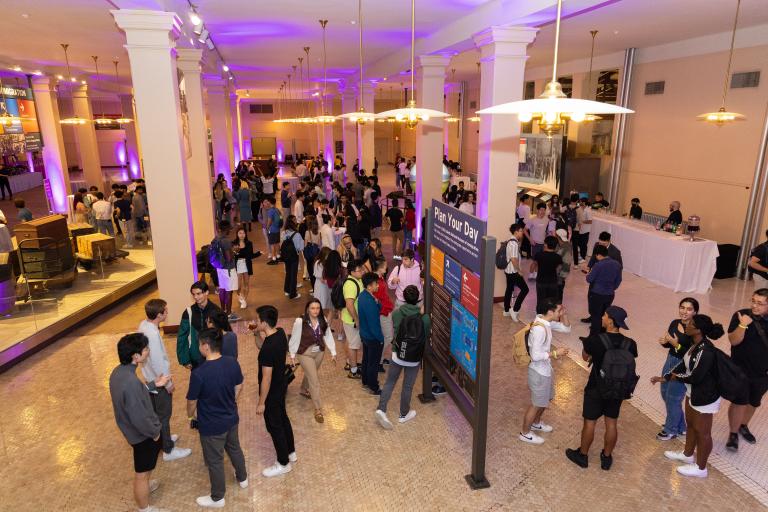 Photo: Ellis Island played host to Stern juniors reconnecting at the start of the academic year
Reimagining a Commitment to Global  
Global is one of the School's five academic pillars—academic, social impact, global, professional, and community. Stern was a pioneer in creating an authentic global experience when it launched ISP more than two decades ago thanks to the support of alumnus Edward E. Barr (BS '57) who believed in the educational value of an immersive global experience. During the pandemic, that opportunity disappeared and it became apparent to the Undergraduate College that large-scale travel is not coming back. Whitelaw shared that there's simply too much uncertainty now associated with big, large-scale trips so they had to reinvent the School's commitment to global.

"ISP was doing three things for us: It was our capstone course; it was an authentic, global experience for all students; and it was a community building course because the students traveled together," said Whitelaw. "We absolutely could not lose those things and we wanted to do them better by increasing flexibility, adding more student choice, allowing students to customize the experience to their interests."
A New Capstone Course Offers Multiple Sections and Doubles Down on Experiential Learning  
To give the students an opportunity to synthesize, integrate, and apply what they've learned during their time at Stern, a new capstone course was put in place. In addition, the School wanted to exploit all the locational advantages of New York. "We have this amazing network of alumni, organizations, companies, and firms we can work with, so we doubled down on experiential," shared Whitelaw. 

Starting with the Class of 2024, there is now a new capstone course with multiple sections. It is like consulting to an organization in any number of industries. For example, it could be BlackRock or a nonprofit and students will work on a particular problem facing the organization during the course of the semester, which is experiential. There will be multiple options where students could work with a nonprofit on food security; or focus on classical strategy consulting for a consumer products company; or try brand innovation, etc. Over the course of senior year, there will be approximately 20 sections of the capstone course, and each section will be linked to a different New York City organization. The course will have meaningful academic content and the problem has to be aligned with the expertise of the faculty member who is teaching that section. 

"The vision is that there's a faculty member, there's a company that's coming up with a question or problem that is going to allow the students to really exercise those problem-solving academic muscles, and for us to provide a framework for them to actually think about it," said Whitelaw.
The New Global Experience Requirement Comes with More Choice and Flexibility
When it comes to the global requirement, Stern is evolving by offering more choice and flexibility. One option is a semester away at one of NYU's global sites. NYU has 14 sites outside of New York—NYU Paris, NYU Prague, NYU Buenos Aires, and so on. Another approach is to spend a semester at one of the IBEX (International Business Exchange Program) partners. Stern has 17 partners across the world including Bocconi University in Milan, PKU (Peking University) in Beijing, and many others. The third piece is a program called Stern Around the World, which is a portfolio of courses that have a travel immersion component. For example: a sustainability consulting course has a trip to Costa Rica. In Ghana, there is a social entrepreneurship course which is taught during the spring semester with the students visiting Ghana during spring break. In addition to those existing courses, the School added four courses for the 2022-23 academic year. They include trips to the Netherlands, Singapore, France, and domestic trips since Stern has a lot of international students.  

"ISP was in the Spring semester junior year only. These courses, you can take at any time, and there are multiple flavors that allow students to better match the course to their interests," explained Whitelaw.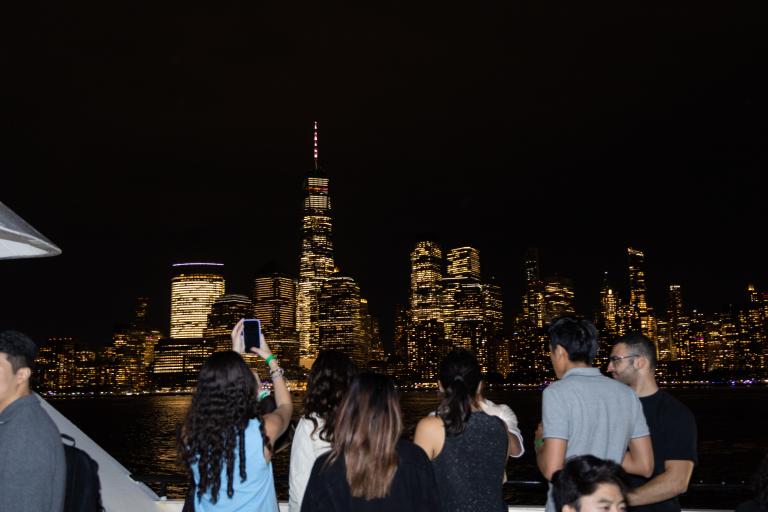 Photo: Ellis Island played host to Stern juniors reconnecting at the start of the academic year.
Building Community in a New Way  
Whitelaw noted that taking the first-year class during orientation week to the U.S. Open in Flushing had been a great welcome to New York event and a way to start building community. Seeing the value of offering each class year a similar experience, the School added a new Signature Experience Series, which started in September of 2022. Sophomores went on a harbor cruise. The juniors went to Ellis Island, and the seniors went to the Intrepid, an aircraft carrier that houses the Intrepid Sea, Air & Space Museum. The visits also include class specific programming built in. For example, Stern integrated a program called Recruitment Ready for sophomores, which is the year recruiting starts seriously. 

As Whitelaw explained: "We just want them to understand what this means and what the timelines are for different industries. So it's a chance for us to bring the class together but also give them a set of information that's really useful for them for that coming year."

"In reimagining the ISP program, we are very excited for the three innovations," said Whitelaw. "It is going to create a better, more cohesive experience for students. More choice, more flexibility, that's what we want to offer."
---
*Abridged and edited from a previous interview with Poets&Quants