Clear-Eyed and Goal-Directed
—
Hannah Ho (BS '23) is building toward the career she envisioned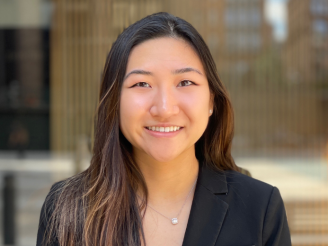 Hannah Ho's career ambitions have been consistent since high school in Maryland: to make a difference in sustainability using the tools of business. Her extracurricular activities have always revolved around clean tech and sustainable business and, more recently, how investment funds can target them.

Those interests have coalesced at Stern in her undergraduate curriculum and work experience. She worked at the NYU Stern Center for Sustainable Business during her junior year and was an investment banking intern the summer afterward. Her extracurriculars at Stern include serving as co-president of Net Impact, which works at the intersection of doing good and doing business, and as a board member at the Entrepreneurial Exchange Group, among others.

As a scholarship recipient, Ho said, "The scholarship has given me additional freedom to focus on pursuing my passions in the intersection of social impact and business with much less financial burden."

In return, Ho has made it her mission to pay forward the privileges she's earned as a Stern student. "Being a Sternie means boldly and freely chasing after my business goals while surrounded by supportive peers. As an upperclassman Sternie, I always want to uplift and empower my peers by being a helpful mentor." 
Rounding out her undergraduate years, Ho participated in an international business exchange program at South Korea's Yonsei University in the fall of 2022 and anticipates a corporate development internship at an airline in spring 2023 prior to graduating. 

Ho will incorporate what she's learned through these experiences into her chosen career. "I plan on going into investment banking right after graduation. I hope to eventually be in a more impact-focused or entrepreneurial role in the impact investing space in some capacity, whether it is starting my own fund or joining an already established one."