First-Ever Design Sprint Builds Agility in Undergraduate Students
—
The inaugural NYU Stern Undergraduate College Business, Technology & Entrepreneurship (BTE) cohort worked through real-world challenges, and alumni helped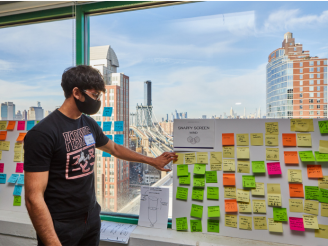 The inaugural class in the Business, Technology & Entrepreneurship (BTE) Program at NYU Stern Undergraduate College got off to a running start in the fall—a "Design Sprint" to be exact, to introduce the cohort to the type of immersive experience that is the program's hallmark.
The BTE Program is the first US business school program of its kind to seamlessly integrate business, technology, and entrepreneurship. "The BTE program is designed to spark a new type of thinking and a bias toward action, and it starts in the first semester," said BTE Academic Director and Professor Ashish Bhatia. "We introduce theoretical ideas to business solutions and give students an opportunity to apply those solutions in the marketplace with real companies, so learning is more ingrained."
For one intensive week in November of their first year, BTE students put their initial 10 weeks of education into action working with early-stage New York City ventures. "The accelerated nature of the Design Sprint is critical as this immersion also forces students to learn valuable lessons around agility and experimentation when navigating ambiguity," Bhatia explained.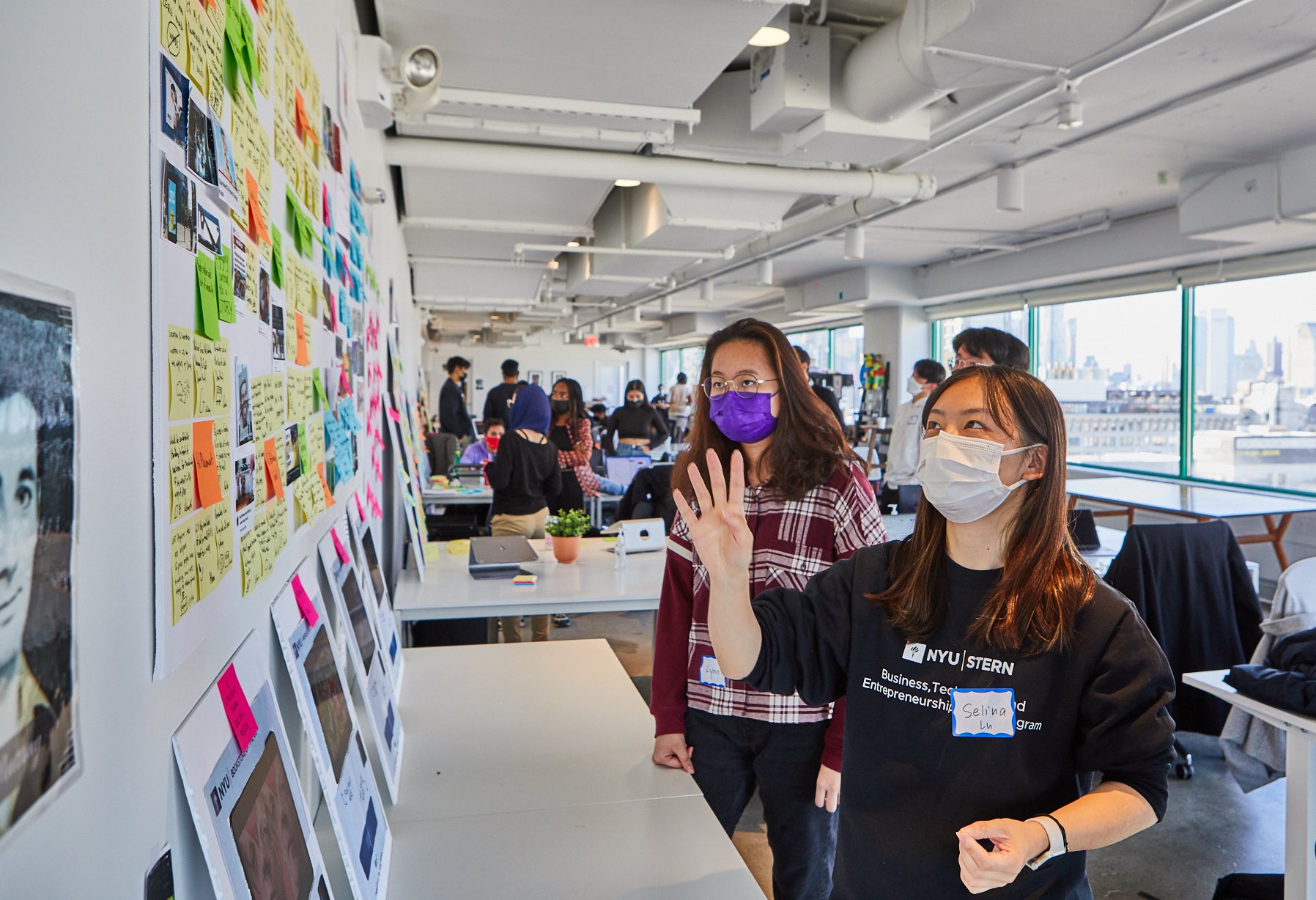 Learn, Prototype, Fine-Tune, Present
In preparation for the week-long project, students broke up into small teams assigned to solve specific real-world challenges faced by four New York City-based ventures that  volunteered to participate. The Sprint then began, with the students learning about the unique challenges facing the startups and diving into research. The next step was prototyping possible solutions, while getting input from faculty and industry mentors, many of whom are alumni.

The Final Stretch
At the end of the week, teams fine-tuned and presented their solutions—for instance, the winning team designed a new customer-centered function for the Bolder Money platform aimed at increasing users' trust. "The Design Sprint helped students witness for themselves how much they had learned during the course. Students commented after the sprint that the methods we learned in the classroom became second nature as they applied them to real companies," shared Bhatia.
A panel of judges, including two Stern alumni, selected finalists for each startup challenge, as well as an overall winner. The judges were ​​Eric Chung, Project 120, Google (BS '10); Melissa Mahon, EVP, operations, MAS; and Lori Berenberg, project manager, MongoDB (BS '17). 



Design Sprint Mentors Guide Students
The students had a chance to work directly with several alumni mentors: Craig Wilson, managing director, Tandon's Future Labs, and co-founder, The Crop Project (MBA '14); Inna Lobel, creative director at FROG and adjunct professor; Gisel Marmolejo, product manager, Capital One (BS '20); Ryan Loney, senior associate product manager, Capital One (BS '20); Phil Hayes, data science lead, Airbnb (BS '16); and Hunter Tam, IT Intern @ A24; BS/BFA student; BTE Teaching Fellow.
The Design Sprint was hosted by a female-and alumna-founded agency, MAS Event+Design, at its workspace in Dumbo, Brooklyn. Startup venture participants included:  
Alinea, an investing app for GenZ to invest in what matters to them 
Bolder Money, the next generation financial coaching platform for women and minorities
SnappyScreen, a technologically innovative wellness company focused on convenience, quality, and sustainability, co-founded by Stern alumna Katelyn McClellan (MBA '15) 
Vengo, a software and media company that engages consumers and harnesses the resulting data, co-founded by Stern alumnus Brian Shimmerlik (MBA '13)
Photographs by Jasmina Tomic