Kelly Goldston DeBonis (MBA '13), VP, Growth Marketing and eCommerce at Spanx
—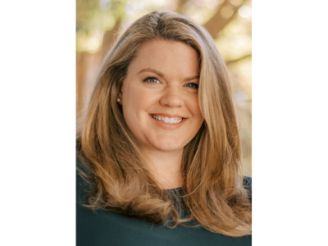 Kelly shares what she loves about startup culture, the value of raising your hand, why she took a leap of faith and moved to Atlanta from NY during the pandemic to join Spanx, and more. 
---
Tell us a little about your career history and what drew you to e-commerce.
My journey goes from creative to analytical, which is a little unusual but has given me a variety of perspectives throughout my career. I started my undergraduate studies in creative writing and wanted to be a novelist or magazine writer, but I also supported myself financially throughout college so I got more practical pretty quickly. After I graduated, I looked for communication jobs and landed in sales at Groupon in 2010 where I caught the startup bug. I loved being in an environment where everyone was willing to take on just about anything to build something cool together. Years later when I finished my MBA at Stern, I wanted to go back to a startup environment and put my newly honed analytical skills to use, so through a Stern connection I joined Quidsi, an e-commerce company that had been acquired by Amazon. That's where I really came up as a data-driven marketer and e-commerce leader.
---
You started at Spanx in Aug 2020, during the pandemic. What was that experience like? 
Before I moved to Spanx, I was an early employee at ELOQUII, a startup in plus-size apparel, and after four years we sold the company to Walmart. I loved my work at ELOQUII with all my heart and cared so deeply about the customer and the brand, so I knew I needed to feel just as strongly about my next company. When I heard about the role at Spanx, a brand and founder I had admired for so long, I had an immediate feeling that I just knew it was the right job for me. I got the offer in June 2020 and moved with my husband and our then-two-year old daughter to Atlanta from New York, sight unseen. It was a big leap of faith (especially for a planner like me!), but I was confident it was right because my values aligned so well with the company, the founder, the leadership team, and the role.
---
Spanx made headlines last year for rewarding employees with a generous bonus. What was that like?  
That was a true Oprah moment, ("you get a car, you get a car!"). Even thinking about it now, I have chills. We had an all-hands meeting and I was standing near members of my team when our incredible founder Sara Blakely announced in an emotional speech that every single employee was getting two first-class plane tickets anywhere in the world, and $10,000 toward a dream trip. There was a moment of silence first, then it was just pandemonium of screaming and crying. That was literally a life-changing moment. To me, that's what a leader does. They are generous with everything--money, time, guidance, wisdom. I felt so lucky to be a part of that.
---
How would you characterize the type of skills and leadership style needed to succeed in e-commerce and startups? What have been your success drivers?
Two important attributes in e-commerce or any tech-adjacent business are a bias for ownership and a bias for action. Ownership means being the first to take on any task or project that needs to be done and then fully owning it through completion. That skill is incredibly valuable when there's a small team. A bias toward action is being faced with the option of either continuing to assess an opportunity or to just do it, and to lean toward just doing it. I'm wired for those two things. Throughout my career, I've always been the first to raise my hand and say "I got this," and I've always looked for the fastest responsible path to getting something done. I look for that in my team as well, and at Spanx we like to say that it's okay to fail, because if you fail, it means you're not just playing it safe.
---
As a working mother in a fast-paced industry, how do you balance work and home life? 
Oh boy. That's the great challenge of all of our lives. Especially during Covid. I'll be honest; I don't always get it right. I work a lot, because I love my job. But I have to really be cognizant of when I'm closing the laptop to be with my family.
What's key is for companies to accept and respect the whole person coming to work; just like our jobs don't stay confined to 9-5 hours anymore, our family life doesn't disappear during those hours either. I've been lucky to work at companies that welcome and respect these blurring lines, and it's really up to each firm to figure out how to support working parents. If not, employees will find a place that does.
---
What's the best career advice you've ever received?
I've always worked for amazing strong women, many of them working moms. Early in my career, one of my bosses said always be the person to raise your hand and ask to take on more. In my line of work, there's always more that needs to get done; if you want the responsibility and show up, it's there for the taking.
---
You've been involved with the Stern Alumni Council as part of the digital connections committee. What motivated you to get involved in this way?
First of all, I loved my time at Stern so much and it will always hold a special place in my heart. I was very involved in the school while I was a student, and was the VP of Events for the part-time MBA program. So when the opportunity to be on the Alumni Council came up, I thought it would be the perfect way to get involved and give back to the community that I feel gave so much to me.
---
What drew you to Stern for your MBA through the Part-Time Program? 
I had never considered an MBA because, while I was interested in data-driven marketing, I still thought of myself as a creative, emotional person, and I had in my head that business school was only for hard-nosed finance types. But a friend was applying and when she showed me the classes, like brand strategy and consumer insights, I realized that business school is so much broader and more well-rounded than I knew. Suddenly, an MBA made a lot of sense for me. And as someone who didn't want to give up my full-time job and all the experience I was gaining there, I also liked the flexibility of the program and being able to do it during nights and weekends.
---
What were your most valuable experiences or favorite memories during your time at Stern?
A lot of great class moments, of course, but some of the strongest memories are things that happened outside of the classroom. The DBI trip to Australia was wonderful. I was on the trip with a slew of amazing classmates, including six women who are now friends for life. You build a lot of strong bonds quickly when you're in the trenches working on projects together, and the Stern network has definitely helped me advance my career. 
---
Where did you go for your last vacation? And where do you hope to go next? 
When we lived in New York, my husband and I went to Cape Cod every summer after being introduced to it by a fellow Sternie. After moving to Atlanta last year, we were looking for the Cape of the south, so we took our daughter to Hilton Head. But I'll be honest…it wasn't the same! So this summer we're heading back up to the Cape for lobster rolls and beach time.
---
What do you do in your down time? Any hobbies?
One thing that I hold sacred is reading for at least a half hour before bed. It is the only thing that takes me out of my head and draws a line between work/family time and rest time. Reading calms my brain so that I can sleep and be ready to go full-speed again the next day.
---
Any favorite Spanx products? What can't you live without? 
Yes! We make amazing shapewear of course, but as the Spanx business has developed over the years, our incredible innovation and design teams have taken us so far beyond shapewear and into leggings, apparel and activewear. My current obsession is the Perfect Pant collection. Imagine a chic, polished work pant with the magic of Spanx built in, so you always feel 100% put-together in them. Plus they're machine washable and have a comfy pull-on waistband. They're truly perfect!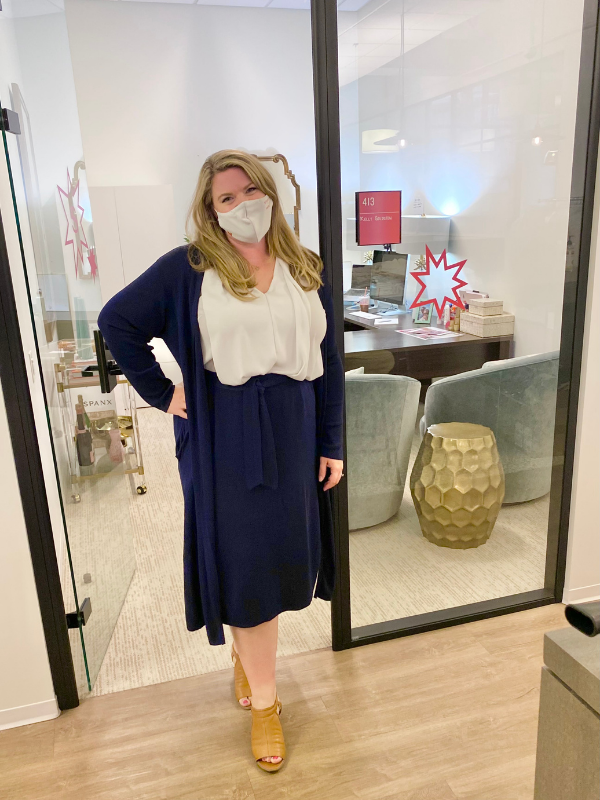 Kelly Golston Debonis (MBA '13) at Spanx.