Brahm Wachter (MBA '19), Sotheby's VP Head of Streetwear, Talks About What's Behind the Global Sneaker Phenomenon
—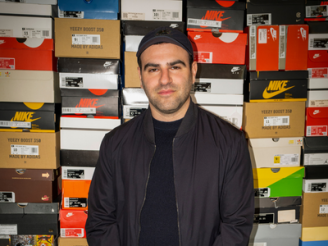 Brahm Wachter (MBA '19), talks about how he parlayed his love of sneakers into a career, what's behind the huge global sports artifact secondary market, and how his own customized 'sneaker resume' helped land him a spot at NYU Stern—an achievement he considers one the best in his life. 
 
---

Tell us about your role at Sotheby's?

I oversee streetwear and modem collectibles, which includes items like sneakers or sports artifacts. I was hired for e-commerce development right out of NYU Stern with the goal of bringing in new audiences. We auctioned off a pair of Michael Jordan's rookie sneakers from 1985 for $560,000 and it made Sotheby's realize there was a big market for collectibles. Over the last couple of years, I built this area from the ground up and now there's a team of roughly 10 of us across three continents with a presence in LA, NYC, London, and Hong Kong. 
 
---

When did sneakers become so popular that they would become a collector's item? What led to their popularity?

Sneakers have become a global phenomenon, and have a big secondary market which is driven by a sense of nostalgia. Collectors will have fond memories dating back to the 80s and 90s that relate to pop culture in some way—a game they watched or went to see or a movie like Back to the Future—and now they can buy a piece of that moment.
 
We have had record-breaking sneaker sales. We sold a pair of 'Grammy' Worn Air Yeezys for $1.8 million, and a Michael Jordan worn pair from his fifth NBA game for $1.5 million.
 
---

What kind of sneakers do you wear? What's the hottest sneaker of all time?

I am definitely a sneaker person. I have 20-30 pairs, and I wear pretty much all of them regularly. Sneakers are a great form of self-expression. In fact, when I applied to Stern, I designed a custom Nike Air Force 1 that highlighted my career and education. It was a resume, on a sneaker. As for the hottest sneakers—Air Jordans from releases 1 to 13—which are classic Jordan silhouettes—are the most in-demand.
 
---

What markets are bringing in new audiences?

Sports memorabilia reaches new audiences for Sotheby's, and brings in a younger set of collectors. Diego Maradona's 'Hand of God' jersey was a $9.3 million record this year, which was broken pretty quickly by Michael Jordan's jersey from 1998 NBA finals, which went for $10.1 million. It's a huge market.
 
---

What drew you to this type of role? Were you an art lover? A collector?

Prior to business school, I worked on a partnership between American Express and Sotheby's, so I had exposure to the auction house and knew it was somewhere I would want to work. Combine that with my love of sneakers and I have a job that is a perfect marriage between my interests.
 
---

What's your favorite part of your job?

I really love the hunt for the rarest items and making the deal. I know the market quite well at this point and who is collecting what. So it's like a puzzle that starts to come together. It's fun. 
 
---

How did Stern prepare you for this industry and the work you do?

Stern gave me a good sense of business strategy and how businesses operate. Sonia Marciano's strategy courses, Bill Silber's finance classes, and Maher Said's microeconomics classes were some of my favorites.
 
---

What attracted you to Stern?

Getting into Stern was one of the biggest highlights of my life. I worked really hard to get into the School and earning a spot was emotional for me. When I came in for my admissions interview, the person I met with had taken the time to get to know me and my application—and read my 'sneaker resume'—and that touched me.
 
---

What do you miss about your time at Stern?

I really miss the people. Most of my friends from business school stayed in NY and I'm now in LA, so I don't get a chance to see them that often. Plus, being in a classroom and learning from an expert is a privilege and the further away I am from that, the more I miss it.
 
---

How do you stay connected to the School?

I'd like to get more involved and find ways to connect again. Maybe through an event in the LA area, since Stern hosts events on the West Coast for alumni.
 
---

Fun facts

Last place you went for vacation? Where to next?

Mexico, Punta Mita. I'm going to Cabo San Lucas next.

Favorite place for dinner?

I love the South Beverly Grill. It has a great vibe.

How do you unwind? Hobbies?

I like to watch sports. But I also like cooking. While at Stern, I also got a certificate from the International Culinary Center.
Besides sneakers, cooking is another passion of mine.