Stern Pioneer: Dr. Henry Kaufman (Arts '48, PhD '58)
—
A world-renowned economist and philanthropist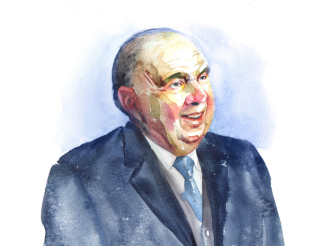 Considered one of the most influential forces to hit Wall Street in the last century, Henry Kaufman is a cornerstone of the NYU Stern community. After earning his BA in Economics from NYU, an MS in Finance from Columbia University, and a Ph.D. in Finance from NYU Stern, he was awarded an honorary Doctor of Law degree from NYU. Then in 1958, he went on to an illustrious 26-year career at Salomon Brothers, leaving in 1988 to start Henry Kaufman & Company, an economic and financial consulting and money management firm. Stern has been fortunate to have benefited from a decades-long relationship with Henry — from Ph.D. student to Chair of the Stern Executive Board — generously supporting the School's growth in a multitude of ways. Here we highlight just a few of Henry's many contributions that impacted and inspired others across the community.
A generous supporter, with a steadfast belief in the power of research and teaching
 
From capital projects to endowed chairs and professorships, Henry has supported the School with numerous gifts over the years. His most significant contributions in the 90s led to substantial improvements and expansions in the School's building and facilities, including a $10 million gift to help fund the renovation and expansion of the School's graduate building, now known as the Henry Kaufman Management Center.
Henry's commitment to Stern was driven by a belief in education and research, which led him to honor colleagues and peers by endowing and naming professorships and chairs. Starting in the 80s, he named the Charles Simon Chair in Finance and the Sidney Homer Directorship of the Salomon Center for the Study of Financial Institutions, followed by the Chair in Business and Financial History. He created Stern's first fund to support external scholars and practitioners, the Henry Kaufman Visiting Professorship, the recipients of which included leading economist and former Federal Reserve Chairman Paul Volcker.
Outside of NYU, Henry and his wife Elaine are notable philanthropists who have donated millions to support a range of interests from arts and culture to education and animal health. To name just a few of the organizations that have benefited from their tremendous generosity, the Kaufman's donated $10 million in 1998 to the Institute of International Education (IIE) to support scholars whose life and work are threatened by repressive political regimes. In 2007, they made a $7 million gift toward the capital campaign at the now named New York's Kaufman Music Center. 
Spearheading fundraising campaigns and intellectual discourse at Stern
 
Over the years, Henry has been deeply involved in the Stern community. He became the Chair of the Stern Executive Board in 1986 and remained at the helm for a 14-year term that ended in 2000, and in 2003, he served on the Steering Committee for a fundraising campaign for the School. Henry is also an NYU Life Trustee.  
A prolific writer, Henry has published several books, and in 1987, was awarded the first George S. Eccles Prize for excellence in economic writing from the Columbia Business School for his book, Interest Rates, the Markets, and the New Financial World. He then went on to publish The Road to Financial Reformation; Tectonic Shifts in Financial Markets: People, Policies, and Institutions and On Money and Markets: A Wall Street Memoir to critical acclaim. Stern's Center for Global Business and Economy hosted Henry in 2021 to discuss his newest book, The Day the Markets Roared: How a 1982 Forecast Sparked a Global Bull Market. 
Illustration by Yuke Li