Sanjiv Anand (MBA '85), Shares How COVID Changes His Work as a Consultant and Why He Launched a Gin Company With His Son, Jai Anand (CAS '14)
—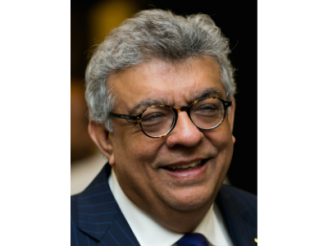 Sanjiv Anand (MBA '85) is a business consultant and the chair of the NYU Stern India Alumni Group. He shares his proudest moments as a Stern alum, how his work as a consultant has changed, and what it was like to start a gin company with his son, Jai Anand (CAS '14), during the COVID-19 pandemic, plus his favorite Stern experiences from the 1980s.
---
You've been active in leading the NYU Stern India regional group for years, bringing in faculty and business leaders for events. What drives you to stay engaged? And what have been your proudest moments?
My commitment to NYU comes from a sense of gratitude that my personal and professional success over the years results from the education, experience and qualifications that Stern gave me at a relatively young age. Of course hard work, intellect, and support of the family was also critical, but the foundation was built by Stern.
There have been many proud moments over the years, besides the graduation of both my sons from NYU. But from an Alumni Regional Group standpoint, it's the support that we have given students, faculty, and alumni in India and helping them stay part of the NYU community. I would also say our NYU Stern India Alumni full-day conference that included over 25 CEOs as speakers, including John Sculley, the CEO of Apple from 1983-93, was probably one of our best events. Once the pandemic is over, we hope to start in-person programming again.
---
Have you needed to adapt your approach to the work you do as a business consultant during the pandemic? If so, in what ways? 
The pandemic has had a transformational effect on the consulting profession. It's gone from a 100% on-site model to an almost 100% off-site/on-line model. While this has taken away the biggest negative of the profession—weekly travel for consultants—starting up the on-site engine again has been a challenge. At a minimum, clients expect some on-site presence. This requires a hybrid model, and consultants who joined this profession during the pandemic are having a hard time adjusting. Also, I believe on-site presence at some level is needed to develop clients, deliver work, and collaborate to gain knowledge and share.
---
You recently partnered with your son, Jai, also an NYU alum, on Doja, a new gin made in India. What is it like having a father/son business relationship? 
Doja is a Covid "baby". The whole business has been built from scratch during the pandemic. Father/Son business relationships, and for that matter family owned/managed businesses are never easy. The idea came from Jai, and while it took some effort and some difficult conversations, we figured out the best way to split the role. Jai's the creative guy, so he took responsibility for brand development, packaging, positioning, marketing, etc. I took the role of detailed business strategy development, manufacturing strategy, supply chain, oversight of the sales organization, and of course being the investor ☺ This split of responsibility has continued post launch. I also brought on a former chief executive officerof a leading spirits business as an advisor, and his presence and credibility has helped resolve potential areas of conflict that could have occurred. So far so good, and I am confident the model will work.
---
What has been the most surprising thing — good or bad — about starting a new business, especially during a pandemic?
The good part is that I'm amazed on how we could get an international manufacturing business up from scratch. The recipe and the botanicals are from Japan, and I was able to put the arrangement together with the Japanese without ever meeting them. The raw material is from Europe, the branding agency was from UK, the equipment was from Germany, and to top it all off, we were able to hire our Spanish Head Distiller from London to come run the Distillery in India, without us having met, and better still he had never been to India in his life. I'm still amazed by how it was all pulled together☺ Great consulting case study.
The tough part is that due to the pandemic, restaurants and bars that account for 60% of the craft spirit sales are financially struggling and have to open and shut at short notice. This has definitely impacted our short-term sales during launch, but I know this will correct itself soon. Alcohol consumption is always on top of a list ☺
---
The pandemic has made it difficult to bring alumni together for in-person events. During this time, what approach to alumni programming and engagement is helpful?
We have done very little programming during this Covid phase. My view is that people are inundated by webcast and webinars and being on Zoom every day that they are burnt out. However things are now turning around, and I am planning an event this month, a masterclass on Gin by the expert Victor De Benito. Nice and easy way to start doing events again.
---
What were your favorite Stern experiences when you were a student back in the 80s? 
Back in the '80s Stern was downtown next to the American Stock Exchange. The commute from Bleecker Street, where I lived at 3 Washington Square Village, to below the former iconic World Trade Centre is something I still remember today. Also Bobst Library, and last but not least… all the bars on Bleecker Street.
---
Fun facts: 
Where was the last place you went for vacation? 
I've actually travelled quite a bit during the pandemic – New York, London, Paris, Dubai, Goa in India, etc. My last real holiday 2-3 months ago was Paris. What a great city to go to – again and again. How do you like to spend your free time? I play tennis three days a week, and have just restarted Golf. However, my favorite free time activity is to travel as a tourist. I absolutely love it and hope that time comes back soon.
---
Jai Anand (CAS '14) Talks About What It Took to Launch a Gin Company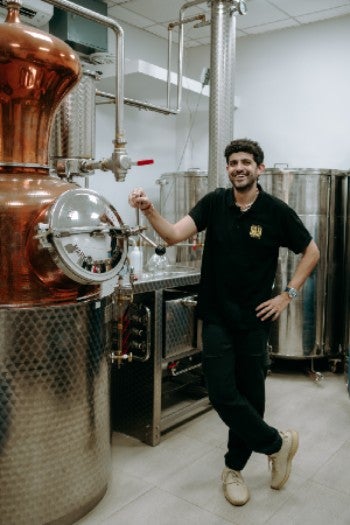 Sanjiv's son Jai Anand (CAS '14) at their gin distillery 
What inspired you to develop a new gin?
We were on a peak having celebrated a successful edition of our premier music festival "Terminal 1", our last party ironically being a Corona Sunsets Party. However, when the COVID-19 pandemic hit in early 2020, the event and music industry was the first to take the hit. Having limited to almost no avenues to go ahead with events, Milkman LLP was forced to shift gears and explore new territories and diversify. Being a gin enthusiast, and knowing how well music and alcohol go together, I decided to take the plunge and set up a gin distillery and produce a small batch craft gin from India. With Milkman, I was able to deliver premium experiences around music. Now, I aim to deliver premium experiences with and around Doja.
---
In terms of product positioning, how do you envision Doja fitting into the spirits market in India?
We are the world's first Indo- Japanese Gin with a high-quality product and very modern and futuristic design. While most premium gin brands exude a vintage style of opulence, Doja stands out because of its unique, quirky, and minimal but luxury aesthetic. We are not creating a new category, but we are changing the way people perceive luxury. While most brands represent luxury as being more associated with tradition and history, Doja positions itself as "Young Luxury." We are refined, modern, minimal, fun and high quality. We are the new wave legacy that brings the unheard and unseen your way.
---
What has been the most surprising thing — good or bad — about starting a new business, especially during a pandemic?
Starting a new business in the pandemic is definitely tricky. The good thing is that everything is on pause, so it gives you more time to research and come up with a solid plan. This definitely worked to our advantage, as it gave us plenty of time to work on the business plan and make sure it's foolproof.
---
Tell us about your professional career path. What are you currently doing?
Having lived most of my life shuffling between Mumbai and New York, I completed my bachelor's in economics from NYU. Soon after, I made a move to Valencia to Berklee School of Music to pursue my passion and explore new horizons. During my time there, I experienced first-hand the flourishing music culture and realized the missing link in India's music scene.
I moved back in 2017 to start Milkman, an agency curating cutting edge music and live experiences that bring music, art, and ideas together. Milkman today have been pioneers in this space, introducing the warehouse party culture and curating avant-garde events across India. Recently, we  launched our own record label, being amongst the first Indian electronic music labels to press vinyl and distribute across Europe.
Soon after, as the country came to a halt in a pandemic, I began working on an exciting new vision: An Indo-Japanese partnered Gin, bringing the finest of both worlds together. I reached out to a distillery in Wakayama, Japan to bring my vision of Infusing Indian and Japanese botanicals  to life.
In November 2020, Doja was created to introduce a new wave of crafted gin. Influenced by Japan's art, design, and sense of futurism, Doja was born to elevate the way Indians relish their drinking experience. I have worked with artists across the world for design and packaging. With Doja, I aim to penetrate the world market and introduce to them the flavors of the east.