Going with the Flow: From Restauranteur to Anime Business Manager, Yonadav Tsuna (BS '12) shares his dynamic career path
—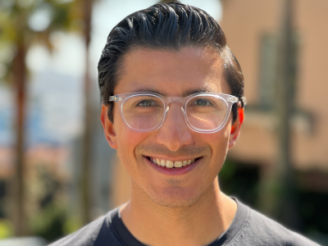 Yonadav Tsuna (BS '12) is a senior manager in business development, partnerships and strategy at Crunchyroll, an anime and manga TV streaming company. Learn how he was able to explore his career interests in film, Southern food, business development, and finance with the help of his NYU connections and Stern education.
---

Ask Yonadav Tsuna (BS '12) whether services that stream anime and manga TV programs and films could be considered niche, and he'll quickly put that notion to rest. Currently senior manager, business development, partnerships and strategy for Crunchyroll, a San Francisco and Los Angeles-based online distributor and producer of anime and manga media and merchandise, he should know. In fact, by 2019, the global anime market reached an estimated $24 billion. "Plenty of actors, athletes, and musicians are into it, too," Tsuna said. "You'd hardly call it a niche."

As for Crunchyroll, "We are a 360-degree business," Tsuna said. "We stream, but we also offer merchandise, games, events, theatrical, and more to come."
Tsuna himself, 31, is a 360-degree dynamo. Born in New Jersey but raised in Tennessee, his passions and talents are many and varied. He's become a fan of anime since joining Crunchyroll in 2020, but his enthusiasms range far and wide, from French and Italian New Wave cinema to Mozart, Wagner, running, cycling, and foodie-level cooking.

Tsuna's career, which he happily describes as "chaotic," so far reflects those interests. He entered New York University intending to major in film but after sophomore year transferred to NYU Stern as a finance major, for purely practical reasons, he explained, so that he could ultimately pay off student loans. "I loved Stern. My fondest memories are of ISP"—International Studies Program—"and accounting class."

While at NYU, Tsuna waited tables at Bouley and The Dutch, two top restaurants, meantime creating a business plan for starting a 24-hour, fast-casual but inventive Southern food restaurant. After college, he took an investment banking job, hoping to pay off student loans and then go into film, but the pull of his restaurant dream was stronger. "I quit after six months and moved from Park Avenue to Bushwick," he said, while he and a partner pitched investors with their plan. They eventually attracted enough venture financing to realize their dream and built out the storefront themselves on Avenue A on Manhattan's trendy Lower East Side. Empire Biscuit debuted to overwhelming demand, closed quickly to reorganize operations, then reopened for another year and a half.

 "I learned a lot from the experience," Tsuna said. "In effect, it was my MBA. I learned how to tailor my management style, applied the skills I learned in Stern's ISP course to pitch to investors, and used what I had learned in accounting class to deal with the brass tacks. 

West Coast-bound

From there, Tsuna leveraged an NYU connection to find a job at Twitter, pulled up stakes, and moved to the Bay Area as a business operations analyst—sort of an internal consultant—for the company. "I loved the culture and people at Twitter, and had even done a paper on Jack Dorsey while at Stern," he said. After a couple of years, the pull of film was still strong and Hollywood was just down the coast, yet when Google reached out to recruit him as a financial analyst, he answered the call and remained in the Bay Area. "Finance plus Google makes a lot of sense out of Stern," he explained. 

Two and half years later, another NYU connection, who had moved from Twitter to Crunchyroll, alerted Tsuna to a position there, one that moved him closer to his lifelong interest in content and utilized more of his diverse talents. Much of his role, which has shifted toward business development and partnerships, requires the skills he picked up along what he calls his "indirect path" to the company. "I come in with a critical eye," Tsuna said. "I really feel that you could take a Sternie and pop them into any role and they'd be successful."

Tsuna enjoys the natural beauty and lifestyle of northern California, though he admitted to missing the 24-hour energy and cultural life of New York. "I'm always looking to do something in film, and at some point I'll probably move back to New York," he predicted. For now, he's going with the flow–a strategy that works for him.