Program:
FT MBA
Industry:
Entrepreneurship and adult beverage industry
Emily shares how a career in marketing for luxury brands led her to launch a startup that reimagines the adult drinking experience with the introduction of Aplòs, a plant-based non alcoholic spirit. Here's what she had to say about her career journey, her time at Stern where she learned early on the value of managing a nontraditional career path, and what's it's like to start a company during a pandemic.
---
Tell us about your career path and what led to you to start your own venture?
When I graduated from Stern in 2011, I focused on luxury retail marketing with a role at Estee Lauder, helping to expand the Tom Ford Beauty brand. But I really found my passion for brand strategy and marketing creative while at CB2. I joined Bonobos at its peak growth period. As one of the first movers in the direct to consumer space in men's fashion, I learned an immense amount about performance marketing and the level of insight we can pull from customer data to build a business in a really efficient, strategic way across all parts of a business.
After a few years at another direct to consumer brand, Soludos, I joined my prior Bonobos colleague at Aplós. I was blown away by what my co-founders had built in the years or so prior and felt a strong kinship to our company's mission, which is to reimagine the adult drinking experience.
---
Where did the idea for Aplós come from? Can you talk about the niche in the beverage market that you occupy?
Alcohol is such an ingrained part of our culture that we don't really question the negative effects it has on our lives. My co-founders and I recognize that there needs to be a better way to unwind and to socialize outside of the negative effects of alcohol. This is the driving force behind Aplós and what we want to build...the adult beverage brand of the future, one focused on plant-based, functional beverages.
Aplós is a plant-based, non-alcoholic spirit that is infused with 20 mg of broad-spectrum hemp per serving, designed to replicate the ritual of drinking a spirit but without the negative effects of alcohol. To mirror the experience of drinking a premium liquor we work with master mixologist and James Beard honoree, Lynnette Marrero to craft a nonalcoholic spirit that has the format, function, and flavor of a premium spirit. Hopefully in ten years, 15-20% of options at a bar will not be alcohol, and there will be other options that are socially acceptable.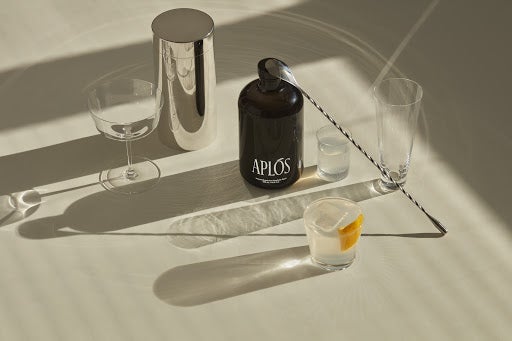 ---
How is Aplós available to consumers across the US and even the world?
Right now Aplós is available directly to consumers through the website. We are just beginning to make Aplos available at select retailers in New York, Miami, and LA.
---
What have been some of your biggest learnings since launching a startup?
This is an emotional experience. You pour so much of yourself into every piece of the business that it takes on a role unlike any other I've had. It's the most rewarding and the most challenging all at the same time.
I've also been blown away by the support and outreach that people have been willing to make on our behalf. Whether introductions or financial investment, it's been really humbling and we take those preseed investments really seriously.
We are now opening our seed round. Given our performance momentum in the first 100 days of business, we want to get out there and take advantage of an investment-friendly market right now.
---
What advice would you give others who are interested in launching their own venture? Especially working mothers like yourself.
Say 'no' more than you say yes. A friend gave me that advice, and it's true. There are so many directions you can go and you need to do a couple of things really well and not ten things fairly well.
That and, "it isn't supposed to be easy" are lines that give quick perspective when you need it. This isn't supposed to be easy–that's part of the ride.
---
How has your approach to managing and working with people changed during the pandemic?
We launched during the pandemic, so it's what we've known, which I think will be a huge advantage for us once the world opens up a bit again. With the three founders in three different locations, we've developed a rhythm with daily check ins, and it is our normal. We will eventually create a post-COVID office experience with a more centralized approach, especially as we staff up.
---
What drew you to Stern for your MBA?
Everything. I only applied to Stern. I was not the traditional business school type, but I loved it. I wanted to go into luxury retail marketing and I also liked the application process at Stern because it had a creative bend to it. I was also making a career change from consulting into the marketing space, so Stern helped me do that. I have a huge appreciation for all the opportunities that came my way as a result, and for being able to learn how to carve out a path and seek opportunities that were right for me when the road wasn't always as traditional as a consulting or finance business school path.
---
What are some of your favorite Stern memories and most valuable experiences?
My block. We were very tight knit and won every competition–very pleased with ourselves. But we were also very different from each other, coming from backgrounds and regions. We had a dinner club where we would take turns picking out a restaurant that represented our cultural backgrounds. I loved how we carved out a niche for ourselves and created a strong sense of community in the middle of New York City.
---
What were your most valuable Stern experiences?
One of the biggest learnings I realized in hindsight was not to take the structure of recruiting at Stern so seriously. I didn't follow the timeline for internships and offers because I was going into a non traditional field. When I look back, I am so glad I had a less traditional path because it made me much more attuned to finding opportunities for myself that weren't part of the traditional business school structure. But at the same time, I benefited from all that Stern offered and was very practiced with interview skills, so when the opportunities came up, I was ready.
---
How do you stay connected to Stern?
The Stern network is strong and so supportive. When we launched Aplòs, I emailed many Stern contacts and I received many supportive messages, but even moreso, so many familiar names buying Aplòs on launch day. I'm really lucky to have the Stern network and I have lately started re-engaging with the School as well.
---
How do you like to spend your downtime? Did you start any new hobbies during the pandemic?
I've taken up biking out on eastern Long Island, NY. I try to go out for a 20-mile ride a couple of days a week. It's my therapy.
---
What are you streaming these days?
I'm a big documentary fan. We used to go to Sundance every year so I try to keep up with the indie film space. Two of my old favorites are "Searching for Sugarman" and "King of Kong"...both light-hearted, which isn't always the case in that space. Ah, and I watched Free Solo with my son the other day–I needed an Aplós once that was over–so tense!
---
Favorite podcasts?
I used to listen to the "Calm" meditation app when I walked to work back when I was in the city. I haven't listened to podcasts as much lately–except Professor Galloway, of course. He's been a great mentor over the past 10 years.