NYU Stern Alumni Celebrate at Reunion 2022
—
NYU Stern welcomed the return of its in-person Reunion celebration.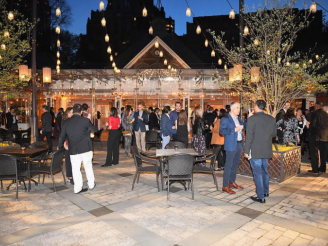 This spring, NYU Stern hosted its first hybrid Reunion, a blend of both virtual and traditional in-person events, during the week of Monday, April 25 – Saturday, April 30, 2022. Reunion 2022 marks the first in-person Reunion since 2019.

The weeklong celebration began with an impressive lineup of virtual discussions that featured Stern faculty, alumni, parents, and more. Virtual programs included A Conversation with Professors Scott Galloway and David Yermack and Synthetic Biology and Rewriting the Rules of Life with Professor Amy Webb. Many programs highlighted contemporary themes, such as Transforming "The Great Resignation" into "The Great Reimagination," hosted by the Stern Women in Business (SWIB) Alumnae Committee. Virtual programs were open to all members of the Stern community.

Alumni also participated in individual coaching sessions virtually through the Center for Working Professionals, a dedicated career counseling resource that provides Stern alumni with lifelong professional development support. 

On Friday, in-person programs began with class cocktail receptions for milestone Reunion years, which included undergraduate and graduate alumni from the class years ending in '2 and '7, as well as the Class of 2021. Cocktail receptions also took place for alumni who missed their in-person celebration due to the pandemic, which included the Classes of 2020, 2016, 2015, 2011, and 2010. Receptions were held at three NYC venues: Refinery Rooftop, Monarch Rooftop, and Versa. View photos from class cocktail receptions.

On Saturday, Stern hosted its iconic Tavern on the Green event in Central Park, which brought together all Reunioning class years for an in-person evening celebration. Attendees enjoyed food stations, an open bar, live music, and a photo booth. View photos from Tavern on the Green.

Plans for Reunion 2023 have already begun and will take place on May 6, 2023 for class years ending in '3 and '8, as well as alumni celebrating their one-year anniversary.
Photography by Dan Creighton, Elena Olivo, and Steve Myaskovsky