Tara Zedayko (MBA '14)
Program:
Langone MBA
Role:
Co-founder and CEO, DIG Labs
Industry:
pet health, entrepreneur, AI
Jessica Chu (MBA '16)
Program:
Full-time MBA
Role:
Co-founder and COO, DIG Labs
Industry:
pet health, entrepreneur
Tara (below left) and Jess (below right) met at Johnson & Johnson and bonded over their love for fostering dogs. Tara, a scientist-turned-general-manager with over 14 years of cross-functional healthcare experience holds a B.S. in Materials Science & Biomedical Engineering from Cornell University, and is a registered patent agent. Jessica worked in management consulting in M&A at PwC before she pivoted to brand management at J&J. The two decided to partner on DIG Labs to take the guesswork out of pet healthcare through patent-pending tech-enabled insights and personalized solutions. Here they share their startup journey, their favorite Stern memories, and their advice for budding entrepreneurs.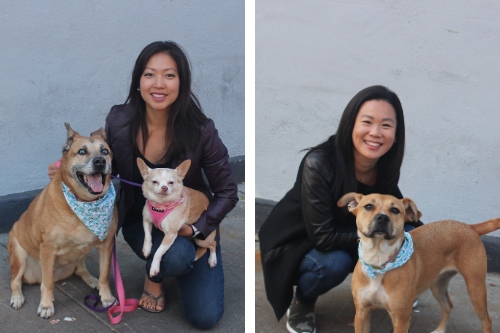 ---
Tell us about your company DIG Labs and what benefit it offers pet owners.
DIG Labs is a pet tech startup in NY founded in 2019 that provides pet parents with the technology to listen to and communicate with their pets. The solution we're working on now is an app that provides a 10-second health check that uses AI to evaluate photos of dog stool. The app answers the question–does this poop look normal, or is there something more I could be doing for my dog? We also have a line of nutritional supplements for joint mobility, digestive health, and skin and coat.
---
How did you transition from a full-time corporate job to becoming entrepreneurs?
Tara: When I was at J&J, I was inspired by all of the advances in human health care from personalized medicine to real time diagnostics. I was frustrated when it came to taking care of my own pet and felt that there should be a better way to bring these types of technologies to pet health care. We had a 10 year old rescue named Sammy who had a lot of unexplainable digestive issues. When Jess and I would chat about our various pet health issues, we began to realize that the two of us could come together to find a way to give pets their own voice and take away the guesswork for the industry as a whole.
Jess: I've always had my eye on working at a consumer focused startup, but I wanted to make sure that I was getting the right experience and learning best practices before jumping into startup land. Stern combined with J&J really played a pivotal role in giving me the skillset to transition to entrepreneurship.
---
Have you seen a shift or trend in pet ownership over the years in terms of how people care for their pets?
Jess: In 2014, I became heavily involved in the dog rescue community and saw first hand the increased humanization, and consequently, premiumization, of pets, especially with new VC-backed startups focused on fresh food delivery. With COVID, these trends have continued to accelerate with more people bringing new furry friends into their lives.
---
What's been the biggest lesson you've learned as an entrepreneur that you hadn't anticipated?
Tara: For me it was the loneliness and the absence of a team. J&J has a strong corporate community, and I missed the impact of not having a team. I'm thankful that Jess and I are working together because I don't know how I would have stayed sane without her. Unfortunately, due to COVID, we have also lost many of the networking events that used to happen in the startup community.
Jess: People expect you to go from zero to being a unicorn because of the media hype around successful startups. Media stories romanticize the process and timeline and don't focus on the early years. In reality, it takes a long time to build a successful company and you only see the tip of the iceberg in the media.
---
As co-founders, do you each focus on certain aspects of the business?
Tara: Our roles have evolved over time. At first it was all hands on deck and we would divide and conquer. Once we crystalised the role and importance of the technology, I started to lead more of the science and engineering aspects given my background, while continuing to focus on fundraising and business development.
Jess now focuses on all things product and growth given her amazing experiences in management consulting and brand management, along with business operations. However, we still roll up our sleeves when things need to get done, and leverage our diverse experiences to decide who is best suited to take on the task at hand.
---
Did you draw on Stern or NYU resources when you started DIG Labs? How do you stay connected to Stern?
The Stern network has been invaluable. Our Stern friends have been instrumental in helping us along the way, whether working for free, connecting us with their company's resources, or sending referrals. Now that we have a team, several of our interns have been from Stern. Stern is such a great community of motivated ambitious folks. Being a part of the network has definitely paid dividends. And as time goes on, we're hoping to do a consulting core mini project.
We were also invited to join the NYU Future Labs Catalyst cohort a few months ago, which has been great. They have done a great job creating community and developed special Slack channels and provide regular check ins.
---
What drew you to do your MBA at Stern?
Tara: Working full-time at J&J, I loved the flexibility of the part-time MBA program and enjoyed going into NYC multiple times a week.
Jess: I had several friends who loved doing their MBA full-time at NYU Stern, and I could see myself there. In addition, I wanted to be in NYC to take part in internships. As a career switcher, it was important to gain experience outside of M&A.
---
What were your most valuable experiences at Stern? And your favorite memories?
Tara: Outside of the group work and networking events, my favorite experience was the Doing Business In Hong Kong class. I felt like a full-time student again and loved immersing myself in an educational setting. It was also my first time in Asia as an adult, having been born in Korea.
Jess: My most valuable Stern experience was participating in Stern Board Fellows, which was an amazing opportunity. My favorite memory was the 3 PM happy hours at the Wine Cellar on 8th Street. I met my best girlfriends at Stern and that was our favorite watering hole. $20 bottles of wine!
---
What advice do you have for Stern alumni and students who may be thinking about starting their own venture?
Tara: If you're starting a new venture, make sure that you love the problem, not the solution. At DIG Labs, our solution has changed at least three times in the span of 18 months–from personalized probiotics to assessing personalized microbiome to making personalized supplements. Now we are focused on computer vision assisted technology. We are one step closer to solving the real problem that we were trying to solve in the first place.
Jess: I completely agree, and would add that it's important to enjoy the journey of building a startup. It's such a privilege to create the future of something in your vision so you should make sure that you're having fun in the process.
---
This might seem obvious, but what do you love most about dogs?
Tara: I love their unbridled happiness and just general love, and even though they are all dogs, they can each be so different.
Jess: My favorite thing is just the butt wiggles and kisses when you come home.
---
What are your dogs' names?
Tara: Juney is our 6 year old Chihuahua rescue, and Sammy is a shepherd husky mix, who was our first rescue and is now 13 years old. Jess was Juney's foster mom. Now we are looking for number three.
Jess: Kali was my 25th foster, who my husband and I ended up adopting, and Mr. Fox was our 52nd foster - another foster fail.
---
How do you unwind and relax?
Tara: I started learning how to play piano about five months ago. I have a five year old son, so I wanted to learn an instrument that I could sing along with, or we could do together.
Jess: In addition to fostering dogs and volunteering for several NYC-area rescues, I enjoy reading historical fiction.