Fertitta Scholar Ari Schiff (MBA '20) is Committed to Helping Others
—
By Marilyn Harris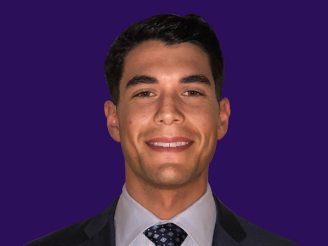 A former Marine Corps infantry officer, Ari Schiff (MBA '20) attributes his ambition to join the military to the terrorist attacks of 9/11, which occurred when he was in sixth grade. Throughout his studies, he worked to achieve that goal and was rewarded with an appointment to the United States Naval Academy, from which he graduated with a BS in quantitative economics and was commissioned as an officer in the Marine Corps. After being selected as an infantry officer and successfully completing the rigorous training pipeline, he was assigned to the 3rd Battalion, 5th Marines, out of Camp Pendleton, Cali. As a rifle and weapons platoon commander, he successfully completed two crisis-response deployments to Asia.

Schiff is now a member of the outstanding Fertitta Veterans Program at NYU Stern. The program was conceived in 2016 with a generous endowment from Lorenzo Fertitta (MBA '93) and his brother Frank J. Fertitta III. Approximately 20 incoming full-time, two-year MBA veterans who are accepted into the Fertitta Program receive significant tuition support. In addition, to ease their transition from the military to business school, Fertitta Scholars attend a uniquely designed, six-week summer session prior to starting the MBA program, which is open to all veterans entering the School.

Schiff is particularly enthusiastic about the support and opportunities afforded by the Fertitta Program. "I have made incredible friends in the Military Veterans Club and connected with alumni across all industries—these relationships are almost entirely attributable to the Fertitta Program."

The Fertitta Scholars visit different companies and learn about the different industries where MBAs work. "These industry exposure visits helped focus my professional curiosity and were the reason I decided to pursue investment banking," Schiff said.

The ex-Marine recently described how important it is to him to use his degree to make change in the world. He said, "In high school, I began fundraising for America's VetDogs, an organization that provides service dogs to wounded veterans. Each service dog costs $50,000 to train, and I raised enough money to sponsor several of them. At the Naval Academy, I founded the Annapolis VetDogs 5k Run & Walk, which has raised over $400,000 to date. It has been one of my most valuable learning experiences, and I have thoroughly enjoyed the process of helping others live exciting, interesting, and meaningful lives.

"Over my career, I hope to set myself up in a position where I can continue to create positive change for the communities I care most about in the hope of creating a philanthropic legacy similar to the Fertittas," said Schiff.

Lorenzo and Frank Fertitta have recently and generously expanded their support of the Fertitta Veterans Program with another $15 million gift, to further guarantee its continued success well into the future.