Introducing the Volatility and Risk Institute
—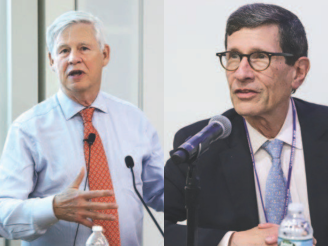 NYU Stern has renamed its celebrated Volatility Institute to reflect the Institute's expanded scope. The Volatility Institute and its V-Lab have, for the past decade, assessed risk through the lens of financial volatility, providing real-time measurement and forecasts of volatility and correlations for a wide spectrum of financial assets, and SRISK, a timely and powerful measure of the resilience of the global financial system.

Adopting an interdisciplinary approach, the newly christened Volatility and Risk Institute (VRI) is building on that foundation to better assess newly emerging nonfinancial and financial risks facing today's business leaders and policymakers, including climate-related, cyber, operational, geopolitical, and pandemic risks, as well as the interplay among them.

Two Stern faculty members co-direct the VRI: Nobel Laureate Robert Engle, Michael Armellino Professor of Management and Financial Services and creator of the V-Lab; and Richard Berner, professor of management practice and former director of the Treasury's Office of Financial Research.

The VRI serves as the designated hub to facilitate, support, and promote risk-related research and external and internal engagement among scholars, practitioners, and policymakers; several alumni are among them. To realize its interdisciplinary potential, the VRI engages the expertise of faculty across NYU, including the Courant Institute of Mathematical Sciences, School of Law, Tandon School of Engineering, Wagner Graduate School of Public Service, Wilf Family Department of Politics in the Faculty of Arts & Science, and School of Global Public Health.

Integral to this expansion and the VRI's mission to stay ahead of the curve on risk management issues is the establishment of two affiliated advisory boards: a Faculty Advisory Board, comprising 30 professors from across NYU at the above-named schools, and an External Advisory Board of risk management principals, executives, startup entrepreneurs, and advisors in New York City and beyond; here too, alumni are among them.

The VRI complements and deepens Stern's existing footprint in the risk management arena. For example, Professors Engle, Berner and Viral Acharya, respectively, taught three related courses this fall: A Financial Approach to Climate Change; Managing Climate, Cyber, Geopolitical, Pandemic and Financial Risks: An Integrated Approach; and Business, Economy and Policy in the midst of Covid-19. In addition, Stern is closing in on the 11th year of its executive-level MS in Risk Management degree program, having marked its 10th anniversary with a symposium and the announcement of a new curriculum.
---
Image: Co-directors of the Volatility and Risk Institute Robert Engle, Michael Armellino Professor of Management and Financial Services, and Richard Berner, Clinical Professor of Management Practice in the Department of Finance